Today I'm going to share with you the very best American made anti-aging skincare products that I recommend to my clients.
I have taken the most frequently asked anti-aging skincare questions and cultivated a list of go-to solutions you can count on. In a sea of product labels and company claims it's hard to choose. You can rest easy with these selections knowing they were identified for their high-quality ingredients by a professional esthetician. Feel good about the quality of your beauty products and the health of your skin when choosing those that are made in the USA.
Some people may have specific skincare requirements or restrictions. This list is a source guide of American made products that work for most skin types.
Best Anti Aging Products
Some people may have specific skincare requirements or restrictions. This list includes the best anti aging products to be used with specific skin aging issues.
Q: What product fades dark spots and sun damage?
A: Suzanne Organics Hand and Face Anti Aging Trio.
The Suzanne Organics Hand and Face Anti Aging Trio includes 3 of Suzanne Somers' high quality organic skincare products. The SUZANNE Organics Younger Hands Anti-Aging Hand Cream contains natural ingredients that help lighten dark spots on the hands and evens skin tone. SUZANNE Organics Glutathione Skin Reform Serum lightens dark spots and evens skin tone on the face. SUZANNE Organics Neck Firming Serum with Tightening Peptide Formula moisturizes skin and smooths fine lines and wrinkles. All of these products are gluten free, toxin free, and of course, made in the USA.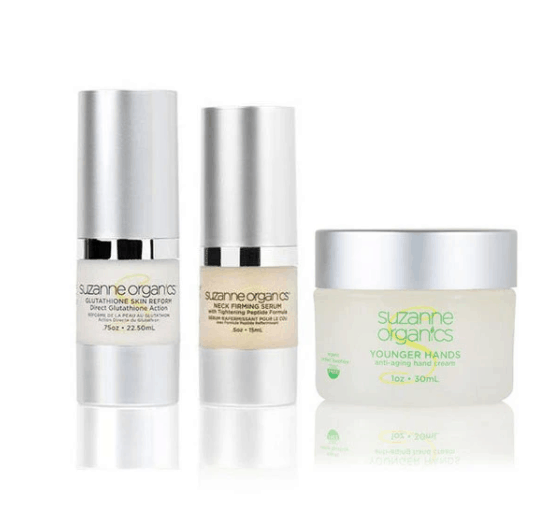 Q: What product can stop fine line formation?
A: Mario Badescu Protein Night Cream
Mario Bedescu Protein Night Cream is a product to use to preserve the skin's youth. This is for your 20's, to keep little lines from forming into deep wrinkles. Nighttime is when the skin does the most recovery so packing on a great nourishing moisturizer with antioxidant ingredients will keep your skin youthful longer. This cream is a middleweight and promotes elasticity.
Q: What product can lessen the appearance of visible wrinkles?
A: Desert Essence Restorative Face Oil
Use Desert Essence Restorative Face Oil to soothe stressed skin. The argan oil works with the skin's own essential fatty acids to smooth the skin and leave wrinkles looking lesser. When your skin is showing the signs of aging you need a product that nourishes but still allows the face to breathe at night. This lightweight American made facial oil is perfect.
Q: What is the best neck cream product?
A: VENeffect Firming Neck & Décolleté Creme
We tend to ignore the neck when pampering the face. Make up for lost time with VENeffect Firming Neck & Décolleté Cream. This specially formulated neck cream that counteracts, resists, and restores the signs of an aging neck. Powerful ingredients turn up the cellular activity while peptides increase firmness. Antioxidant properties will help to prevent further damage while protecting the skin. This repair cream provides a smooth chest and neck with more firmness and increased luminosity.
Q: What product works to reduce under eye bags and dark circles?
A: Exuviance Eye Contour Cream
I recommend Exuviance Eye Contour Cream most often for its fast-acting results. You get some instant, short term firming just by applying it. With regular use, skin begins to tighten and stay well hydrated. Hydrated and firmer skin is the key to helping dark circles become less noticeable. The only way to manage dark circles is by firming and hydrating to keep that skin healthier. This allows less under-eye stress to show through. Well-hydrated under eyes make concealer effortless to apply as well.
Q: What product gives glowing skin and restores radiance?
A: Susan Ciminelli Sensitive Skin Formula
Susan Ciminelli Sensitive Skin Formula creates luminous skin with balance. Using very little of this product, the skin is calmed and redness is reduced. This is a luxury spa serum that allows you to take in the aroma of treatment and wear the beauty of a fresh facial. It's truly unmatched on the market.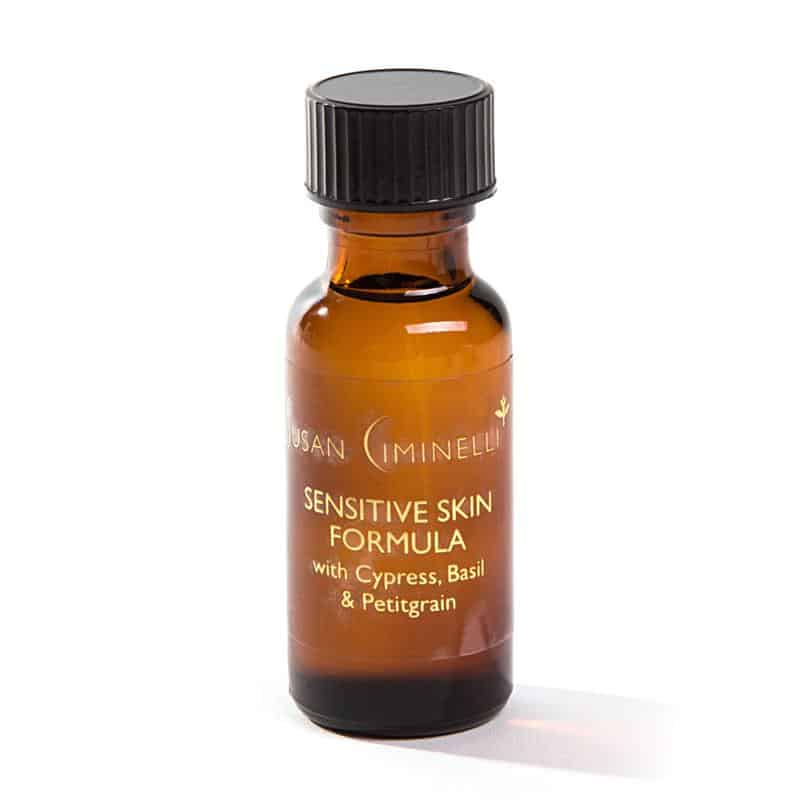 Q: What product fixes rough, uneven texture on my face?
A: Nip & Fab Glycolic Fix Night Pad Extreme
The Nip & Fab Glycolic Night Pads Extreme are a problem solver. These pads clear pores and exfoliate dead skin cells when you wipe them on your clean face. You do not wipe the solution off. If a breakout is brewing, or you have a problem area, add this to a night's rest and you will wake up to the problem resolving. This product is a must have if you are prone to milia. Using it just once a week has removed my milia spots and kept them from coming back.
Routine is as important as the products you select for your face. Consistency provides results. You need the regimen that works for your skin and your lifestyle.
An effective anti-aging regimen includes:
Weekly exfoliation (minimum)
Targeted treatments for areas of concern
Nourishing moisturizer

Pin this list to save it for later!