The weather is cooling down in my neck of the woods. What better way to warm up on a quiet (quiet once the kiddos leave for school!) fall day, then with a decadent cup of salted caramel hot chocolate?!
My favorite hot cocoa recipe comes from a Childcraft book I LOVED growing up. Do you remember the Childcraft encyclopedia series? I think my parents got them from a door to door salesman.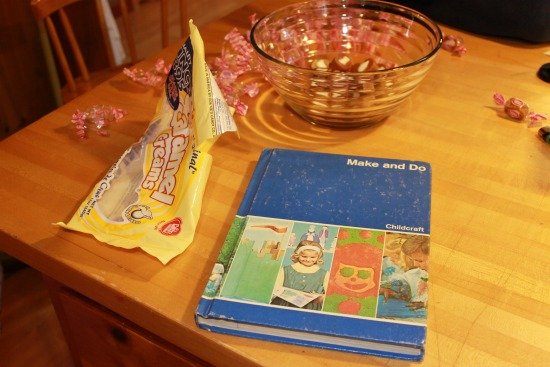 The Childcraft series books were printed in the USA from the 50s to the 90s. I still have mine and now my kiddos enjoy them. The Make and Do book was my favorite! The breakfast recipes in it- for toast, boiled eggs, and of course, hot cocoa, are frequently requested by my kiddos….I'm sure so that they can have hot cocoa for breakfast! The recipes are common, but it's the memory of the book and making breakfast with my kids, that makes them special. *A new (2011) edition of the Childcraft How and Why Library is available from World Books, but at this time I don't know if they are still printed in the USA.
Don't miss our list of Gourmet Hot Chocolate and Hot Cocoa Mixes, All Crafted in the USA
My salted caramel hot chocolate recipe is a new spin on my favorite childhood hot chocolate recipe. Doesn't it look delish? Treat yourself to one today!
Disclosure: This post is sponsored by, Goetze's Candy, which USA Love List is proud to share with you because, sponsored or not, we only share stuff we love.