We are deep into winter in my neck of the woods. What better way to warm up on a quiet (quiet once the kiddos leave for school!) winter day, than with a decadent cup of salted caramel hot chocolate?!
---
---
My favorite hot cocoa recipe comes from a Childcraft book I LOVED growing up. Do you remember the Childcraft encyclopedia series? I think my parents got them from a door to door salesman.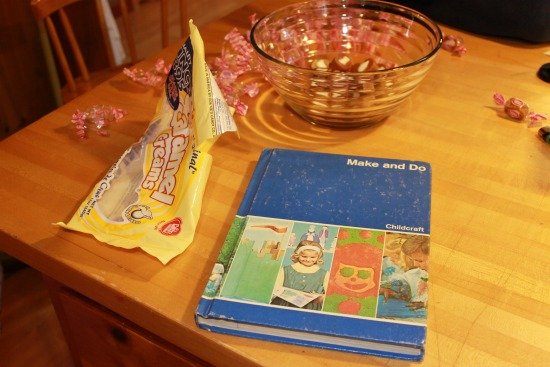 The Childcraft series books were printed in the USA from the 50s to the 90s. I still have mine and now my kiddos enjoy them. The Make and Do book was my favorite! The breakfast recipes in it- for toast, boiled eggs, and of course, hot cocoa, are frequently requested by my kiddos….I'm sure so that they can have hot cocoa for breakfast! The recipes are common, but it's the memory of the book and making breakfast with my kids, that makes them special. *A new (2011) edition of the Childcraft How and Why Library is available from World Books, but at this time I don't know if they are still printed in the USA.
My salted caramel hot chocolate recipe is a new spin on my favorite childhood hot chocolate recipe. Doesn't it look delish? Treat yourself to one today!
Salted Caramel Hot Chocolate Recipe
Ingredients for each cup
1 tablespoon of cocoa
1 tablespoon of sugar
1 tablespoon of water
1 (or more because you just can't help it!) tablespoon of caramel sauce (see recipe below)
a dash of salt
1 cup of milk
whipped cream and additional caramel sauce for topping
To make one cup of salted caramel hot chocolate add the cocoa, sugar, salt, and water into a mug. Stir until all mixed together. Add caramel sauce and mix some more.
Heat milk in a sauce pan over low heat until bubbles form around the edge- do not boil!
Carefully pour the milk into the mug (or my favorite drinking receptacle, a made in the USA Ball crystal jelly jar, like in the above photo).
Stir until cocoa and caramel are all mixed in. Top with whipped cream and caramel sauce.
Enjoy!
Caramel Sauce Recipe
from www.goetzecandy.com. Goetze's Candy has been manufacturing candy in the USA since 1895. 
Ingredients
32 unwrapped, made in the USA Goetze's Caramel Creams® or Mini Cow Tales (FYI- bribing the kiddos with yummy hot chocolate really works to get the unwrapping done!)
¼ cup evaporated milk
1 tbs butter
Optional: 1 tsp vanilla
Optional: 1 tbs light corn syrup
Look for the Caramel Creams or Cow Tales in your grocery store, or order from Amazon here or here.
Instructions
Combine made in the USA Goetze's Caramel Creams®, evaporated milk, and butter in a medium sauce pan over low heat.
Stir frequently to prevent burning.
Remove from heat when smooth.
Optional: Stir in one teaspoon of vanilla extract.
Serve warm.
Tip: To thin the sauce, add 1 tablespoon of light corn syrup after you remove the sauce from heat. * I was able to thin it by adding more evaporated milk.
It is really hard not to lick the spoon and eat this caramel sauce all by itself! The recipe makes a big batch, and I store it in a covered mason jar in my fridge. When I want to use some, I put what I want to re-heat in a microwave safe dish, add a splash of evaporated milk, and pop it in the microwave for 10 seconds, stir, and maybe zap it again if it's not hot enough.
Yum!
Disclosure: This post is sponsored by, Goetze's Candy, which USA Love List is proud to share with you because, sponsored or not, we only share stuff we love.