Oregon is in the midst of an Arts & Crafts renaissance, with 'green' or alternative products being cranked out by savvy artisans, craftspeople, and 'mompreneurs' like mad. Here at FAB OREGON, a state directory of locally made goods, it's hard to keep up with all the artisan, handmade, handcrafted, vegan, organic, and 'weird' products being churned out.
Made in Oregon: Bikes, Beer, Wine and more
If you're looking for greener products, Oregon has them for you! But when many people think of Oregon, there are a few product categories that rule: Bikes, Beer, & Wine. Perhaps you've heard our moniker "Beervana." Yep, that's Oregon. But there is lots more.
Oregon is becoming quite a supplier for the growing gluten-free marketplace. Bob's Red Mill has long been an icon for Oregon foodies for their wide variety of flours, grains, and baking supplements, and they are fast becoming a leader in providing gluten-free flours and blends. Bob Moore has a fascinating story to tell about how he wound up starting a mill in Milwaukie, Oregon, and how he turned the company over to employee ownership; Bob is a wonderful role model and philanthropist that is admired by his peers and beloved by his customers and employee-owners. Known for their characteristic 1-1/2 pound bags of grains, flours and specialty baking mixes, Bob's Red Mill products help America cook up that perfect accompaniment to that cold bottle of brew. Don't miss our pumpkin pancake recipe with Bob's Red Mill Flour.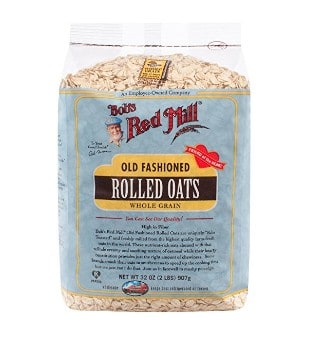 One of the most iconic labels in the beer category would be Rogue Ales. With headquarters in Newport, Oregon, their creed well represents the independent Oregonian, "The Spirit of the Rogue brand, even the name, suggests doing things differently, a desire and willingness to change the status quo." They make some of the best ales in the world, taking home either a Gold or Silver award at the World Beer Championships every year since 2002.
I've been a lot of places in and outside of Beervana- and wherever I go I'm sure to look in people's fridges. With only one or two exceptions, every refrigerator I've peered into has had at least one product made by Beaverton Foods. Their Beaver and Ingelhoffer brands of mustards and horseradish are ubiquitous. Their Napa Valley and Tule Lake brands are also made in Beaverton- not in California. Sorry, Arnold!
In 1894, "Cheese King" Peter McIntosh arrived in Tillamook County in Oregon with a recipe for cheese. A decade later, Tillamook Cheese received its first award for cheese at the St. Louis World's Fair. While Wisconsin might be better known for cheese than Oregon, no Wisconsin cheese can stand up to the smooth melting Tillamook Medium Cheddar– sorry Wisconsinites! The Tillamook name is also a name worth fighting for- and when a fast food joint or restaurant serves Tillamook Cheese on its burgers, they're sure to let you know.
If you'd rather grill that burger, or brat, at home- so that you can make absolutely sure you get the great taste and feeling you get from locally made condiments- you'll want to be sure to have a good barbecue or grill at home to cook them on! Oregon has a few good manufacturers of grills and smokers that you could potentially choose from- one of the coolest being PAC Stoves! The PAC Combo is a heater/grill/smoker combination for patios and campsites that is easy to pack up and travel with. Just be sure to have a Rogue Ale in your hand! Don't miss our source list of Made in the USA grills and grilling accessories.
Now, what better way of shaking that beer/burger/brat gut than jumping rope- and there's no better jump rope than the original Olympic Jump Rope. The Jump Rope Store's jump ropes were invented by a school teacher and were the very first plastic segmented jump ropes- well known to all school children for nearly 50 years. The Olympic Jump Rope comes in a variety of color combinations- and you can even build your own and have it shipped to your doorstep! Even if you're too lazy to actually use one, it's still fun just to use their online jump rope builder- but be warned, you'll have a hard time not putting it in your basket.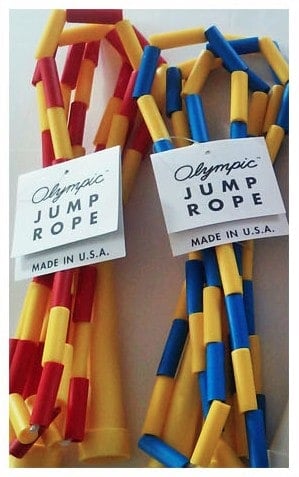 After you've fed your belly, jumped rope for a while, and picked up your new barbecue all in the pouring rain, there's nothing better than curling up in front of a fire with a Pendleton blanket. The company actually had its beginning in Salem, Oregon in the late 1880s and later moved to its namesake Pendleton, Oregon location. The first blankets- as well as robes- were manufactured for the local Native tribes, and even today the blankets have a distinctive Native American style with intricate patterns and vibrant colors. *Special note: while Pendleton's blankets are made in Oregon, their other products, including clothing, are made internationally.
Maybe you'd like your house to stand out with vibrant colors as well- or maybe it just needs a new paint job. Whatever colors you chose to paint your house, it's important to have a good paintbrush- or two if you're lucky enough to have help! Setting the standard for paintbrushes is none other than Purdy. Purdy paintbrushes have been made in Portland since 1925 when Desmond Purdy started making them in a 2 car garage. Since then Purdy has become known among professional painters for their uncompromising commitment to quality.
Speaking of vibrant colors, whenever you're making anything colorful which could include blankets, artwork or even painting your house, you'll want to get that split complementary color combination just right. To get any color combination perfect there's no better tool than a color wheel. When I initially asked the owner of the Color Wheel Company if they actually make their color wheels here in Oregon, he replied, "We make THE color wheel here in Oregon." Color wheels are available for everyone from children to artists to gardeners, web designers and interior decorators- and come in a variety of languages. If you happen to have a Color Wheel- look and see who made it! No doubt, it will be the Color Wheel Company.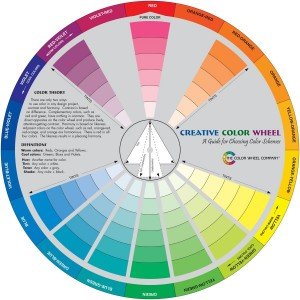 These are just a fraction of the many great products being made with quality and integrity in Oregon. Thanks for buying USA made!
Written by Jeff Rose, co-founder of FAB OREGON.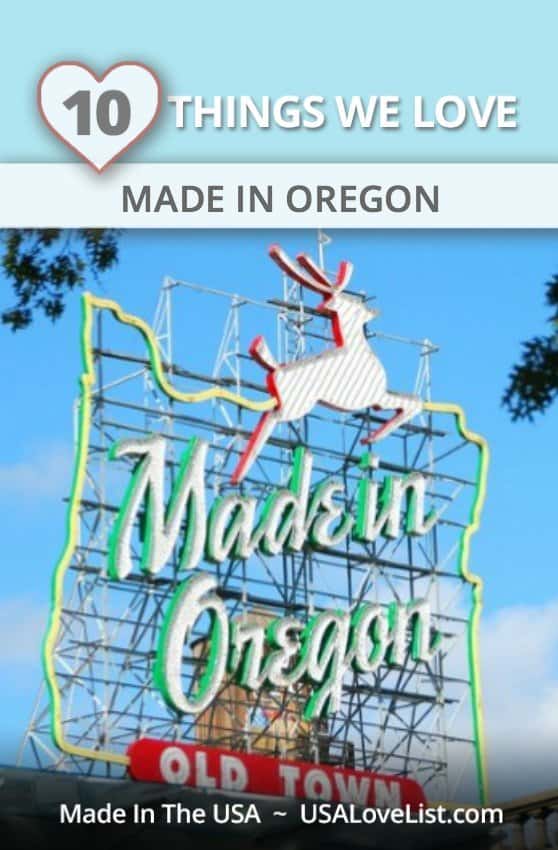 We are welcoming guest posts on the topic of The Top 10 Things Made in My Home State. Contact us for submission guidelines.
Follow USA Love List's board State-by-State: Made in USA on Pinterest.