If you're looking for organic plush toys and stuffed animals made in the USA, we've taken away the time-consuming quest of trying to find them! Keep reading to discover the value of buying organic stuffed toys, and check out our American-made list.
Long ago, you could find many toy manufacturers in the United States that made children's toys without harmful chemicals. These are the same toys today we would consider non-toxic and made with the highest standards possible. But even within the past decade, more of these American manufacturers have gone to the wayside. Shoppers instead look for inexpensive options and assume safety standards are ensured.
Organic Plush Toys and Stuffed Animals Made in America
Watch young children play, and within a few short minutes, you'll see them place a toy in their mouth. That act seems strange to us as adults, but it's a pure developmental act for our little ones. The special babies in my life are now old enough to stick whatever they're holding right between their lips!
That's why it's so incredibly important to ensure whatever is going into their mouth is safe. The safest stuffed toys and animals you can buy are organic.
Add "made in the USA" into the description, and you're double the assurance the toys are safe.
Related: American Made Baby Toys, Toddler Toys, & Preschool Toys: The Ultimate Source List
To be honest, few fit the bill of being both American-made AND organic. Even then, several of these selections come from independent makers with Etsy accounts. In these cases, creative individuals make the non-toxic, organic products in a home or garage-turned-production room. I, for one, very much value these home-based businesses. I've included a few of my favorites from Etsy, along with the few American producers.
The Problem with Toxins in our Toys
Cheaper stuffed animals and toys that find themselves on our store shelves come from overseas. They're made from inferior materials that include heavy metals, flame retardants, synthetic azo dyes, polyvinyl chloride, phthalates, and more. These toxic substances appear in the fabric, stuffing, and even thread, along with other toy accessories such as boots or toys.
At the very least, your child could have an allergic reaction, but these chemicals often create other problems. These issues include endocrine disruption and nervous system problems, developmental delays, cognitive issues, and even cancer.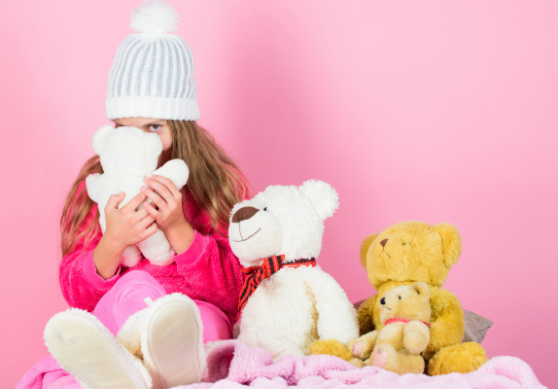 While the European Union has restricted many toys with these toxic compounds to enter into their countries, many of them continue to end up on American store shelves. That's why it's important to do our due diligence when it comes to looking for safe alternatives for little hands.
The American Academy of Pediatrics adds a caution not to buy toys stuffed with small bean-like styrofoam or pellets. These materials pose a serious choking hazard.
Related Article: Wooden Toys Made in the USA for Kids of All Ages: The Ultimate Source List
Why Consider Organic Toys
Stuffed animals and toys provide companionship, improve social skills, and cultivate imaginative play with both small kids and older kids. Kids love playing with their favorite stuffed bear, rabbit, dinosaur, dog, or doll.
Children shouldn't worry about having allergic reactions to their plush pals while playing. Organic stuffed toys allow them to play freely while giving us caregivers peace of mind. While the tea party or dinosaur attack is occurring, safety is also ensured.
Organic stuffed animals and toys are made from natural materials and organic fabrics. They're free from pesticides and other toxic chemicals. Colors come from water-based dyes, and natural fibers are used for hair, such as wool.
Made in the USA Stuffed Toys and Animals Not Labeled Organic
There are other stuffed animals and toys made in the USA but are not necessarily organic. Some of you might be interested in buying American-made, but organic may not be high on your priority list, especially if these toys aren't going into a small child's mouth! They are listed below in a separate section.
These larger USA manufacturers have to pass the Federal Toy Safety Standard test that shows the materials they use are not harmful to children. The US Consumer Product Safety Commission (USPSC) website reads, "All toys intended for use by children 12 years of age and under must be third party tested and be certified in a Children's Product Certificate as compliant to the federal toy safety standard enacted by Congress, and to other applicable requirements as well."
In other words, our American manufacturers are responsible for making stuffed animals and toys with materials that have been proven to be safe, but they don't necessarily have to be organic materials.
Do you know of a company that makes organic stuffed animals and toys in the USA? Leave us a comment below, and we'll check it out!
Interested in other eco-friendly products made in the USA? Enjoy these articles!

Pin this list to save it for later!