For all the golf lovers in your life, make sure the gifts are American made. From shoes, to gear, gloves and clubs, we've found all the American made unique golf gifts you need, right here in USA Love List's golf enthusiast gift guide.
American Made Unique Golf Gifts
Golf Attire
For men's golf clothing, check out Alial Fital. The line is created by Alial Fital (Ah-lee-all Fit-ahl), former NFL Quarterback Gibran Hamdan after a 6 year career with the Washington Redskins, Seattle Seahawks, Miami Dolphins, & Buffalo Bills. The styles are made of moisture wicking and UV protectant fabric and produced in Los Angeles in limited quantities of 100.
Don't miss our Men's Fashion Dress Shirts & Polo Shirts Ultimate Source List for more American made golf suitable polo shirt brands.
Smashing Golf & Tennis started with the idea of developing slimming tennis wear to fit real women in need of flattering performance athletic clothing. Their skorts feature an inner compression layer to smooth bumps and improve performance using fabric produced in Rhode Island. The tops are designed with flattering gathering along the sides and a comfortable long cut with the highest quality athletic fabric from a mill in California. Even the zippers on their tennis and golf dresses are produced in Georgia, with all of the components coming together for manufacturing in Chicago, less than 30 minutes from the company headquarters. Check out all the colors, styles and sizes they offer.
Allen Edmonds offers American made spiked golf shoes in wing tip or athletic style. Allen Edmonds golf shoes are handcrafted in Wisconsin from imported materials. Allen Edmonds shoes are featured in our American Made Shoes: Ultimate Source Guide.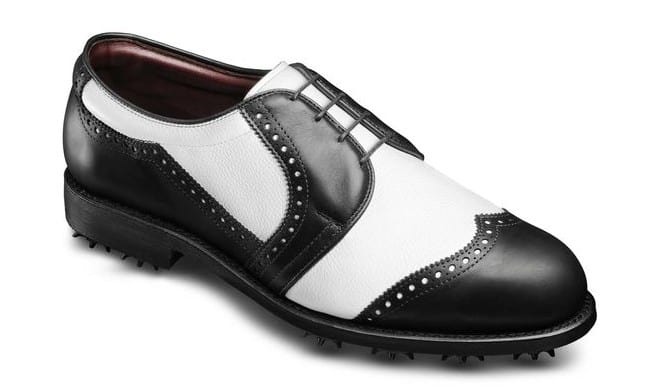 Swiftwick performance socks come with compression benefits. The sock's thin profile reduces the effects of fatigue to maintain performance longer. They're available in five different heights and come in 11 color options.
Golf Gear
Did you know that Pinnacle is a Titleist company and makes its golf balls right in Fairhaven, Massachusetts? In fact, all Pinnacle golf balls are designed, tested and manufactured in Massachusetts. The brand's newest collections are the Pinnacle Rush and Soft Golf Balls. The Pinnacle Soft balls have a high-energy, low compression core making them great for putting, while the Pinnacle Rush balls are designed with a high-energy core to produce speed on full swing shots.
EcoGolf golf tees make a great gift for the Eco conscious golfer. EcoGolf tees are made from recycled scrap polymers and are biodegradable. EcoGolf tees last for up to 100 strikes and are advertised to have increased carry and roll distance over wooden tees.
Pride Golf Tees professional wooden golf tees are manufactured in Maine. Pride Golf Tees is the largest manufacturer of wooden golf tees in the world.
Belding golf bags and golf accessories have been made in the USA since 1972. The Belding American Collection Vintage Golf Carry Bag is handcrafted in California.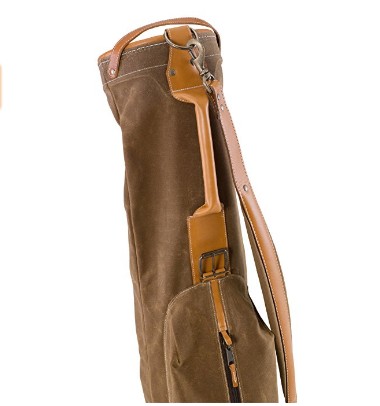 STITCH Golf putter covers are made in the USA from 100% genuine leather. The STITCH Golf unique and stylish covers are handcrafted.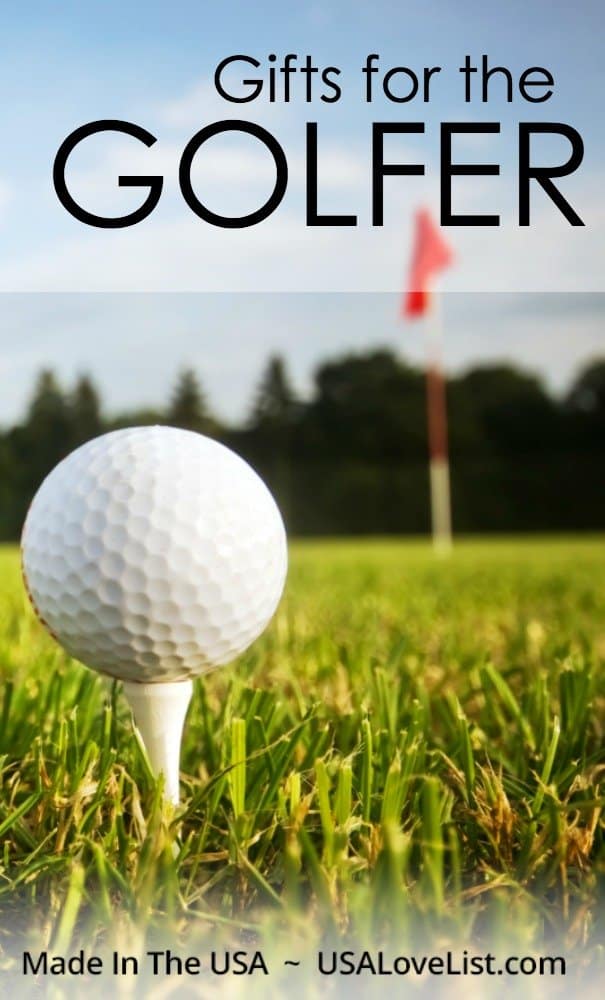 Disclosure: This is a sponsored post which USA Love List is proud to share with you because, sponsored or not, we only share stuff we love.