Almost everyone notices a change in their skin with the change of the seasons. As we endure the colder months, our barrier becomes compromised. Dry, flaky, and dull skin can creep in. You need an ideal moisturizer to maintain healthy winter skin. I have five American made winter skincare products that will keep your skin in optimal health against the harsh weather conditions. Think of more than just creams when you want to keep your skin glowing through the seasons. In addition to product recommendations, I have added an at-home light therapy tool for your best complexion.
American Made Winter Skin Care Products We Love
First things first, the technology. Baby Quasar Pure Rayz uses amber, red, and LED lights to give your collagen a boost from the inside out. This is the perfect treatment option in the winter or anytime. I love it for winter use when the skin can be a little too sensitized for active ingredients. Light therapy is gentle and non-irritating for most users. I will be writing more about this product when I update my favorite anti-aging products soon. I will say that I loved my results and it's easy to use. Plug in the handheld tool and the treatment takes a couple of minutes. The timing is completely automated.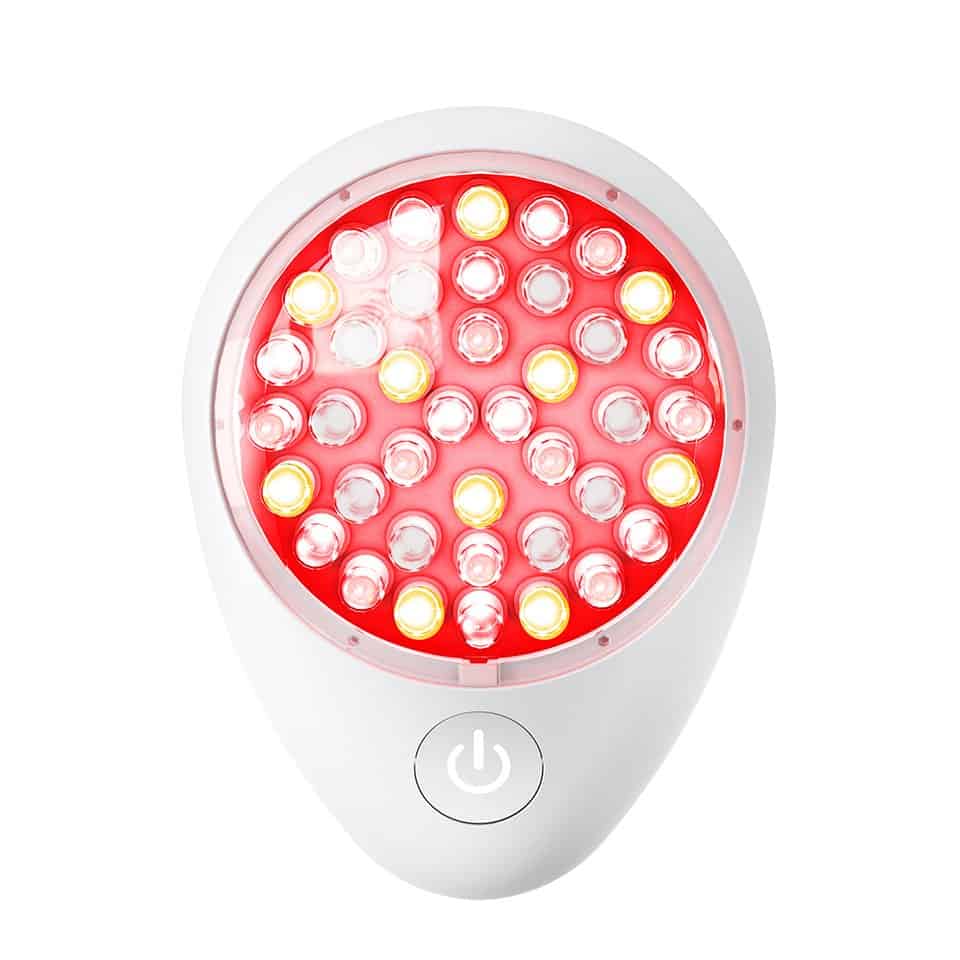 Moisturizers
When your skin needs pure hydration, Hydro Peptide Soothing Balm is the solution. It doesn't just soften dry skin it also provides a barrier from further dehydration. The organic extra virgin coconut oil, avocado and olive oil blend penetrate the skin deeply without leaving a greasy film on top of the skin. The peptide infusion will boost the skin's oxygenation encouraging collagen and elastin fibers. The result is hydrated skin with softened lines and wrinkles for a more youthful glow. I recommend the entire Hydro Peptide line.
Mario Badescu Hyaluronic Moisturizer SPF 15. Hyaluronic Acid is one of my favorite skincare ingredients. It binds its weight in water times 1000 and is a natural moisturizer within the skin. There isn't another ingredient that retains the moisture on your skin quite like Hyaluronic Acid. This moisturizer is very lightweight and easily absorbs.
Philosophy Hope in a Jar is a cult classic. Loved by many and raved about by users of all ages and skin types. Hope in a Jar is lightweight and super smoothing. It provides a barrier of protection against free radical damage while it works to plump lines and lighten discoloration.
Hydrating Toner
Mario Badescu Facial Spray with Aloe, Herbs and Rosewater. This mist is an instant pick me up. You can use it underneath and on top of your makeup at any time. It relieves dehydration and tight skin on contact. The smell is phenomenal. Hydration does not get easier than spraying it on.
Nourishing Mask
Farm House Fresh Pajama Paste. I never skip a weekly mask. This facial mask is a skin-tightening, super-hydrating and redness-reducing mix. It also has bentonite clay to deep clean and refine pores, giving them an instantly smaller appearance. Milk, honey and active yogurt work together to make this perfect for keeping skin balanced and quenched through the cold seasons.
What can you add to your winter skincare routine to ensure glowing skin?
Don't miss my tips for healthy winter skin to get rid of dry skin for good.