Sunshine is a wonderful thing, but sunscreen should go hand in hand when you are out enjoying it. About 15 minutes of unprotected sun exposure a day is good for you but beyond that you need protection. There are a lot of excellent choices in American made sunscreen and in this case you need to be able to trust the ingredients. I would not buy any sunscreen that is not clearly labeled 'Made in the USA'. This is our exclusive list of made in USA sunscreen and I personally recommend any and all of these products based on personal use and professional knowledge.
I am a licensed esthetician and as such have attended smart aging courses. Above all things, sun damage is the leading cause of premature aging which is a small problem in comparison to skin cancer. The statistics can be alarming, but knowledge is power. Use these tips to stay safe in the sun.
apply sunscreen
seek some shade
sun is not seasonal; sun damage occurs all year long
Slather on the made in USA sunscreen and soak up the sun.
Made in the USA Sunscreens: The Ultimate List
Sunscreen For The Body
Sunscreens For The Face
Applying sunscreen shouldn't just be part of our daily routine in the summer. Applying sunscreen on the face all year long will help prevent premature aging. Our list of Best Sunscreens for the Face, All American Made includes our favorites.
Sunscreens for Kids and Babies
Our list of the Best Sunscreens for Kids and Babies includes sunscreens that are chemical free and formulated for sensitive skin.
Best Natural Sunscreen & Sun Care Products
For a list of the best natural, non-toxic sunscreens that are safe for the whole family, check out our extensive list of Best Natural Sunscreen & Sun Care Products.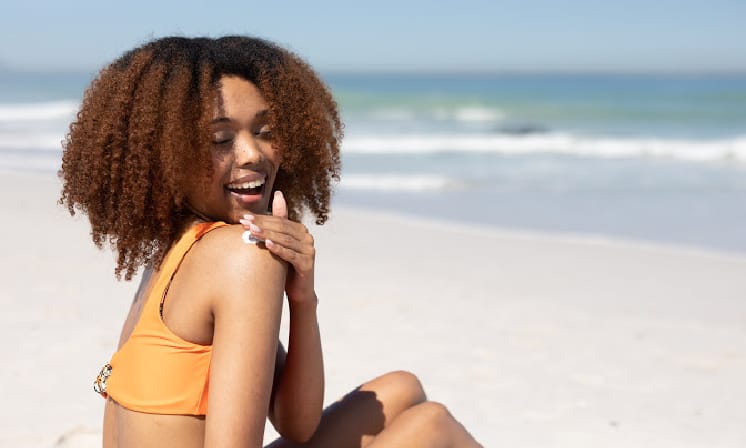 Organic Sunscreen
If it is organic sunscreen that you prefer, then check out our picks for Organic Sunscreen Made in the USA. This list contains sunscreen that contains organic ingredients.
Made in USA Sunscreen Available at ULTA
We know a lot of our readers are loyal ULTA shoppers. We compiled this list of made in USA sunscreen that is available at ULTA. You will find natural and organic sunscreen, tinted sunscreen, and sunscreen for the whole family on this list.
Have you visited our Made in USA Shopping District? It is the place to start your shopping when you want to find the best of American-made.
Disclosure: This is a sponsored post which USA Love List is proud to share with you because, sponsored or not, we only share stuff we love.
Love this list? We know you will love these lists too!

Pin this list to save it for later!