To continue USA Love List's State Series posts including products we love made by state, we had Minimel Design founder, Emily Walley, put together 10 Things We Love, Made in Pittsburgh.
I'm a Pittsburgh transplant, but I've fallen head over heels for Pittsburgh's robust history, can do attitude, and the steady transformation it's made in the past four decades. A city, once known for the soot that prevailed on every bridge and building, has a new facade. Passing through the Fort Pitt tunnel opens the door to a hilly epicenter of 712 sets of city stairs, 446 bridges, three rivers, the steepest street in the U.S., and a community of countless energetic individuals with the drive to make Pittsburgh the place to be. Its vacant warehouses are studios and its empty buildings are small businesses embracing everything that is local and lovable about this historic steel city.
As the handmade movement sweeps the nation it makes me proud to see Pittsburgh playing an active role. I chose an eclectic mix of makers that are embracing Pittsburgh through their craft, and presenting it in a manner that is elegant and engaging, all the while celebrating this quirky, rusty, beautiful city at its core.
Bones and All
Zak Kruszynski is the man behind Bones and All. A graphic designer by trade, he transforms the two dimensional into beautifully crafted furniture and home goods with a striking simplicity that draws you in. His furniture shows his strong sense of design; the irregular planks fall neatly into clean lines and tightly stacked boards reveal their rough appearance with panache. Preserving the character of what he collects and presenting it in a way that highlights its intrinsic beauty and naturalistic aesthetic is central to the Bones and All mission.
"I'm inspired by the history of my materials."
"From nail holes and machine marks in a century old beam, to the dark mineral streaks in a piece of fresh cut hickory, I'm moved by the stories they tell and motivated by the challenge of bringing them to life." His brand Bones and All refers to his use of finding a purpose for "all" of his salvaged materials. Utilizing locally sourced, reclaimed wood as a starting point, the wood scraps from his furniture become smaller home goods and decorative objects. The works of Bones and All present themselves as an unmistakable amalgamation of Pittsburgh relics.
Photo Credit: Zak Kruszynski
Redraven Studio
The works of Redraven Studio reveal personal stories from Amy and Ryan Hamley's experiences in Western Pennsylvania and beyond. Quilted jelly jars, antique bottles, acorns, and more are replicated in porcelain from handmade molds. Dishes with colorful, gestural, brush strokes bring Bryce Canyon sunsets to your dinner table.
The slipcast pieces have a beautiful delicacy to them, yet they beckon to be used everyday.
The whiskey decanter and glasses (pictured) was the first I'd seen of their work, and I immediately fell in love with this gem. Perhaps it was the ease with which I built my own personal story around the set; envisioning myself next to a fire with my favorite person sipping whiskey from the darling x and o glasses. Stories are meant to be shared and the porcelain artifacts from Redraven Studio belong amongst good conversation.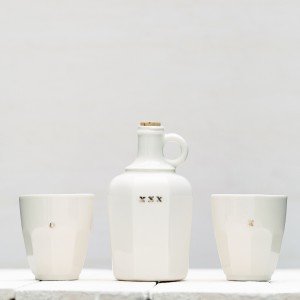 Photo Credit: Janelle Benedycki
Wigle Whiskey
There was a time in Western Pennsylvania's history when thousands of farmers distilled their excess corn and grain into whiskey, through 4,000 documented stills. In 2012, a single determined family set out to bring the lost spirits back to Pittsburgh, creating the first local whiskey distillery since prohibition. Over two years later the Wigle Whiskey crew has crafted countless batches of certified organic whiskey and gin, made from locally sourced grains. Beyond craft spirits, the forward-thinking bunch has made themselves an integral part of the community through tours, tasting events, labeling parties, and more. You'll find Wigle is the drink of choice at parties, even amidst more expensive spirits.
Leona's
Every city has a dessert to call its own and although Leona's has merely planted its feet in Pittsburgh, it will no doubt conjure sweet conversations for years to come. Leona's, named affectionately after their beloved pup, was founded by Katie Heldstab and Christa Puskarich. The duo creates small batch ice cream sandwiches in over twenty seasonally rotating flavors: a list that is ever-changing and expanding.
Opening the paper wrapper reveals a beautifully executed sandwich; two homemade cookies bundle a rich and flavorful round of ice cream.
You may characterize ice cream as a summer confection, but the Cinnamon/Oatmeal (pictured) would be a perfect treat while snowed in. All of Leona's dairy is sourced from a single central Pennsylvania farm and the finished ice cream is at least 85% lactose free. At about two inches thick the sandwiches are large enough to share, but you won't want to.
Photo Credit: Adam Milliron
Jenny N. Design
After completing a degree in Biomedical Engineering, Jenny Nemlekar realized her heart was in design and created her namesake collection, Jenny N. Design. "I am an artist by nature and an engineer by discipline, so my business is the fusion of my personal artistic aesthetic and the engineering principles I adopted throughout my education." Jenny's leather and canvas totes, briefcases, and backpacks exhibit exquisite craftsmanship, attention to detail, and a unique style. The backpack (pictured) struck me as the perfect everyday carry-all.
Sophisticated enough for any situation and suitably spacious for a day's necessities.
Each bag is finished with a stitched leather tag stamped with Jenny's signature and it's place of origin, Pittsburgh, PA.
Photo Credit: Jenny Nemlekar
Studebaker Metals
Studebaker Metals is a labor of love. Founders Michael Studebaker and Alyssa Catalano hand-form each bracelet, necklace, and keychain with a hammer and torch. "Our designs are often influenced by the process and tools we use to make them, creating a simple and utilitarian aesthetic – most of our products are left with a 'work patina,' and are minimally polished." The grooming kit, comprised of a razor, shaving brush, and mustache comb is a package any bearded fellow would look forward to.
Crafted of American made brass and sterling, the pieces have an unmatched weight that demonstrates lasting quality and durability.
I personally own a copper and brass cuff, which I wear day in and day out. The raw finish and rivets give the bracelet a unique tactile character. You'll find the Studebaker mark next to their home city, Pittsburgh, on all of Michael and Alyssa's designs.
Photo Credit: Josh Barker
Maestro Frameworks
To walk through Michael Brown's shop is to travel through time. From bakery, to horse stable, to Maestro Frameworks, the story of a 100 year old building unravels. On average, Michael builds one steel mountain, city, or track bicycle per week and the majority of the bikes stay right here in Pittsburgh. All frames feature unique details, custom geometry and are finished with Maestro's signature head badge. Michael loves to see a complete bike rolling out the door, so he offers complete assembly and wheel building services. I was particularly taken by the story of his own bicycle, modeled after an English bike of the twenties and thirties. Bring him a beautiful story and he'll build you a beautiful bicycle.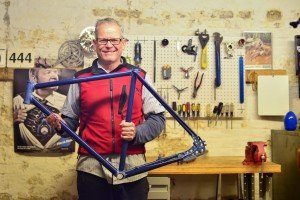 Photo Credit: Emily Walley
Garbella
Sure, P is for Pittsburgh, but Pittsburgh is all about pierogies and the beloved half circle of potato filled dough is something that Yinzer's can't get enough of. I have a particular liking for the simplicity and relevance of Amy Garbark's Pittsburgh inspired graphics, which adorn her raglan pullovers, tea towels, and the baby one-piece pictured here. Additional alphabet prints make their way onto Garbark's line of goods celebrating the food culture of Pittsburgh's diverse heritage; "M is for Matzo Ball" and "S is for Samosa." Amy, a fine art graduate and former teacher, founded Garbella in 2008. All of her designs are hand-drawn and hand-printed in an environmentally conscious manner.
Photo Credit: Amy Garbark
Brush & Pounce
Beak and body height may sound like I'm sizing up a bird, but these terms harken to a forgotten craft; the anatomy of type. Through hand-painted signs and hand-cut lettering Christian Shaknaitis, founder of Brush & Pounce, transports us to a yesteryear when we marked a storefront with the sweep of a paint brush. Barring a background in graphic design, the world of font is often overlooked, but the signs of Shaknaitis don't go unnoticed. They remind us of a slow and deliberate tradition that has faded. Christian's signs mark numerous establishments throughout Pittsburgh. They have an eye-catching aesthetic that pulls you closer exposing the fastidious brushstrokes that we've lost in a vector image.
Photo credit: Laila Archuleta
Minimel Design
After receiving my MFA, I found myself wanting to merge my love for art and functional design. Working with only a few materials I set out to develop a brand that was source conscious and creative, without creating excessive waste. Surrounded by a city full of history and unique construction, my love for architecture grew, as did my vision for Minimel Design. Taking inspiration from Pittsburgh's layered architectural environment I create colorful wooden wearables that are hand cut and hand screen printed. The necklace pictured is crafted from eastern hemlock, salvaged from a former Pittsburgh row house. My grandfather was a metalsmith and I'd like to think that I'm carrying on a family tradition of small business and fine craftsmanship.
Photo Credit: Emily Walley
Emily Walley is an artist and the founder of Minimel Design, an architecturally inspired accessory collection crafted from hand-printed wood. She has a passion for writing, photography, and cycling and is a contributor for Rotating Mass Media.
Header Image Credit: Justin Steiner
Don't miss our round up of things to do in Pittsburgh too!