Everyone wants to find a great gift that won't break the bank. I've put together a list of 30 gifts for $30 or less for everyone on your list. They are all affordable American made, so you'll feel even better about your purchase!
All USA Love List editors have created gift guides for 30 American Made Gifts Under $30 list. Make sure to check out Tracey's, Angie's, and Sarah's lists for more made in the USA affordable gift ideas.
Candles are always a great gift to give because they're useful and impart calm, relaxing vibes. I'd say that's a gift that delivers! The American made candle space is crowded, so if you're looking for a really special candle, I highly recommend Broken Top Candle Co. These candles incorporate all-natural cotton and cotton core wicks that are lead- and zinc-free. Every scent in the collection has been developed to have its own unique expression; both familiar and unexpected. Take your pick from dreamy florals, invigorating fresh tones and adventurous woodsy scents, perfect for anyone on your list!
Terratorie
, has the perfect gift options for your most sentimental and nostalgic pals Let them know you're thinking of them too with Terratorie's
Stationery Mystery Box.
The box features five randomly selected greeting cards, a Terratorie map card, and six stamps so you can avoid those holiday post office lines.
I love the whimsical & fun nature of these cards and appreciate the high quality of these paper goods.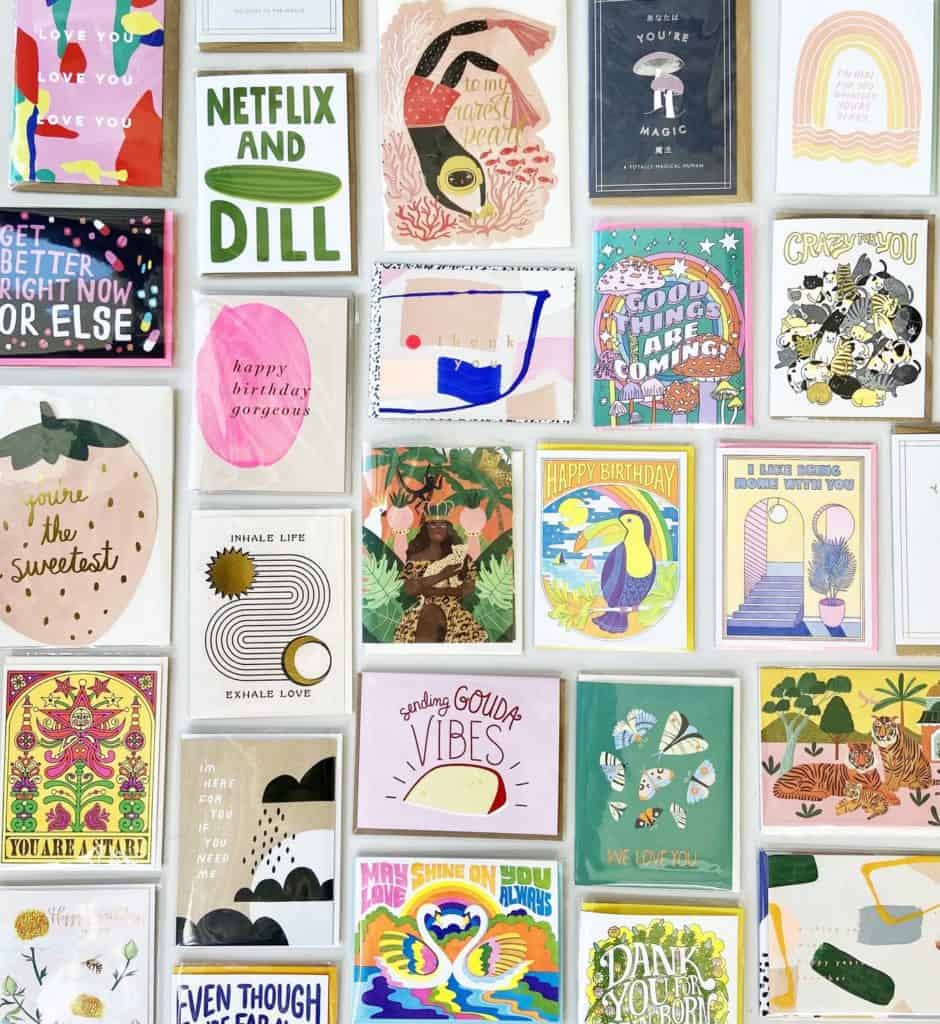 Earth Mama Lip Balm Quadruplets
offers all four flavors in one: the vanilla-tinged Coconut Smoothie, light as a cloud vanilla-yum Lavender Meringue, classic and beloved Mint Herbal, and the zingy, slightly minty organic Orange Ginger. This four-pack is a great little gift for anyone at any time of the year.
Made without petrolatum, artificial colors, or flavors, these lip balms make the perfect stocking stuffers.
AMERICAN MADE BEAUTY GIFTS UNDER $30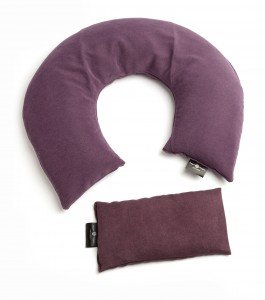 Hugger Mugger Peachskin Neck Pillow is a must-have. Whether you're relaxing on the couch or traveling, this pillow offers a perfect way to unwind.
GIFTS FROM HIM TO HER UNDER $30
I love Hanky Panky underwear because they're well made and last a long time. They're also breathable and comfortable. The Hanky Panky low rise thong is one of my favorite styles.
Katrina Markoff, chocolatier extraordinaire and founder of Vosges Chocolates, is given the Europeans a run for their money. Vosges 9 piece Exotic Truffle Collection is an exquisite chocolate experience; one bite is better than the next. The flavor combinations are the most unique I've seen or tried. The Olio d'Oliva, featuring first press extra virgin olive oil, white chocolate, green olives is divine. The nutty olive flavor hits your tongue and is instantly met with the sweetness of white chocolate and finished with a chewy saltiness of the green olives.
Ben's Garden'Love You to the Moon and Back' Scribble Notepads 3-Pack makes a great hostess gift, stocking stuffer, or gift 'just because'. A bright border outlines the heavyweight pages of three notepads printed with a sentimental message.
Let the Date Night Bucket List take the ordinary out of dating. The date night-invigorating prompts run the gamut from romantic, to intellectual, and fun. Once you've shared each experience, note the date on the back of the stick with the official bucket list pencil.
GIFTS FOR HIM
Texas Beard Company has a cult following. It's a favorite amongst bearded fellows. The Texas Beard Oil and Balm Combo Set is the perfect gift for the bearded man. The beard oil and balm is all-natural, and non-toxic. It comes in six different scents too. Made by a team of three men in Beaumont, Texas.
Every Man Jack is a men's grooming brand that offers professional quality formulas are dermatologist approved. Fragrances are made from essential oils and offer exceptional performance using many naturally derived ingredients. The Every Man Jack Sandalwood Body Kit comes complete with a hydrating body wash, moisturizing body lotion, and aluminum-free deodorant, plus a compact toiletry bag to take on the road.
Boldfoot men's fashion socks that are grown and sewn here using American grown cotton. They also donate 5% of profits to U.S. Military & Veterans in need. Code USALOVE to saves you 15% off your first order. (No minimums necessary.)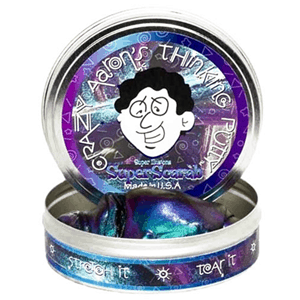 Crazy Aaron's Thinking Putty isn't just for kids. Read why Sarah, USA Love List founder, loves this stuff too! Take 15% off with discount code USALOVE, with no expiration.
Did you know the Venus Fly Trap is native to America? Now you can grow one yourself with Jonsteen Company Seed Germination Kits. They give you everything you need to germinate tree seed – seeds, growing medium, a mini-greenhouse, and detailed instructions.
Stormy Kromer Harris Tweed Convertible is an adjustable, fleece-lined ear band that accommodates many hairstyles while providing stylish warmth and durability. They recently launched a spring and summer line too. The company has been making hats since 1903 in Michigan's upper peninsula.
I told you how much I love the patterns and fabric of Cinda B products in my gift guide for the yogi gift guide. The durable nylon fabric makes it perfect for everyday use. If you're into Vera Bradley, I'd suggest checking out all the cool patterns offered by Cinda B. All Cinda B's goods are made in the USA at the company's factory in Indiana. Cinda B is featured in American Made Designer Purses and Handbags: Ultimate Source List.
Rifle Paper Company makes the prettiest little things. Its Rifle Paper Co. pink floral deskpad makes for a cute gift alongside a candle. Rifle Paper Company is featured in American Made Custom Greeting Cards, Note Cards & Stationery.
Everyone loves quality American made bath items. I particularly love Apple Valley Natural Soap Rose Geranium Salt Bar for its calming rose scent and its luxurious ingredients including, organic coconut, organic shea nut butter, and castor bean, European spa salt, Australian red reef clay, and essential oils of rose geranium and sweet orange. Add the soap with the Natural Cotton Soap Bag for a sweet little gift. 15% off with code USALOVE. No expiration. One use per customer.
Be bright and merry into the new year with this cheery Night Owl 2022 Desk Calendar. All its products are made in Homewood, "owlabama".
Handblown glass oil candles are made in Rhode Island and are available here.
Give a gift that someone will use every day. Trust me, once you own a Tervis tumbler, you'll surely use it daily to carry your cold or hot beverages on the go!
GIFTS FOR THE FOODIE UNDER $30

Experience the fresh, springtime-grassy flavor of The Republic of Tea Organic Matcha. This tea a great afternoon pick-me-up. Matcha is exceptionally high in antioxidants and is also thought to boost the body's metabolism and improve memory and concentration. Sip, relax, and enjoy. We love this as a gift for any matcha tea drinker. The tea is packaged at the company's California factory.
I'm really picky about my coffee and the Aerobie Aeropress makes a great cup of coffee or espresso, depending on how strong you like to drink your coffee. You won't be disappointed with your cup o' joe if you use Aeropress. It's also perfect for traveling because it's so compact. The Aerobie Aeropress is also featured in American Made Gifts for Coffee and Tea Lovers.
Three Designing Women 'From the Kitchen' Stamps
is a custom stamp brand that creates personalized stamps and embosser designs for every occasion including holiday greetings, office monograms, thank-you's and invited, bridal,
baby
, and more. We love the 'From the Kitchen' stamps. There are lots of design options and all styles start at under $30.
Grassracks' Floating Wine Rack allows the opportunity to uniquely display a worthy 750 ml wine bottle. This gorgeous bamboo floating wine rack always draws attention and sparks conversation. It's a practical, beautiful, and eco-friendly gift for only $24. All Grassracks' products are finished with Vermont Natural Coatings, another American company that makes high-quality wood finishes from whey protein, which is a byproduct of making cheese, making it a true foodie gift. The product is made outside Philadelphia, Pennsylvania in Malvern.
Sweet Jules Beer & Pretzel Caramels are made from Gold medal-winning Scotch Ale from Town Hall Brewery and extra thin, salted pretzels blended into our rich, buttery caramel. We loved these caramels for their homemade taste and also appreciated their polished packaging, making it perfect for gift-giving and sharing with others!
I cannot tell you how great Bee's Wrap Bread Wrap is. Even if you aren't a baker, but love a great loaf of bread, you'll enjoy using this reusable wrap. This wrap keeps your bread moist and fresh for days after you cut into it. The wrap is made of beeswax, organic cotton, organic jojoba oil, and tree resin. Simply use the warmth of your hands to soften the wrap, create a seal, when cool the wrap holds its shape. It's a must-have for anyone who spends time in the kitchen.
DON'T FORGET THE AMERICAN MADE GIFT WRAPPING PAPER!
Make sure your American made gifts are wrapped in American made paper. Wrappily eco-friendly wrapping paper is made in the USA from recycled paper and the fun and stylish patterns are printed from newspaper presses. Unlike traditional wrapping paper, Wrappily gift wrap is recyclable, as soy-based inks are used.
Wrappily is offering USA Love List readers free shipping on orders over $25 with code USALOVE.
Do you love that beautiful wrapping in the post's images? That's American made, recyclable, compostable, reversible wrapping paper made by Wrappily. I can't wait to see the wrapping paper in my compost bin instead of in bags on the curb. Check them out.
Disclosure: This is a sponsored post which USA Love List is proud to share with you because, sponsored or not, we only share stuff we love.