Caramel lovers, are you looking for the best caramel candy made in the USA? Whether you are a frequent connoisseur of caramel treats or a novice caramel foodie, you will appreciate the caramel brands featured in this list. They are all handcrafted by small businesses across the country.
Best Caramel Candy Made in USA
Sweet Jules Gifts Award Winning Caramels
Sweet Jules Gifts is a Minnesota based company that is run by two sisters, Hope Klocker and Jule Vranian. Hope and Jule grew up in a restaurant family, so they had expert chefs and serious foodies as their caramel candy inspiration. Their years of crafting and testing recipes proved successful with the launch of Sweet Jules Gifts in 2009.
Sweet Jules Gifts gourmet caramel candy is handcrafted daily using real ingredients, like the fresh vanilla bean that results in the black specks in the caramels. In 2019 Sweet Jules won not one, but THREE Top Caramel Awards at the International Chocolate Salon Awards.
It is no surprise that Sweet Jules Gifts is recognized internationally for their caramels. I was sent samples to try and I could not pick just one favorite! I love the Fleur De Sel (French Sea Salt Caramels) for the sweet and salty blend. The Dark Chocolate & Pecan Caramels are layers of decadent flavor. I love the Beer & Pretzel Caramels which are made with a Scotch Ale from a local Minnesota brewery. The ale adds a smooth flavor and the pretzels add a salty crunch. No matter which Sweet Jules Gifts unique flavor you choose, your palate will savor the melt- in- your- mouth caramel candy.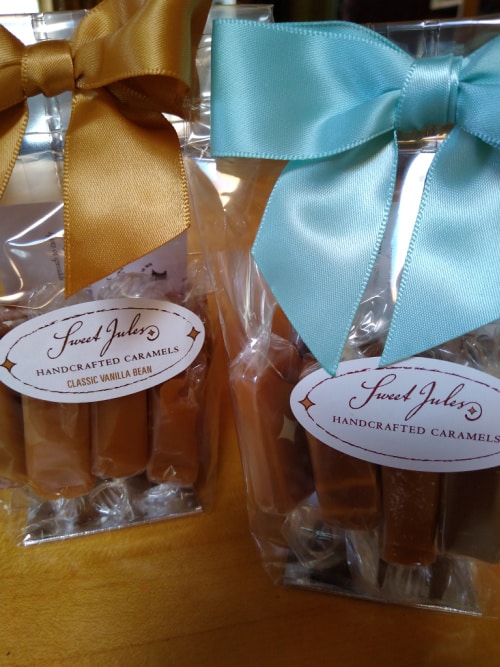 Sweet Jules caramels make great gifts for any occasion. The gift boxes are elegant and the caramels wrappers are sealed with a twist. The eight-piece gift bag is decorated with a pretty satin bow.
Love this list? We know you will love these lists too!

Pin this list to save it for later!
Cover image: Sweet Jules Gifts Fleur De Sel (French Sea Salt Caramels)