I love caramel. Enough said. If you too need a periodic caramel fix, here are are eight caramel recipes, all of which feature American made caramel candy manufactured by Goetze's Candy Company.
How to make Caramel Apple Bars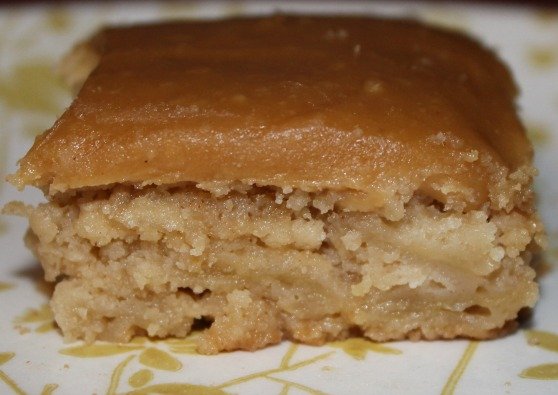 Caramel + local apples = the perfect fall dessert! The recipe below is slightly modified from the original recipe posted on the Goetze's Candy Company website. These decadent bars didn't stand a chance in my house! They are very moist and the gooey caramel topping is to die for.
Ingredients
For the caramel topping:
10 oz bag of Mini Cow Tales (Cow Tales unwrapped and chopped into 1 inch pieces)
1/4 cup evaporated milk (I didn't have any evaporated milk and used this substitute)
1/2 stick of butter
For the bars:
1 cup flour
1 tsp baking powder
1/4 tsp salt
1 stick of butter
1 cup of brown sugar
1 large egg
2 tsp vanilla extract
3 small apples, cored, peeled and sliced thinly
2 tsp cinnamon
Directions:
Preheat oven to 350.
Grease an 8×8 baking pan.
In a small bowl mix flour, baking powder, and salt.
Toss the sliced apples in a separate bowl with the cinnamon.
Melt 1 stick of butter over low heat. Remove from heat and add brown sugar. Stir until well blended.
When butter/brown sugar mixture has cooled to room temperature, add vanilla and egg- if the mixture is too hot, the egg will cook!
Add dry ingredients gradually to the wet ingredients. Gently stir in apples.
Bake for 25-30 minutes.
For caramel topping: warm butter and milk over low heat. Add Mini Cow Tales pieces and stir continuously until Cow Tales are melted and well blended with the butter/milk mixture.
When caramel sauce reaches room temperature, pour it onto the bars, and spread evenly.
Let bars sit 15-20 minutes before cutting and serving.
More Caramel Recipes You Need Right Now
I'm drooling over here and you will be too when you lay your eyes on the following caramel recipes….hmmm….which one are you going to make?!
Caramel Brownie Recipe via Sensibly Sara
Chocolate Caramel Rice Krispie Treats via Parenting Chaos
Cow Tale Cupcakes via Sensibly Sara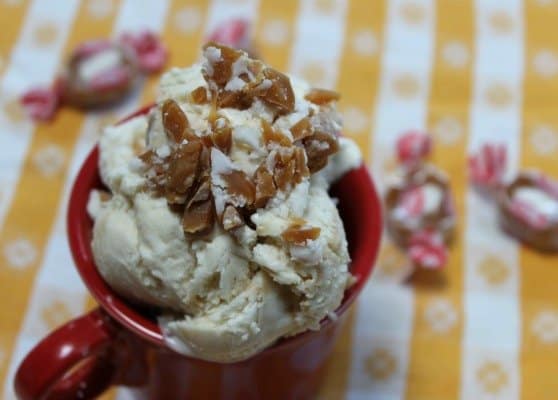 Vanilla Caramel Swirl Ice Cream via USA Love List
Salted Caramel Hot Chocolate via USA Love List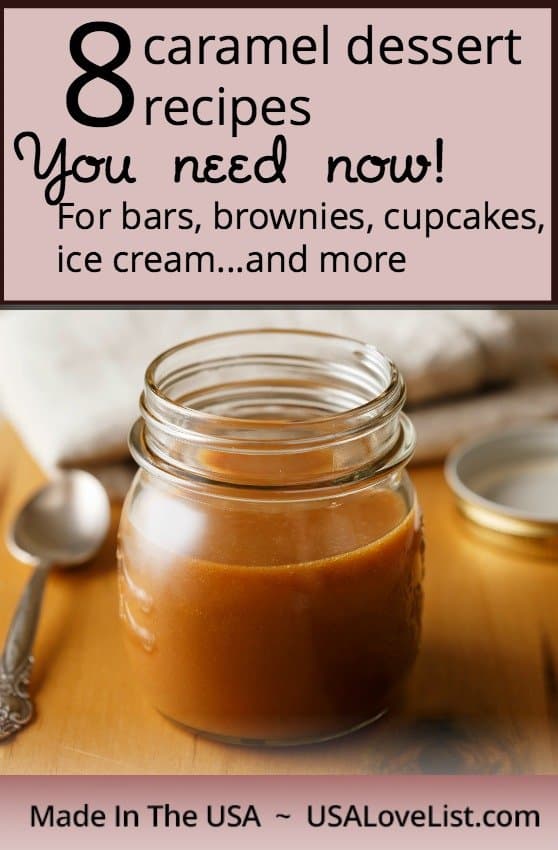 Disclosure: This post is sponsored by, Goetze's Candy Company, which USA Love List is proud to share with you because, sponsored or not, we only share stuff we love.