What is CBD? Is it safe for pets? 
The passage of the 2018 Farm Bill deregulated hemp growing and made CBD production legal in the United States. CBD production in the US has been growing rapidly since, and companies are popping up that offer CBD oil products for beauty, health….and pets. 
What is CBD? 
CBD is short for cannabidiol and it is a chemical compound derived from the hemp plant. It does not have psychoactive effects like its cousin THC (tetrahydrocannabinol), which is found in high concentrations in marijuana. Both hemp and marijuana contain CBD, but it is extracted from the hemp plant because hemp has a higher concentration of it. The hemp plant contains a small concentration of THC, but not enough to get a "high" feeling from. CBD can only be used for production legally if it contains less than .03% THC.  Because of the possibility of even a minute percent of THC in a product, some places restrict the sale of CBD products to those over 18 years of age. 
Is CBD safe for pets? 
First of all, your pet's veterinarian's advice should be sought before giving any CBD product to your pet. We do not give medical advice, and the Food and Drug Administration has not evaluated any of the medical benefits statements. 
CBD oil is safe to use as a supplement to your pets' daily regime. It has been shown to have the same effects on animals as it has on humans. It has shown to relieve anxiety, soothe aching joints due to age, help with appetite loss, and more in animals of all sizes. The side effects are minimal and include a feeling of calm with increased appetite. The difference in CBD oil for humans and CBD oil for pets is the dosage size.  The dose varies on the size of the animal. 
Don't miss our popular lists of made in USA CBD beauty products, and made in USA CBD products we love. 
CBD for Pets: Made in USA CBD Pet Products
CBD for Pets: CBDfx Pet Oil Tincture
CBDfx Pet CBD Oil is a natural supplement made with the purest, highest quality CBD oil safe for pets. Pet CBD Oil comes in 3 concentrations so dogs and pets of all sizes get just the right dosage. CBDfx CBD oil is made from hemp plants that are grown organically at state-of-the-art partner farms located right here in the USA. CBDfx products for pets contain only the best natural ingredients such as coconut oil, and contain no toxic solvents or other harsh chemicals. Save 10% on CBDfx Pet CBD Oil now with code USALOVE at checkout.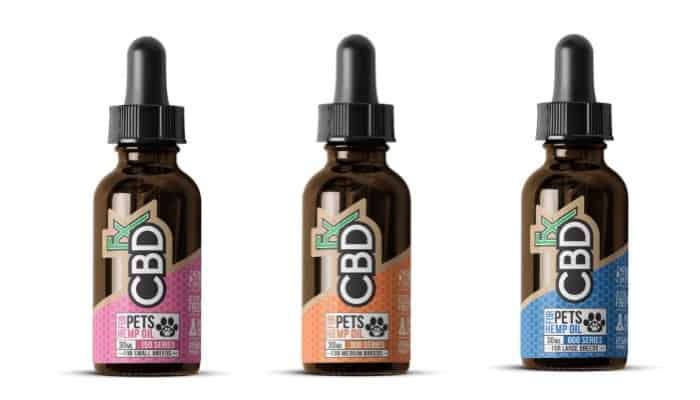 CBD for Pets:  A Made in USA CBD Pet Products Source List
LOVE THIS LIST?
Honestly, we know that you will love these lists too!
CBD for Pets: A Made in USA CBD Pet Products Source List
Made in USA Cat Supplies: The Ultimate Source List
Made in USA Dog Supplies: The Ultimate Source List
Natural Pet Food Made in USA: The Ultimate Source List
Dog Treats Made in USA: The Ultimate Source List
National Dog Day! Made in USA Items for Dogs and Their Humans
Made in USA Gifts for Pet Lovers and Pets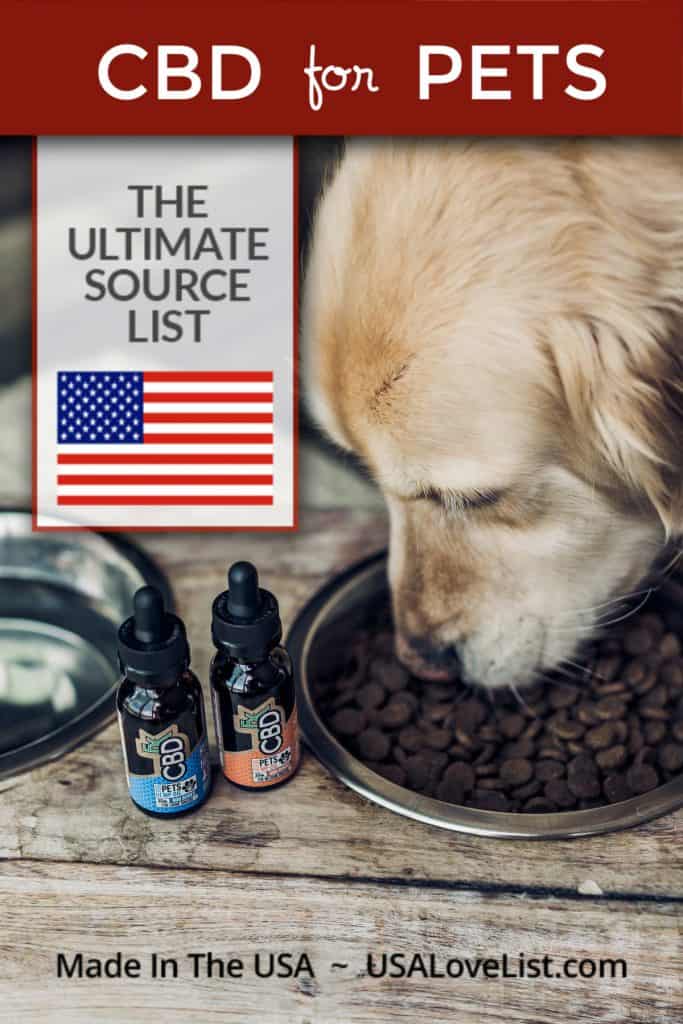 Disclosure: This is a sponsored post which USA Love List is proud to share with you because, sponsored or not, we only share stuff we love.