This year the Easter Bunny will be filling the Easter baskets in my house with only American made treats, and not because I have declared so. My kiddos have. "Mommy, I hope the Easter Bunny knows to get us 'Made in the USA' things for our Easter basket," said my daughter when we were running errands yesterday. "Yeah, he needs to get all the kids 'Made in the USA' stuff!!!" added her brother.
So, Easter Bunnies everywhere, here are ten American made Easter basket ideas for kids to help you fulfill their dream and make sure ALL the children in your delivery area wake up to American made goodies on Easter morning.
Made in USA Easter Basket Ideas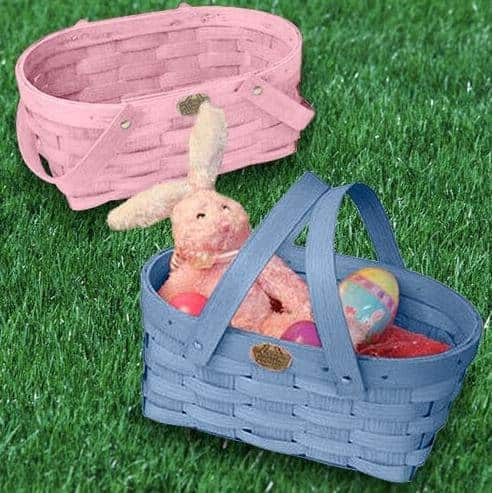 Photo Credit: www.peterborobasket.com
Made in New Hampshire since 1854, Peterboro Basket Co. is the oldest basket company that manufactures in the US. Their baskets are 100% USA made and they have many sizes, shapes, and colors of Easter baskets to choose from.
I am beyond excited to find plastic eggs that are made in the USA and biodegradable!  Eco Eggs are kid safe as they are made from BPA free, non-toxic food grade plastic that is corn starch, not petroleum based.
Don't miss our list of American made goodies that fit in plastic Easter eggs. 
Crazy Aaron's Thinking Putty is THE original and best creative play "slime".  For over 20 years Crazy Aarons has been making thinking putty and innovative creative play sets. 
Take 15% off your Crazy Aaron's Thinkig Putty oder with discount code USALOVE, with no expiration.
This Nu Angel sweet angel is the perfect Easter basket item for a baby's basket. The Angel consists of one baby bib, one large contoured burp pad (patented), and one 30" x 30" receiving blanket, all made of the same extra soft 100% cotton flannel as NuAngel's other baby products.
Take 15% off your NuAngel's purchase with discount code USALOVE. One time use only, no expiration date.
Wiffle ball is a classic outdoor game that never goes out of style. The Wiffle perforated plastic ball has been made in Connecticut since 1953 and makes a great addition to any child's Easter basket.
Piggy Paint nail polish is kid friendly and made with a non toxic water based formula. All Piggy Paint products are free of harsh chemicals & are eco-friendly. It is safe to use on babies, toddlers, and young children.
For over 65 years, the original metal Slinky has been discovered by children in their Easter baskets.
Channel Craft toys are classic remakes of toys from the past. Simple, well made, affordable, and fun. Channel Craft manufactures a selection of boxed tin game sets, wooden tops, boomerangs, and other great items.
While they have outgrown many of the simple Easter basket fillers, teen girls still want the cute surprises.  The American made beauty items on this list will be a hit get!
Well, USA Love List has done the research so you don't have to, and we've compiled this list of our favorite American made Easter candy options.  Whether you are on the hunt for GMO free, natural candy, or you prefer classic Easter candy favorites  in your Easter basket, this list has the info you need to buy American.
This year, don't settle on cheap, China made doodads to stuff in those plastic Easter eggs! There are American made goodies out there that fit perfectly. Here are our favorites.
You can find plenty of American-made Easter treats for kids.  Some are your classic Easter favorites are available in pretty much any major store if you know what you're looking for.  It is rough enough to be pumping the kidlets up with sugar.  We want to know where their toys and treats are coming from; we want them made in the USA.
Love this list? We know you will love these lists too!