Full lips are a cosmetic feature coveted by women of all ages. There are makeup tips for fuller lips, products, and procedures. Some will opt for surgical measures, injectables and other more extreme methods. But we are sharing the tools and tips for getting full lips using natural, made in USA beauty products.
In our Anti Aging Series we have focused on preserving beauty, restoring some that has gone neglected, and offering simple ways to use makeup and skin care for your best appearance. Not a thing is wrong with a little graceful aging, but many of us welcome help holding onto our youthful features.
3 STEPS TO FULL LIPS
Lip prep: gently brush lips with a toothbrush-like brush. This removes dead skin and stimulates circulation, plumping the lips. Try the fullips beauty tool to prolong and increase the plumped results.
Line your lips with a nude liner closest to your lip color. Apply a neutral lip gloss.
Apply clear or very neutral high shine lip gloss just above the cupids bow and at the very center of the bottom lip. This makeup trick creates visual dimension.
LIPGLOSS TRICKS PAIRED WITH FULLIPS FOR MAXIMUM FULLNESS.
In my before photo, nothing is on my lips. In the after photo I used; my Fullips tool, sheer lip gloss (regular formula – no plumping ingredients) and omitted liner.
HOW TO USE FULLIPS :
WATCH THE CREATORS SHOW YOU HOW EASY IT IS IN THIS VIDEO.
TIPS FOR USING YOUR FULLIPS BEAUTY TOOL
Watch the demo video – they truly show it best.
Gently exfoliate your lips with a soft brush. Fullips provides this.
Wet your lips and the surrounding area slightly.
Wash your fullips tool.
Apply fullips around your mouth and simply suck in air to create a suction lock (this does take a little practice but I had it down in a few minutes).
We Have More Tips and Tricks for Beautiful, Healthy Lips!
Don't miss these great tips for beautiful lips featuring American made products:
I hope every woman has a favorite facial feature and embraces the beauty of her entire appearance.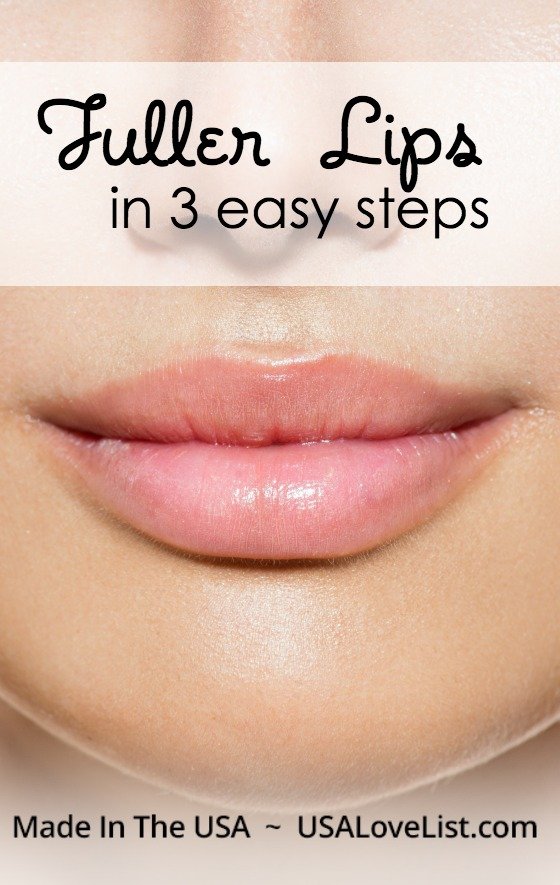 Disclosure: This is a sponsored post which USA Love List is proud to share with you because, sponsored or not, we only share stuff we love.
Looking for more beauty tips? Check out my advice on
The Best Clay Mask to Detox Your Face.