Almost every piece of beef or fish I make in the oven is made in my Lodge cast iron skillets. Why? They turn out beautifully and go from stovetop to oven so easily. I can put them in the oven on low heat or under the broiler and the pans are low maintenance. I can use any utensils in them and they clean up beautifully no matter what I cook in them. They don't warp, bend out of shape under high heat, and best of all they are made in the USA. Lodge cast iron is a family tradition passed down from generation to generation and I'm glad to part of that tradition. Today I am sharing my best London Broil recipe. It is easy and a favorite: Mushroom Stuffed London Broil.
This recipe is featured in American Made Cast Iron Recipes That We Love.
Another made in the USA item that you MUST have to thoroughly enjoy any steak dish is a good steak knife like the American made knives from Liberty Tabletop. These are always a great gift idea too. The Liberty Tabletop Deluxe Steak Knife Set is a beautiful presentation of 12 Limited Edition Steak Knives in a Solid wood Sycamore Chest. The Knives feature the best blade with the special steak knife serration and 18-10 hollow handle construction. The Sycamore Chest serves as both as a handy storage box as well as a handsome presentation for the knives when serving buffet style. Both Knives and Chest are 100% Made in the USA!
Mushroom Stuffed London Broil Steak in a Cast Iron Skillet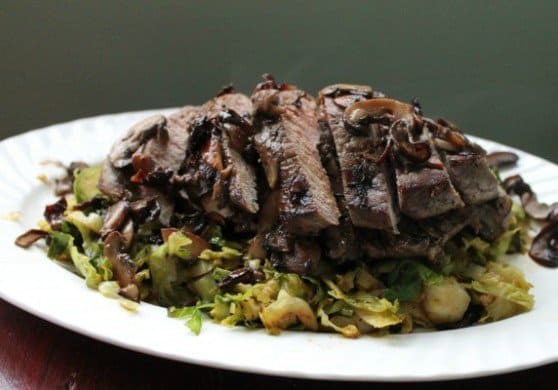 Use a Made in USA classic - the Lodge cast iron skillet - to make this easy, economical, and delicious recipe for a London Broil steak stuffed with savory mushrooms.
Ingredients
1 London Broil Steak (1 - 2 pounds)
8 ounces baby portabella mushrooms  
3 tablespoons butter
Black pepper
Kosher Salt
Instructions
Pre-heat oven to 400 degrees
Butterfly the London Broil and warm ( I butterfly then set out appr. 1/2 hour to bring closer to room temperature)
Thinly slice mushrooms
In medium/large cast iron skillet, heat butter over medium heat
Add mushrooms and a small pinch of salt
Sauté until soft and a few mushrooms are slightly browned
Place mushrooms in a small dish
Put London Broil, opened up, in pan and sear both sides - usually takes about a minute per side.
Place steak open side up in the pan and add mushrooms to one half of steak
Sprinkle black pepper over it - best if you grind pepper fresh
Close steak and add a pinch of kosher salt and some black pepper to top
Put in oven for approximately 20 minutes for medium, 25 minutes for medium well, and 30 minutes for well (For London Broil 2 inches thick)
Pull from oven and let rest on a carving board 10 minutes (my glorified way to say everyday cutting board)
Slice in 1/2 - 1-inch slices on the diagonal against the grain
Serve.
Notes
I served over thinly sliced and sautéed brussels sprouts with a splash of fig balsamic vinegar.
The best part about cooking with Lodge cast iron? It requires little scrubbing. I add hot water and wipe it down. Dry it and it's ready to go for eggs in the morning. Check out my tips on cleaning cast iron pans.
Recommended Products
As an Amazon Associate and member of other affiliate programs, USA Love List earns from qualifying purchases.
You can find more by Heather McCurdy at Real: The Kitchen and Beyond where she dishes up life in the kitchen with a shot of travel, a dash of style, and a pinch of culture. That is when she isn't homeschooling her kids, editing books, or brainstorming culinary marketing strategies.