Have you ever wondered what's made in Alaska? Alaska is the Last Frontier. Its most famous products are related to mining and fishing. Who hasn't heard of Alaska's oil and gas, copper, gold, jade, some of the cleanest coal on Earth, or salmon? Here I want to highlight a couple of products made in Alaska. You might never have guessed that some of these items are made in Alaska. In some cases, you would probably never think that they even would find customers! Be ready for a surprise or two.
10 Things We Love, Made in Alaska
Beer and Wine
The Silver Gulch out in Fox, Alaska is a summer go-to place for Fairbanksans and tourists alike. It is an old roadhouse with a huge brewery. This means their restaurant offers awesome Alaskan and American food and beer from their in-house brewery. The Silver Gulch offer tours of the brewery, which are really informative: one of the best brewery tours I ever took. They also have a large gift store with Silver Gulch T-shirts, mugs, etc. They are open year round even though Fox has only about 400 inhabitants! The Silver Gulch is a roadhouse and Alaskans go out to roadhouses as roadhouses provide entertainment and good food. In Interior Alaska, nearly every good restaurant sells Silver Gulch beer.
Another Fairbanks brewery is HooDoo. It is located in the middle of the Fairbanks railroad depot area. They sell their beer in their brewery as well as on the Alaska Railroad and in Lavelle's Bistro in Fairbanks. In October, they offer an evening of Oktoberfest-style fun aboard the HooDoo Choo Choo beer train for beer enthusiasts. They also have a cute beer truck that actually is an old firefighter car from a village in Germany.
Wine from Alaska, no kidding! The Vino Shipper Company in Homer sells wine made from Alaska blueberries, Alaska raspberries, and Alaska rhubarb.
Food
Alaska Wildberry Products produces chocolate candies using dried Alaska berries as ingredients. They also sell Alaska wild berry jams and jellies, meats, and smoked salmon. In Alaska, their gift baskets and gift packs are favorites for the holiday season. Very popular are their so-called Moose Nuggets. These candies are peanut butter-filled pretzels covered with chocolate and toasted coconut. You will understand the Alaskans' strange humor about this product when you read on.
Costume Jewelry the Alaska Way
The Winking Moose sells fashion accessories, and ornaments like earrings made from moose poop. These items are favorites among tourists as souvenirs. Unless you squeeze these egg-like poops, they last forever. Perhaps I should sell them the ones that have been in our yard ever since the moose and her calf jumped over the fence in 2008.
Weapons or Souvenir?
Knives – The Ulu Factory produces ulu knives that many Alaska tourists buy as a "weird" souvenir. However, Alaska Native people buy them for household use. They cut fish, game, nuts, and veggies with ulu knives and they are faster with that knife than everyone else with a kitchen knife. When you buy an ulu knife, make sure you pack it into your baggage. These knives are prohibited in carry-on bags.
Beauty Products
Soap – Denali Dreams Soap Company, Anchorage produces natural soaps that get their color from natural pigments of Alaska herbs and spices. Pure essential fragrance oils provide awesome scent. They even have soaps for dog wash! Well, it's understandable. There are probably more dogs than humans in Alaska. Alaskans don't have a dog, they have dogs!
Skincare – Alaska Glacial Mud sells skincare made out of (can you guess?) glacial mud. Their beauty products are based on fine, silky soil from Alaska glaciers, mainly from the banks of the Copper River. Their glacier mud masks and mineral soaps leave the skin smooth and soft. You can order their beauty regime either from their web page or thru amazon.com.
Clothing
The Northern Light Clothing Company in Juneau produces and sells hand-knitted clothing designed for outdoors and cool wet weather.
Midnight Mushing is a company located in North Pole, Alaska. They produce parkas, anoraks, and mittens. These clothing items have the insulation effect, comfort, and durability that you need when you are outdoors at below zero temperatures dog mushing, snow machining, or trapping. Their so-called Heat Barrier™ Mitts have been tested to work down to -70F (!) and found to keep the hands warm without additional heat sources. They sell their products thru Prospector Outfitters in Fairbanks, Alaska. If you are in Fairbanks and ask for directions to get there, just ask how to get to Prospectors. Nobody calls them by their full name.
Don't miss American Made Cold Weather Gear: The Ultimate Source Gear for Men, Women, & Kids
The Oomingmak Native Cooperative crafts hats and scarves, as well as endless scarves, called smokes from qiviut. Qiviut is the very warm underwool of the musk ox, which the musk oxen shed in spring. Qiviut is famous for being much softer than sheep wool. Furthermore, it lacks the oils that make sheep wool so itchy. Qiviut is spun very thin, making the products very light, but nevertheless warm. The different villages belonging to the cooperative have their own knitting patterns. Local experts can tell from which village an item comes. Qiviut items are worth their price as they last forever. A friend of mine got a qiviut scarf more than 40 years ago when she came to Alaska, and it is still in great shape.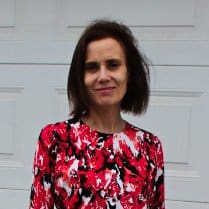 Nicole Mölders is married, has one cat, and no kids. She is a fashion, and science enthusiast from Fairbanks, Alaska, and author of two books on atmospheric sciences. She is the blogger of High Latitude Style – an Alaska fashion blog with science bits for the stylish 40+ woman.