My kiddos and I love to end our crazy busy week with a Friday night movie viewed from the comfort of our own family room couch. Of course, what is a movie night without movie night supplies, especially popcorn? Make sure that the popcorn you serve your family or movie night guests is only the best. We help you out with this list of American made movie night supplies.
Made in USA Movie Night Supplies, All American Made
Popcorn Poppers
Photo Credit: www.walmart.com
Nothing beats the flavor of fresh stovetop popped corn kernels! Unfortunately, I never prepare popcorn this way because...well...I burn it. EVERY. SINGLE. TIME. That is, until I received the made in Kansas Atom Pop Corn Popper.
The Atom Pop Corn Popper was designed back in the early 50s to make perfectly popped (and not burnt) popcorn. The unique retro spaceship shape of the Atom Pop forces popped corn kernels up and off of the heated bottom of the pan, which prevents burning. This is unlike a flat bottom pan where popped kernels remain on the heat.  Also, the Atom Pop Corn Popper is made of aluminum, which doesn't hold heat like today's stainless steel or ceramic pans, and this lessens the chance of burnt popcorn.  The Atom Pop Corn Popper requires no shaking or stirring, so it is just as easy to use as the microwave and it works on electric or gas stovetops. The easy to use Atom Pop Corn Popper is perfect for those who love flavorful (and healthier) popped corn.
The NordicWare Pro Pop Popper is great for those who love the convenience of microwave popcorn, but want to avoid the chemicals that are included in artificial flavorings. No oil or butter is needed for cooking.
The Nordicware Pro Pop Popper is made from BPA-free and melamine free plastic and is a high heat plastic.
Popcorn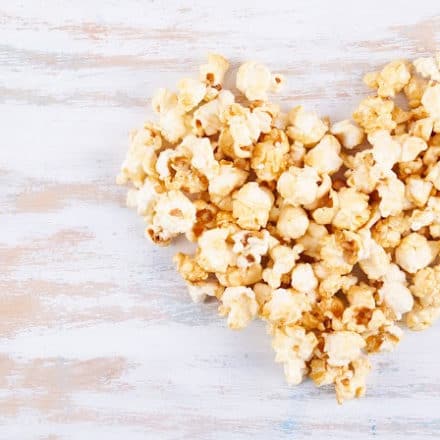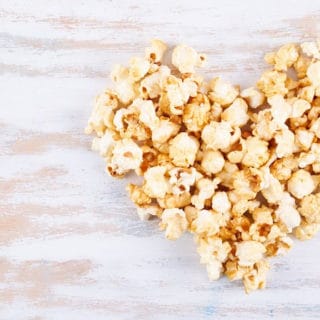 We have a list of our favorite popcorn brands! It includes already popped popcorn and popcorn kernels. Who knew popcorn came in other flavors besides butter and cheddar cheese? A popcorn tasting bar would be a fun addition to movie night.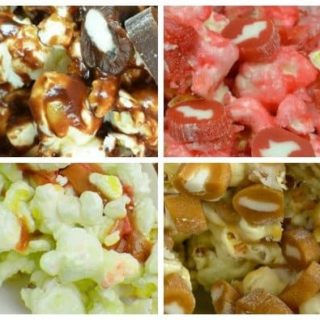 Caramel Popcorn Recipe: We Have One for Every Craving!
Kick movie night up a notch and make your own flavored caramel popcorn. We have recipes for several flavors including strawberry caramel, chocolate caramel, and more.
Other Supplies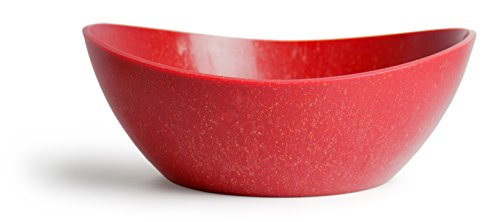 Photo Credit: Amazon
The best bowl for a sharable batch of popcorn is the EcoSmart serving bowl by Architec.  Fill this large Eco friendly bowl with popcorn, and the whole family will be satisfied, and so will you because you won't have to pause the movie to make more! This EcoSmart serving bowl is made from a blend of recycled plastic and flax husk.
Photo Credit: Amazon
Another home movie night must have is individual bowls. Individual serving bowls are helpful when watching movies with friends or kiddos so that the movie isn't interrupted with frequent requests for the popcorn bowl, or with someone blocking the TV to get another handful of popcorn. This colorful serving bowls in this set of 8 plastic serving bowls are BPA free, unbreakable, and are a great reusable alternative to individual paper popcorn serving bags.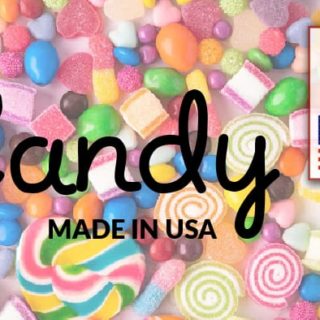 Don't forget the sweet treats. Classic movie theatre concession stand candy favorites like Mike and Ike, Hot Tamales, and Junior Mints are all American made. For more made in the USA candy options visit our source guide.
Movie Night Decorations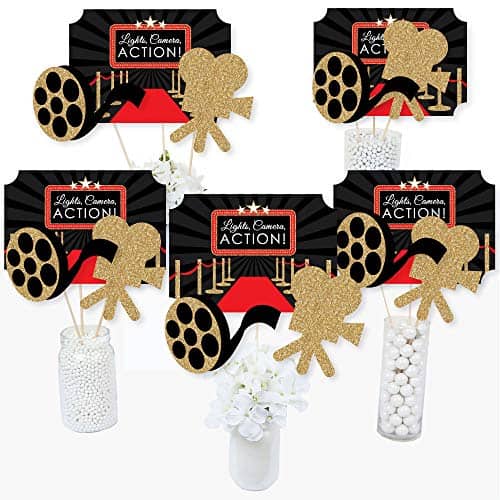 Photo Credit: www.bigdotofhappiness.com
Movie Night Party Centerpiece Sticks are designed and manufactured in Wisconsin by Big Dot of Happiness using materials that are made in America. The Red Carpet Hollywood decoration kit uses a No-Mess Glitter Print as the kit is designed with a printed image of glitter, eliminating glitter flake while maximizing bling effect. Shop the Big Dot of Happiness Amazon store.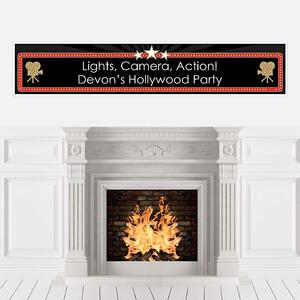 Photo Credit: www.bigdotofhappiness.com
The Big Dot of Happiness also has a personalized banner made in the USA on premium grade satin paper with a photo-like shine. You can personalize the 2 lines with any wording you would like.
Have you visited our Made in USA Shopping District? It is the place to start your shopping when you want to find the best of American-made.

Pin this list to save it for later!