Popcorn is my favorite go-to snack. It's healthy, tasty, and can be found in easy to stash snack packs. This list features my favorite popcorn flavors from seven American popcorn brands using American grown corn. These companies pack their popcorn here in the States supporting jobs that support your popcorn habit. What's not to love?
American Made Popcorn Brands We Love
Angie's Boomchickapop was born out of Dan and Angie Bastian's Minnesota garage and is now a BOOMing business that's popping (get it?) up across the nation's grocery shelves. They make my favorite brand for kettle corn. It's perfectly sweet and salty and has the perfect amount of crunch too. It's hard not to eat the entire bag in one sitting. Open it with others around so they can help you eat it, or not.
G.H. Cretors makes the best packaged 'Chicago mix', caramel popcorn and cheddar cheese popcorn. Both the caramel and cheddar cheese popcorn kernels are so flavorful and make for the perfect sweet and savory popcorn mix. The brand has been in existence since 1885. Visit G.H. Cretors Amazon shop.
Good Health's popcorn varieties include Good Health Organic Hint of Sea Salt Popcorn Half Naked®, Good Health Hint of Olive Oil Popcorn Half Naked® and Good Health Wild Buffalo Blue Popcorn Half Naked®. Good Health's Popcorn Half Naked® varieties are air-popped to perfection with hints of subtle, yet scrumptious, flavor, and have only 24-37 calories per cup. The Wild Buffalo Blue Popcorn is my favorite flavor for its delicious savory and spicy taste and non-oily taste too. All varieties are Verified Non-GMO through the Non-GMO Project. Visit the Good Health Amazon shop.
Halfpops are THE popcorn brand for those who love the crunchy kernels you find at the bottom of the bag or bowl when you're eating popcorn. The aged white cheddar is my favorite flavor. It's made with non-GMO popcorn, non-GMO canola oil, cheddar seasoning (organic buttermilk, organic cheddar cheese, organic nonfat milk, salt, lactic acid), and sea salt. Visit Halfpops Amazon shop.
Do you love popcorn as much as we do? Don't miss Popcorn Time! Make Movie Night American Made.
LIVE LOVE POP started when Lauren's mom taught her how to make a batch of healthy homemade popcorn stovetop style. From that point on Lauren was addicted. After her mom was diagnosed with a rare form of breast cancer in September 2013, she quit her job so she could spend more time with her. During this time, Lauren decided to launch Live Love Pop in honor of her mother. The Selfless Snacking campaign allows us to snack happy, but more importantly, give back to those in need. Each of their flavors gives back to a different charity. The brand is woman-owned, mission-based, and they proudly pop their popcorn in small artisan batches for a taste you just can't beat. Live Love Pop offers six unique and delicious flavors including, Truffle Salt, Sea Salt, Salt & Vinegar, Lime Fresco, Honey BBQ, and Cheddar Sour Cream. The Lime Fresco is the most interesting since it's salty, citrusy, and refreshing all at the same time. Visit the Live Love Pop Amazon store.
Riehle's Select Gourmet Popcorn is a family run and owned business that is nestled in the heart of the fertile farmland of southeastern Indiana and a farm that has been in one family since 1910. The Riehle family takes pride in growing popcorn for your table. Popcorn is a very nutritious, whole grain snack naturally high in antioxidants, and because theirs is NON-GMO, you can be assured of consuming only the best for your health. Choose from thirteen varieties of popcorn with outstanding taste, texture, and quality including our four tender, virtually hulless, very small kernel corns – Baby White, Baby Yellow, Baby Blue, and Autumn Blaze; the medium-sized kernel corns – Shaman Blue, Ruby Red, Midnight Red, Pink Blossom and Pearl White; and larger kernel corns – Sunburst, Goldenrod and Organic Yellow; and a special blend of all of our kernels – Rainbow Delight. They may be a small company, but they grow popcorn with a big, yummy taste.
These heirloom popcorn varieties are truly unique. The small Baby Blue popcorn was one of my favorites with a blue corn taste packed into a hulless corn kernel.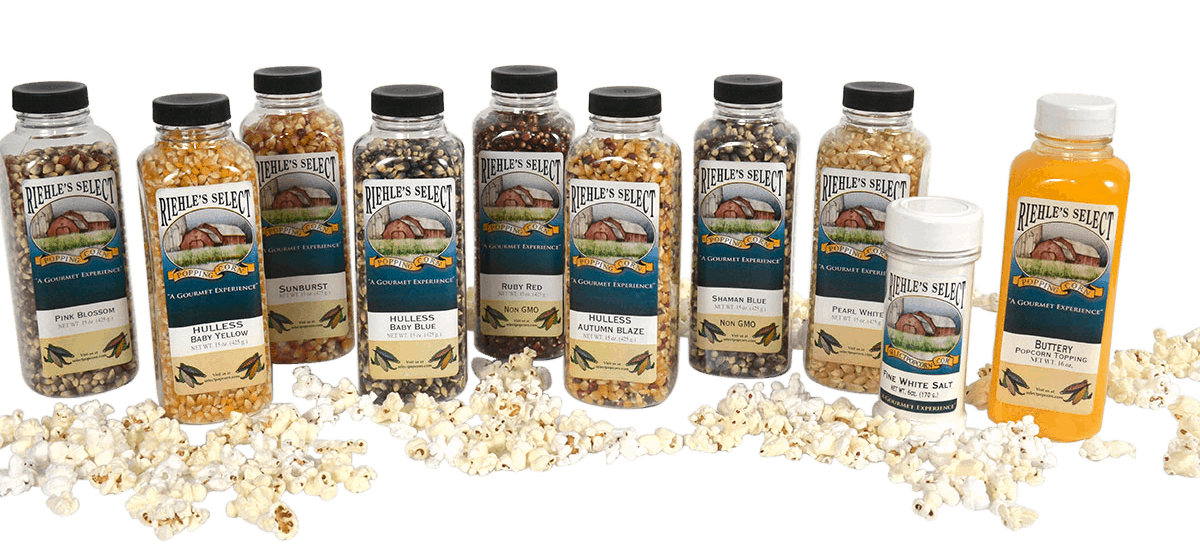 Tiny But Mighty Popcorn is an American grown heirloom popcorn that is the tiniest of popcorns you'll find while still being insanely delicious. Despite their size, these tiny kernels are packed with flavor. The thin outer hulls virtually disintegrate when popped, so it won't get stuck in your teeth and they are easier to digest; that's great news for folks with dental or digestive issues. This little popcorn has a rich history, dating back to the 1850s and an heirloom seed. It's never been modified or hybridized. Tiny But Mighty Popcorn offers seven different products, all grown in Iowa. The products include unpopped kernels, popped and bagged varieties (Sea Salt, White Cheddar, and Butter) and microwave varieties (spicy southwest, butter & light butter). All of its products are non-GMO, gluten-free, and kosher. I'm a HUGE fan of the popped White Cheddar popcorn for its subtle cheesiness and lightness. Visit the Tiny But Mighty Popcorn Amazon shop.
Image credit: GH Cretors