Screen Free Week, the first full week in May, is the perfect opportunity to try some new patterns, with some American made help, of course.
In today's digital world we can connect with anyone we want, anywhere we are. Internet, social media, laptops, tablets, cellphones….it seems like every year some form of new screen technology is added to the list to make this connection stronger. Setting aside screen free family time is important to connect with the people in your household.
I will admit, right this moment in my house, I am on my laptop, and the hubby is on his. Meanwhile, one of our kiddos is playing remotely with friends on his X Box, and the other one is chatting with a friend on her iPod. Today, at this moment, we are 100% plugged in. However, we make it a point to find balance, and step away from our separate technological vices to spend time together, "unplugged" from the world around us.
Ideas for Screen Free Family Fun with American Made Finds
Play cards
For over 125 years, Bicycle brand playing cards have been made in the USA. There is fun for all ages in a simple deck of playing cards- Go Fish, War and Old Maid for the younger kiddos and High Lo Jack, Euchre, Rummy, for the older ones. Want to learn a new game or forgot the rules to old favorites? They have a game list on the Bicycle website. Department stores, like Target or Amazon, carry a great selection of new card games, such as a Star Wars themed card game that are made in America. Don't forget to check your labels. You might be surprised!

Work on a puzzle together
There is a wide selection of Jigsaw puzzles that are made in the US. One of our favorites are the family puzzles made by Springbok Puzzles. Family puzzles contain 3 different piece sizes in one puzzle and are great for different ages and skill levels to work on a puzzle together. White Mountain Puzzles, made in New Hampshire, are fun and colorful jigsaw puzzles that the whole family will enjoy putting together.
Don't miss our source list of American made jigsaw puzzles!
Play board games
Remember board games? Those things we used to play together as kids before everyone had video games? There are still board games made in the USA. For younger kids there are Memory and Candy Land. Games for older kids get a bit trickier when looking for completely made in the USA. The more pieces to the game, the more likely parts are made in other countries. Monopoly is made in the USA, with dice and tokens made in China, and Clue is made in the USA with dice, tokens and weapons made in China. This is all on the box labels, and the way I see it-  some jobs in the USA are better than none.
Work on crafts together
Ok, another trip down memory lane and I am going to show my age now, but remember Shrinky Dinks?? I loved Shrinky Dinks when I was a kid and they are still made in the USA. Shrinky Dinks, shrinkable plastic can be used to make things like key chains, ornaments and jewelry- all great projects for crafters of all skill levels. Colorations Activity Paints are non toxic, water based and made in America. Coloration paint can be used by a toddler for finger or sponge painting and by older kids for painting wooden or clay creations.
Get Outside!
Don't wait until the weekend to go on a family outdoor adventure. Pack a picnic and go on an after school hike, or head to the nearest pond, lake, or stream and go fishing. Even a short bike ride around the neighborhood can be fun when the whole family is involved! When is the last time you played kickball? Challenge the neighbors to a game.
Don't miss our list of American made outdoor toys & games for outside activities.

Pin this list to save it for later!
Pin this list to save it for later!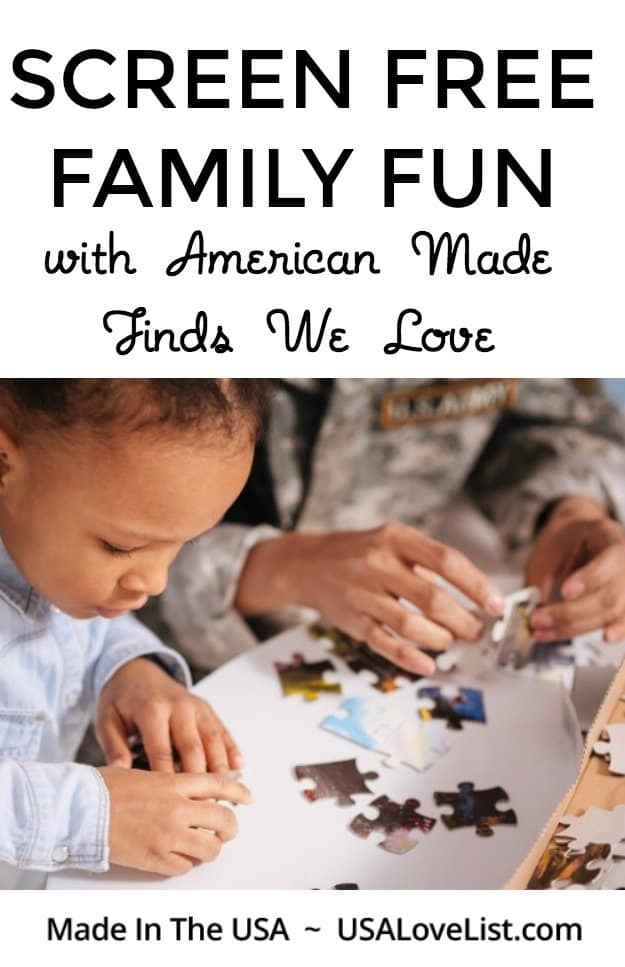 What are some of your family's favorite things to do together? Did you find board games or craft supplies that you love that are made in the USA?