We are excited to tell you that there are many, many excellent brands of jigsaw puzzles made in the USA. Now is the time to support small American companies. Why not start by selecting a new jigsaw puzzle? As long as you are placing an order, think about the gift-giving occasions coming up. Jigsaw puzzles make great gifts for all ages.
Jigsaw Puzzles: American Made Brands We Love
Brainstorm Puzzle Co – The "brain" child of artists and married couple Jason and Briana, these puzzles are "seriously lighthearted" and are designed by the couple, manufactured in America, and distributed from a small family warehouse in Vermont. Find their adorable Pine Trees Puzzle, among others, at LL Bean. They have state themed puzzles too.
Channel Craft – This brand is often found in museum gift shops. They make North American Wildlife and America's Story historical puzzles as well as other small, well-priced classic toys and games.
Cobble Hill – Vivid, amusing, and whimsical. These fun jigsaw puzzle designs will be the life of the party as you put them together.
Dowdle Folk Art – Distinctive puzzles depicting detailed and intricate scenes, including favorite cities or historical moments.
EuroGraphics – A huge collection of puzzles of all kinds, sorted by category or by numbers of pieces. Note: Not all EuroGraphic puzzles are made in USA. Read labels carefully.
Heritage Puzzle – Available on Amazon, known for beach scenes, historic scenes. Can produce custom puzzles in bulk for artists, fundraisers, etc.
Liberty Puzzles – Liberty Puzzles puzzle pieces are hand-drawn "whimsy" pieces in unusual shapes. These puzzles are made from 1/4″ plywood with vibrant and vivid colors. They really are a work of art! Made in Boulder, Colorado
Masterpieces – 1000 piece panoramic puzzles of famous college football stadiums, holiday images, dream-like scenes. Also available on Amazon.
More American Made Gift Ideas, including a big list of Delivery Gift Ideas
The Missing Piece Puzzle Co. – Custom photo puzzles for every age and ability level including clever wedding puzzle ideas including proposals, invitations, guest books, and more.
New York Puzzle Co. – Wide range of puzzles including floor puzzles for children. Also available on Amazon.
Portrait Puzzles – Turn a favorite photo into a custom jigsaw puzzle made in La Crosse, Wisconsin.
PuzzleTwist – These puzzles are made in Minnesota. The "twist?" Each puzzle varies slightly from the box image, making the challenge a fun discovery along the way! Also available on Amazon.
Springbok Puzzles – One of the oldest and most well-known brand names in jigsaw puzzles made in the USA, this brand is manufactured exclusively in Kansas City, Missouri. Known for above-average thickness, outstanding precision, and a huge selection.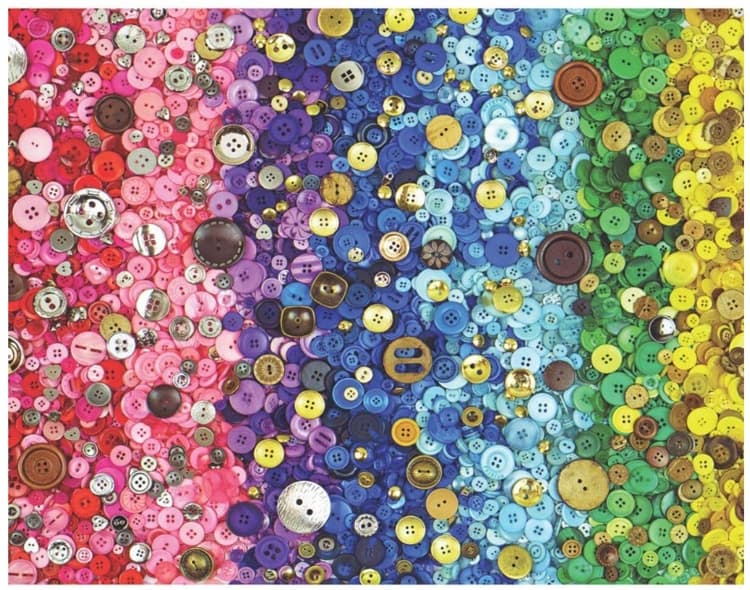 SunsOut Puzzles – A huge range of puzzles to choose from, ranging from 48 pieces to 6000 pieces, in all sizes and shapes. 100% of their jigsaw puzzles are made in the USA.
True South Puzzle Co. – Founded in 2013 in Nashville, Tennessee, these puzzles capture all things American while supporting artisans who design the puzzles. From cities and states to famous faces, you'll enjoy telling stories while you work these puzzles.
Vermont Christmas Co. – Vermont Christmas Co. 100 pc kids puzzles have fun and colorful images. For ages 6 and up. Note: Only the 100 pc puzzles are made in USA.
White Mountain Puzzles – 30 years, all American made jigsaw puzzles, a huge range of scenes from nostalgia to labels to holiday – intricate and detailed collages and images.
Wooden Children's Puzzles Made in the USA
Puzzle People – Hand cut wooden puzzles using baby-safe finishes including personalized name puzzles, map puzzles, animal puzzles, and other colorful puzzles that are both sweet and educational. Ideal for gift-giving. Made since 1972 in Northern California.
Don't miss our list of Made in USA Building Toys for Kids of All Ages and our list of American Made Gifts for Kids who Love Legos
Have you visited our Made in USA Shopping District? It is the place to start your shopping when you want to find the best of American-made.

Pin this list to save it for later!