I am always on the hunt for new made in the USA outdoor play items to add to our collection. Here is a list of our favorite outdoor toys and game brands plus products that we have either enjoyed when the kids were younger, currently love, or want.
We hold onto the American-made backyard or outdoor toys and games that we really love for years and years. This is a category that is truly worth the investment. My kiddos have wasted no time at all in transitioning from their favorite indoor playroom activities to their favorite outdoor toys and games. The warm weather has been greatly appreciated here in the northeast after a long, cold, and VERY snowy winter. Let's get outside and play!
American Made Outdoor Toys and Games
Manufactured in Mississippi and Michigan, American Plastic Toys Inc offers a wide selection of backyard toys for toddlers and preschoolers. American Plastic Toys Inc. recently sent me some items to try out and the Sand and Water Play Set is a HUGE hit with my 3 and 4-year-old friends. Also a favorite is the Cute Lawn Mower, and the Mega Construction Set. American Plastic Toys Inc's Sand Toys are always a hit in the sandbox!
Amish Toy Box makes outdoor toys and games for kids of all ages. Their croquet set, made in Pennsylvania, brings back not so fond memories of my brother sending my croquet ball across the yard! Another option is Kubb, an outdoor game that combines the strategies of cornhole, bocce, and horseshoes into one game.
Step 2 manufactures many popular outdoor toys for toddlers and preschoolers like play houses, climbers, slides, sandboxes, water tables, wagons…. and more! My kiddos both loved the climber with the slide. Even after years of use it was still in perfect shape to be passed on to little cousins.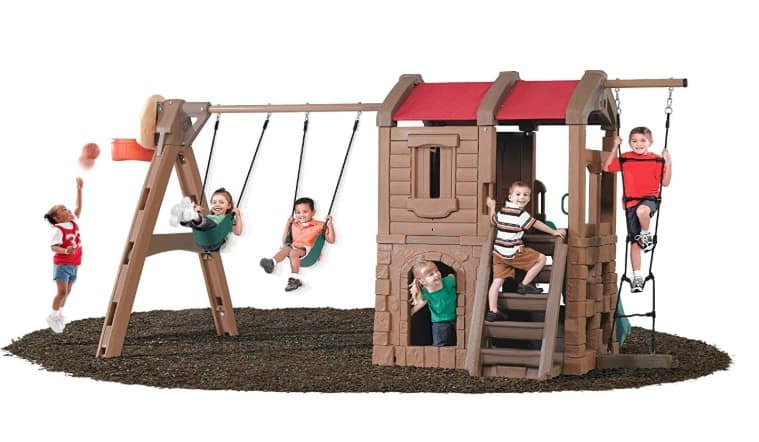 I have yet to see a kid that doesn't LOVE the Little Tikes Crazy Coupe! It was always the most popular backyard toy at playdates when my kiddos were toddlers. Little Tikes also manufactures in the USA slides, water tables, swings, picnic tables, and more.
Swing sets are a great investment and provide outdoor enjoyment for years. Who doesn't remember spending hours swinging and climbing on a backyard playset?! In the 90's, wooden play sets became popular and there are many companies that manufacture them in the USA, like PlayStar and Rainbow Play Systems. Most play sets are suitable for ages 2-10.
I was sent a Murbles game set to try out two summers ago and it quickly became our favorite summer outdoor game. Murbles is fun for all ages and easy to play. I keep Murbles in my Jeep all summer because we play it at the beach, park, and pretty much anywhere we feel like playing! Murbles has been featured several times here at USA Love List.

Aerobie Toys manufactures outdoor throw discs, rings, and boomerangs. I always keep an Aerobie throw ring in my beach bag as they always keep the older kids busy.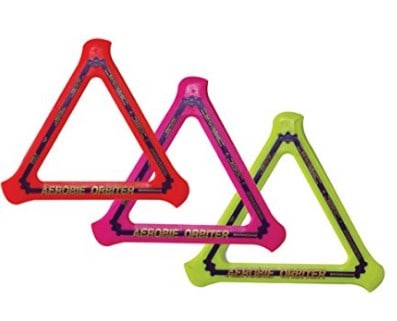 Have you visited our Made in USA Shopping District? It is the place to start your shopping when you want to find the best of American-made.
Love this list? We know you will love these lists too!
Disclosure: USA Love List received products in this post unconditionally for review purposes. Our opinions are always our own, and we aim to write fair and balanced reviews to promote only the very best of American-made products.