Summer is FINALLY here and along with it, outdoor parties. When planning your soirées for this summer, make sure to keep in mind these seven outdoor entertaining tips and USA Love's List's American-made product suggestions that will make them work.
Don't miss our source list for made in the USA grills and grilling accessories.
Eight Outdoor Entertaining Tips
1. Invest in outdoor dining furniture that will last.
Whether you are entertaining poolside, or throwing a sit-down dinner party, LL Bean offers a collection of American-made All-Weather dining furniture that will last. Don't let your guests wobble on cheap plastic chairs or get splinters from your old, poorly weathered wooden table. LL Bean All-Weather furniture is made from partially from recycled materials.
Don't miss our list of made in USA patio furniture.
2. Use decorative placemats instead of a tablecloth.
Forgo the traditional tablecloth when entertaining outside.  Even the slightest breeze can make keeping one in place a nuisance. Instead, use eye-catching placemats. Chilewich placemats are durable, easy to wipe spills from, and are suitable for outdoor use.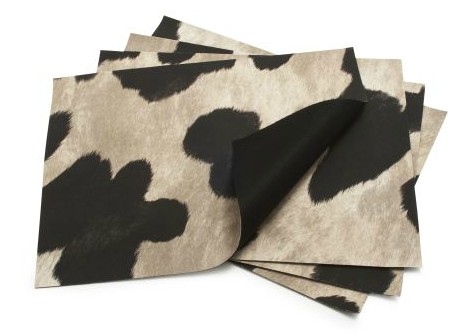 3. Create a signature cocktail.
Having a unique signature drink at your party is a fun way to get guests talking.  With the W + P Homemade Gin Kit, found on Amazon, you can create your own flavored gin with provided juniper berry, herbs, and spices.
Don't miss our favorite summer cocktail recipes.
4. Offer a selection of beverage jar libations.
Beverage jars are a great way to display drinks and make them easily accessible to guests. Anchor Hocking glass beverage jars are made in the USA. Take advantage of the opportunity to work the libation's colors into your party decorating theme.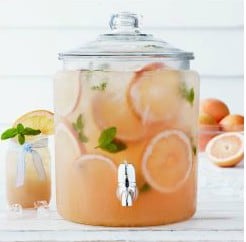 5. Make sure guests keep their drinks cold with readily available ice.
Mr. Ice Bucket handcrafted in the USA ice buckets are an attractive way to keep ice cold, clean, and ready for use. Mr. Ice Bucket ice buckets come in a variety of colors and designs.
6. Have those serving trays ready!
Serving trays are a necessity when entertaining outside. Invest in a few nice, high-quality serving trays, like this Maple Leaf Personalized Server with Handles.
7. A summer party isn't complete without an after-hours chat around the fire pit!
Relaxing with guests around a fire pit is the perfect way to end a summer party! The Kokopelli Fire Pit from Plow & Hearth is hand-made in Tennessee.  Don't miss our list of made in USA fire pits, chimineas and outdoor fireplaces for more ideas.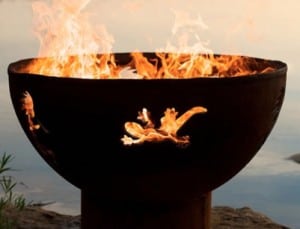 8. You wouldn't be ready for an outdoor party if you didn't have mosquito repellent.
I love being outdoors when it's sunny and nice outside but cannot say I love getting bitten by mosquitos. Thank goodness, Murphy's Naturals offers multiple American-made, non-toxic products to keep the mosquitos away! I love that I can purchase multiple of my favorite mosquito repellent products with Murphy's Naturals Premium Backyard Bundle. The lemon eucalyptus insect repellent and the mosquito repellent candle are my two favs for keeping the bugs away!
What do you have planned for this summer? Do you have any Made in USA finds to share with us? Do you own something American Made that you wouldn't dream of throwing a party without? Do tell!
Follow USA Love List's board Entertaining/Party Necessities: Made in USA on Pinterest.