I like pumpkin spice as much as the next gal. Apparently, it's quite a growing category of products. I like pumpkin spice products even better when they are American made so I can trust what's in them. Today I'm sharing my favorites.
Who says pumpkin spice should only go in lattes? Some of the foods, and beauty items, I've seen are quite crazy when it goes to adding these seasonal spices. Pumpkin spice gum. Pumpkin spice chips. Pumpkin spice cat litter?! Those might be outlandish, but all of these American made nicely pumpkin spiced products are worth trying.
According to the Nielsen Company, sales of pumpkin spice products have grown 79% from 2011, raking in $361 million last year. Now I know why Starbucks was already telling us about their Pumpkin Spice Lattes in August!
Pumpkin Spice Products Made in the USA
Base Culture Nutty Pumpkin Paleo Bread is divine. This brand makes the best paleo bread on the market. You won't even realize it's grain-free; it's that good. Moist and flavorful this pumpkin paleo bread is made with clean ingredients including pumpkin, egg, cashew flour, honey, maple syrup, pecan meal, golden flaxseed meal, less than 2%: coconut flour, pecans, baking soda, cream of tartar, sea salt, cinnamon, cloves, nutmeg, and ginger. We love that Base Culture is a Women-Owned Business making their pumpkin paleo bread and all other products in the USA.
Birch Blenders Paleo Pumpkin Pancake Mix is surprisingly delicious. They're flavorful and filling and particularly great enjoyed with real maple syrup. I love that Birch Blenders makes a paleo pancake mix because you can enjoy a classic breakfast food without being sluggish afterward. No wheat belly or bloat here! This mix is made from whole, clean, paleo ingredients including cassava flour, organic coconut flour, almond flour, eggs, leavening (monocalcium phosphate, sodium bicarbonate), salt, monk fruit, spice. This pancake mix is lactose-free, soy free, wheat free, dairy free, GMO-free, and Certified Gluten Free.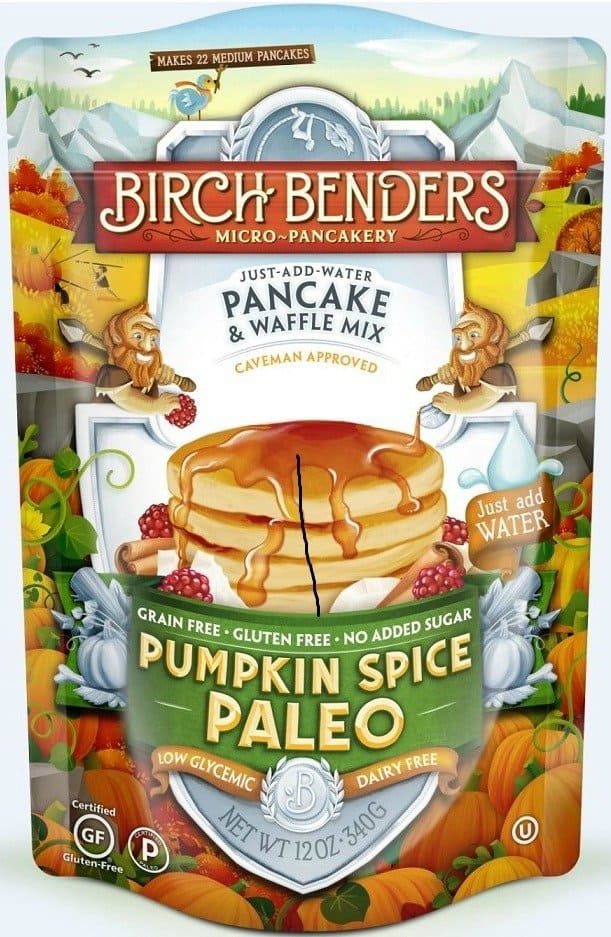 Pumpkin spice flavored treats aren't just for humans; pets will love to snack on Blue Dog Bakery Pumpkin Biscuit Treats. These made in the USA treats are made with all natural, human-grade ingredients, including real pumpkin, whole wheat flour, and cane molasses. Available September in most grocery and mass stores. They come in 20 oz boxes.
I love Buff Bake nut butters because they're so flavorful. So when I saw Buff Bake Pumpkin Spice Peanut Butter, I knew it would be a winner, and boy was I right. (I do love being right!) The butter has a true pumpkin flavor because it has pumpkin powder and pumpkin pie spice mix, and nothing artificial. It offers 11 grams of protein per serving because the peanut butter is mixed with chia & flax seeds. It's fall in a jar.
Gluten-free, and made with real pumpkin puree, there are only 8g of sugar in General Mills Limited Edition Pumpkin Spice Cheerios. Whether you're starting off your day, or just snacking, these o's have just the right hint of spices and the perfect crunch.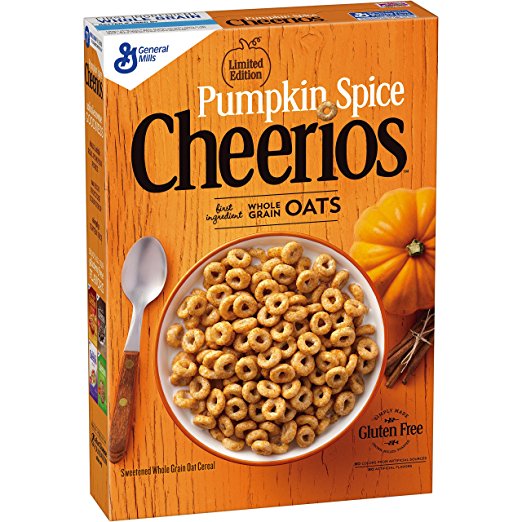 Garden of Flavor was founded by Lisa, a Certified Holistic Educator and Raw Food Chef. All of Garden of Flavor juices are cold-pressed, organic, never heated and made from fresh vegetables, fruits and nuts. This season they have a Pumpkin Spice Vegan Nut and Seed Mylk. It tastes like Fall. I only use nut and seed "milk" at home, this was an exciting find for me. It's made with all organic ingredients including cashew mylk, pumpkin, ginger and tumeric root, sprouted rice powder and hemp protein powder, hemp seeds, agave necatr, cinnamon, cloves, nutmeg, and vanilla. The mylk has 14 grams of plant based protein and probiotics, along with inflammation fighters – ginger root and turmeric root, which offer a spicy kick. It's the right consistency, the perfect sweetness, and an amazingly fresh pumpkin spice flavor. They are available at Whole Foods Market in OH, KY, PA, NJ, MD, DC, and VA.
You're going to love The Greater Knead Gluten-Free Pumpkin Spice Bagels. They have a chewy texture that I love. Simply microwave them for 60 seconds. If you're looking for a crispier texture, you can put them in the toaster so they become crispy. These bagels are made with water, white rice flour, tapioca flour, brown sugar, sorghum flour, sweet white rice flour, pumpkin, olive oil, carrots, psyllium husk, xanthan gum, yeast, molasses, salt, cinnamon, vanilla extract, nutmeg, cloves and ginger. They're the perfect Fall treat. They are Kosher, gluten free soy free, egg free, dairy free, nut free, and GMO free.
The Pumpkin Patch Gift Box from Harry & David is a great gift for your fellow pumpkin spice lover…or makes a perfect treat for yourself. Harry & David office and manufacturing facilities are located in Medford, Oregon. Tours are available, so plan to visit if you are in the area.

Who doesn't love donuts?! With a cup of coffee for breakfast, or with ice cream for evening dessert, these Pumpkin Spice Donuts from Katz Gluten Free can be enjoyed any time of the day. Not only are they gluten free, but they are soy free, dairy free and nut free too.

Larabar Pumpkin Pie fruit and nut bars are made with eight ingredients – dates, cashews, almonds, dried pumpkin, cinnamon, nutmeg, allspice and ginger. They taste just like pumpkin pie in a traditional Larabar form. These limited-edition seasonal bars are made from minimally processed, simple ingredients. The Pumpkin Pie, Snickerdoodle and Gingerbread bars are available beginning in October. Larabars are always gluten free, dairy free, soy free, GMO free, vegan and paleo.

Noosa yogurt is like none other. Koel Thomae, Noosa's co-founder, is an Aussie ex-pat who'd been living in Colorado and sought out Rob Graves, a fourth-generation dairy farmer, to make its yogurt. You can taste the difference too. It's the creamiest and the richest and most decadent yogurt I've ever had. I love the fruit with yogurt because it isn't too sweet, and was happy to find the pumpkin variety. It's like eating pumpkin pie cheesecake, but with less guilt.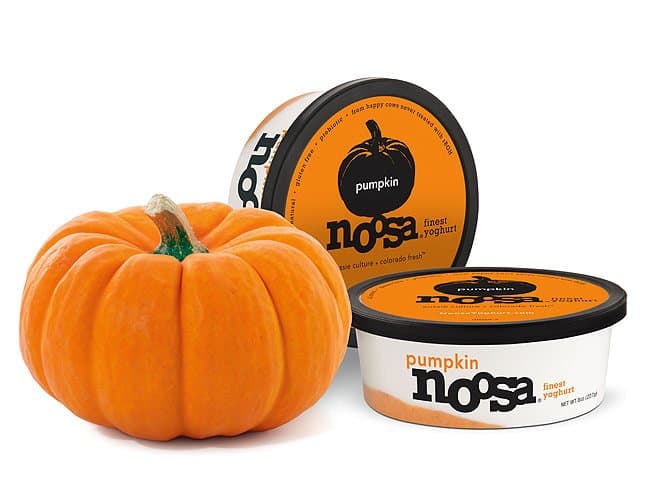 If you're looking for rich, flavorful coffee that you'll be excited to drink, I recommend paleo friendly nutpods Pumpkin Spice Unsweetened Dairy-Free Creamer. It's made from heart-healthy almonds, MCT-rich coconuts, and is free from carrageenan, dairy, soy, gluten, and sugar. This creamer contains simple ingredients including purified water, coconut cream, almonds, natural flavors, and contains less than 2% of acacia gum, sunflower lecithin, dipotassium phosphate, gellan gum, sea salt. While I never use creamer in my coffee, but just almond milk, I find that the richness and texture from Nutpods makes a real difference in making me excited for my coffee every morning, Paleo or not! 15% off with code USALOVE.
You rock my world, Paleonola! Grab a handful of Paleonola's Pumpkin Pie granola. Close your eyes and put a handful in your mouth. You'd think you were eating a slice of pumpkin pie, but even better because this granola has the perfect crunch. It tastes great with almond milk. Dinos & Katelyn, the husband and wife duo, make their soy free, dairy free, gluten free, and grain free granola in Rhode Island.
Your favorite nuts now come completely covered with pumpkin spice! Planters Pumpkin Spice Almonds are made with California almonds and seasoned with pumpkin and spices, including cinnamon and cloves. With only 160 calories and 5 grams of protein in every one-ounce serving, you won't felt guilty about this indulgence.

Get your pumpkin spice fix with RxBar Pumpkin Spice Whole30 compliant, Paleo friendly, and gluten free bars. Chewy, flavorful and fall inspired, the bar is made with dates, egg whites, almonds, cashews, pumpkin, ginger, nutmeg, cinnamon, cloves, allspice. I love the added kick from the ginger in these bars. They're the perfect healthy on-the-go snack.
I love Simple Mills' grain free and gluten free mixes, and the Pumpkin Muffin Mix, happens to be one of my favorite varieties. They're flavorful, moist, and only have 90 calories. They're made with simple ingredients, including almond flour from California almonds, organic coconut sugar, pumpkin, arrowroot powder, organic coconut flour, organic spice mix (cinnamon, nutmeg, cloves), baking soda, and sea salt. Just add eggs, oil, and water, then bake, and enjoy!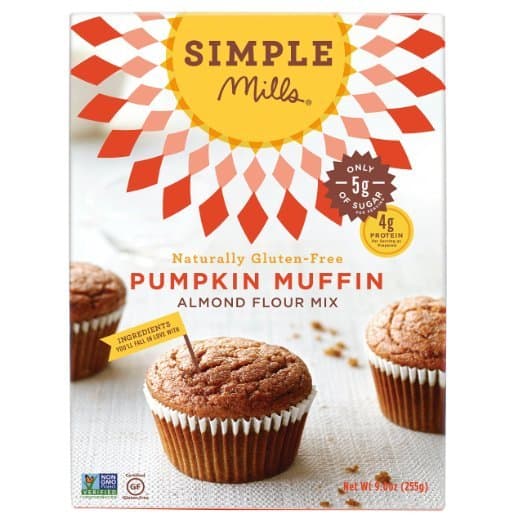 If you love flavored coffee, but know one else in your house does, than adding a splash of Torani Pumpkin Pie Flavored Sauce to your coffee will give you the pumpkin kick you've been craving. It's also great for desserts, mixed drinks, teas, milkshakes….the pumpkin possibilities are endless!

Ready for more pumpkin goodness?
Don't miss our favorite pumpkin recipes found in the articles below:
What are your favorite pumpkin spice items for Fall? Let us know in the comments section.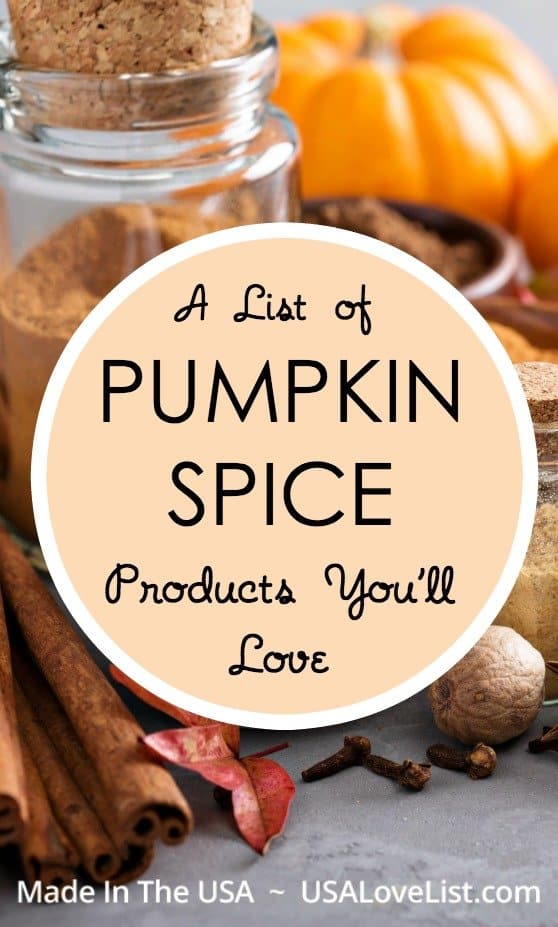 Disclosure: USA Love List received some products in this post unconditionally for review purposes. Our opinions are always our own, and we aim to write fair and balanced reviews to promote only the very best of American-made products.