Whenever we can, we try to support American made products. But why is it so tough to find USA made lawn care and lawn equipment? Well, it's not. People just say that it's difficult because no one's made a solid USA lawn care list. That changes now. I've got you covered.
Who wants to sport a lackluster lawn? No one wants to be the neighborhood eyesore. First, check our list of Garden Tools made in the USA. Get motivated with our curated list of Gardening Books for Spring Inspiration, all printed in the USA. By the end of this article, you'll understand how to make your lawn beautiful while supporting American jobs at the same time.
The good news is, you can still have a beautiful lawn while supporting America and your family's health.
NaturaLawn of America
NaturaLawn of America

provides a line of American made lawn care products used in their services. Some of their products include

Tick Ranger

,

Mosquito Ranger

, and Ice Melt. Hey, who wants ticks and mosquitoes crawling on us or latching into us?
But their main services consist of two lawn care programs, one of which is called The Natural Alternative and is 100% pesticide free. Both programs use only USA made resources. In fact, all NaturaLawn products used in their services, including tick and mosquito lawn treatment products, are 100% USA sourced.
"All NaturaLawn of America products are proprietary and made exclusively for our franchises. Our franchisees must use these products, which are only USA made, in order to ensure all customers receive the same quality product," Theresa Smith, NaturaLawn's Director of Marketing, told USA Love List. You can locate a NaturaLawn of America provider via this locator link.
Discover Five Ways to Save Water with American Made Products
Lawn Decorations Made In USA
Your lawn looks snazzy (well, it needs to be mowed, but we are getting there!). Now you want to put up some decorations. But you want them to be American made lawn decorations. Well, I've got you.
JJ Potts Handcrafted Ceramics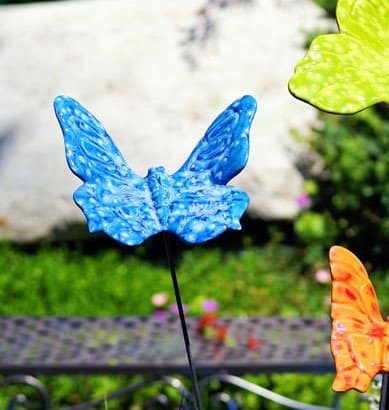 Started in 1999,

JJ Potts

creators crafts lawn pottery out of Salt Lake City, Utah. The company produces a variety of garden art crafts, including birding and accents. The problem? You can't buy JJ Potts everywhere (at least not brick and mortar style). They are located sporadically throughout the midwest.

Here's their store locator

The good news is that you can find some of their products

on Amazon

.
Don't miss our list of American Made Gifts for Gardeners
Now, let's get into some of the meat and potatoes of lawn care.
American Made Lawn Mowers, Snow Blowers, etc.
When it comes to lawn maintenance products, none are more popular than snowblowers and lawnmowers. Tragically, finding USA made lawnmowers and snowblowers isn't as easy as one might think.
The good news is, some major American brands produce high quality, affordable USA made lawnmowers and snowblowers.
Snapper – Made In America
Snapper
, a division of Briggs & Stratton Corporation, produces all of its lawn equipment in the USA. All of Snapper's tractors, zero turn mowers, and power products, are created in one of Snapper's three locations. Headquartered in Milwaukee,
Wisconsin
, Snapper products are produced in Munnsville,
New York
, Tupelo,
Mississippi
, and of course, Milwaukee. Snapper's parent company employees over 3,000 domestic jobs throughout the United States.
You can find Snapper mowers and snowblowers at Home Depot and Walmart.
Snapper mowers are well-built (of course, they are made in the USA), and designed with ergonomics in mind.
It doesn't get more relaxing than that? Right. Well, maybe mowing the lawn isn't an ideal time for relaxation, however, when you have to do it, using a sleek American made riding mower sure helps. American ingenuity is also responsible for Snapper's Zero Turn mowers, which allow for sophisticated maneuverability. These affordable mowers allow homeowners to save time while mowing.
Snapper also offers a line of electric lawn mowers, electric string trimmers, electric leaf blowers, and electric hedge trimmers, however, the electric line of products is NOT made in the USA.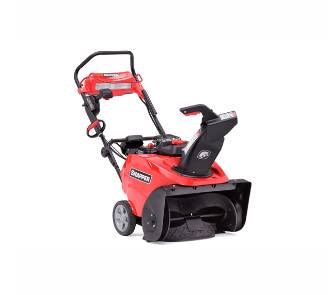 Oh, and for those who live with Winter's annual wrath, Snapper builds snowblowers. Put down the shovel and spare your back. Snapper's American made snow blowers use a patented Briggs & Stratton engine designed to push heavy snow out of your path. According to the company, their Compact Single Stage snowblower pushes snow 10 meters away. Its smaller, more compact size, means storing it during the summer months is a breeze.
But Snapper isn't the only American made lawnmower company.
Check this list of tips for Gardening with Kids including some natural American Made products you'll love.
Cub Cadet – Since 1961
Cub Cadet builds all its mowers, tractors, snow blowers, and utility vehicles in the United States. With factories in Kentucky, Tennessee, Ohio, and Mississippi, Cub Cadet helps local community workforces thrive. The company calls its relationship with American communities "Strongsville."
Cub Cadet's product line is priced around the same as Snapper and all of their products are handcrafted and engineered to the highest of quality standards. Cub Cadet's Zero Turn RZT L 34 is one of their most popular USA made lawn care products. By way of a powerful OHV engine and adjustable lap bars, mowing your lawn will be a super comfortable experience. Additionally, you can ride comfortably knowing your purchase supported American communities.
Home Depot carries Cub Cadet products. Also, major tractor supply companies are likely to carry them or be able to order them for you. Here's a geo-targeted "where to buy" map to help you find a Cub Cadet independent dealer.
Read our list of tips on Planting a Vegetable Garden Without Chemicals
Ventrac – A Lesser Known USA Made Option
Ventrac, an Orrville, Ohio company, rarely gets a mention in the lawn equipment conversation. That's mostly because this American made lawn equipment company primarily focuses on tractors, snow removal, and soil preparation products. For lawn equipment companies, consumer lawnmowers are the biggest hook. Ventrac doesn't build consumer lawnmowers. Instead, they build mowers that can negotiate and navigate big slopes.
See for yourself:
Their products are American made and they are big supporters of their Ohio community. The downside is that Ventrac products are made for farmers more than everyday homeowners. Additionally, they aren't carried by major stores.
Conclusion
Finding USA made lawn care products and equipment isn't as difficult as many people think. While the options are thinner, the options you have are high-quality and will last you for a long while. Whether you are trying to improve the health and beauty of your lawn, or you need to blow some snow, you can find products built right here in good ole' America.
featured photo credit: Snapper