This regularly updated list contains the best garden tools made in USA. Hang onto and share our ultimate source list of American made garden supplies you might need to prepare and care for your garden.
While it seems like winter is never going to end in some parts of the US, spring is right around the corner. Now is the time get into garden preparation mode! Whether you still have snow on the ground and are only able to get your garden supplies ready, or you live in a snow free zone and can start preparing the soil, make sure you are ready.
Best Garden Tools Made in USA
Lehman's: Retailer of Made in USA Garden Tools & Supplies
Lehman's was started in 1955 as a small hardware store that served the northern Ohio Amish community. Today, Lehman's has grown into a catalog and online retailer with customers from all over the world. Lehman's sell items for a simpler life, including made in the USA garden tools and supplies. I love Lehman's for all of the made in USA homesteading products they offer. You can even find garden tools and other products made by the local Amish craftsmen that Lehman's was started to serve. Lehman's is still family-owned and operated. Not all of the products they offer are made in the USA, but the items are clearly labeled that are.
Lehman's has the made in USA supplies and best garden tools you need for preparing your land, starting your seedlings, planting your garden, and even harvesting and composting.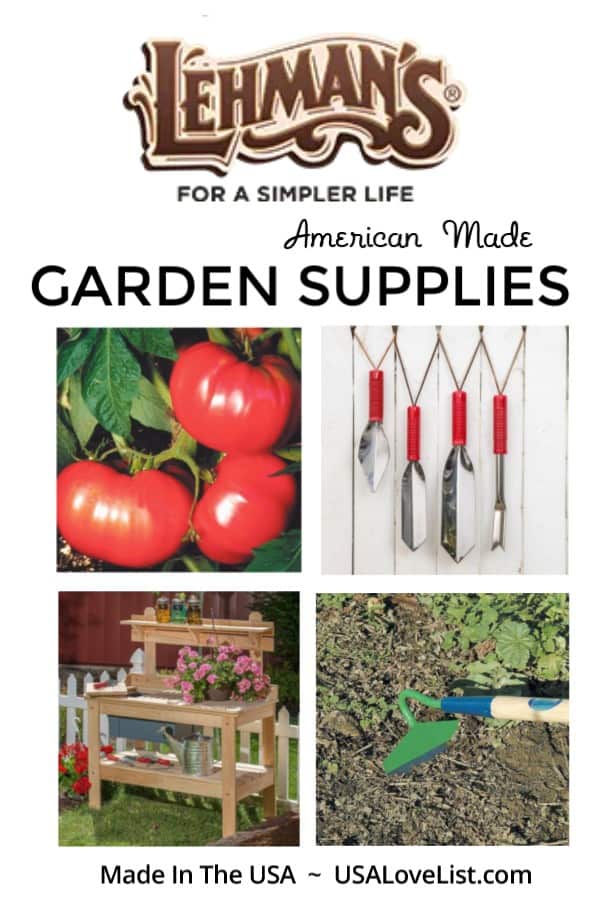 Mister Landscaper Eco Friendly Irrigation Kits
Mister Landscaper, an American manufacturer of drip and spray home irrigation kits, makes conserving our Earth's water a top priority. The people at Mister Landscaper know that water is a precious and valuable commodity that needs to be used responsibly. With this knowledge, they have designed home irrigation systems that use up to 50% less water than conventional irrigation systems. Yes, it is possible to water our flowers and gardens responsibly! Mister Landscaper irrigation kits are easy to assemble. Kits come with the all required pieces include. The only tools you will need to have on hand is a pair of scissors, and maybe a hammer (depending on the kit). Most kits can be put together in under 45 minutes. Mister Landscaper offers irrigation kits for patio & potted plants, vegetable gardens, landscape & shrubs, and more!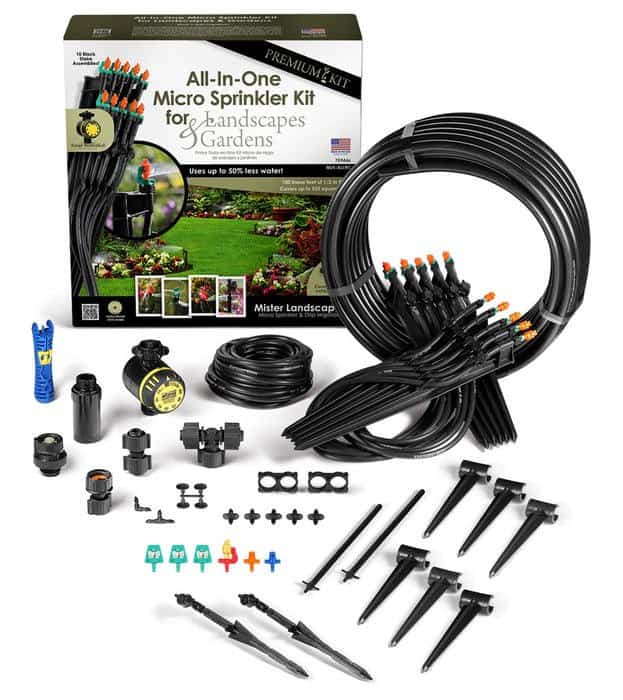 Best Garden Tools Made in USA: A USA Love List Garden Supplies Source List
Don't see your favorite American made garden supply company on the list? Leave us a note in the comments and we will be sure to add it to our list!
TOOLS
Lehman's offers a HUGE variety of made in USA garden tools from hoes, to tillers, cultivators, soil scoops, garden carts and more. Lehman's has all the American made garden tools you need to prepare your garden and to keep it tended.
Planters & Raised Beds
Seeds & Planting
Lehmen's offers a large selection of made in USA seeds and planting supplies including non-GMO, certified organic heirloom seeds, seed spreaders, trellises, and more.
Soils & Fertilizers
Watering
Composting
Clothing & Footwear
Online Retailers of Made in USA Gardening Supplies
Disclosure: This is a sponsored post which USA Love List is proud to share with you because, sponsored or not, we only share stuff we love.
Have you discovered any made in the USA garden supplies that you love to use when preparing your gardens in the spring? Let us know!