While it seems like winter is never going to end in some parts of the US, spring is right around the corner. Now is the time get into garden preparation mode! Whether you still have snow on the ground and are only able to get your garden supplies ready, or you live in a snow free zone and can start preparing the soil, make sure you are ready. Check out our list of the best garden tools made in the USA before you head to the big box store.
This regularly updated list contains the best garden tools made in the USA. Hang onto and share our ultimate source list of American-made garden supplies you might need to prepare and care for your garden.
Best Garden Tools Made in USA: A USA Love List Garden Supplies Source List
Don't see your favorite American-made garden supply company on the list? Leave us a note in the comments and we will be sure to add it to our list!
Tools
Looking for weeding tools? Check our list of Six American Made Weeding Tools We Love.
Planters & Raised Beds
Seeds & Planting
Soils & Fertilizers
Watering
Dramm watering cans come in a variety of colors. They are made from injected plastic and have a lifetime warranty. Note: Not all Dramm watering cans are American Made. Some sizes are made in Switzerland.
Mister Landscaper irrigation kits are easy to install, and don't they need to be removed and stored at the end of the season. They save time and money when it comes to watering. If you have a water bill, Mister Landscaper irrigations system use less water than conventional systems. Shop Mister Landscaper at Amazon.
WaterRight Polyurethane Garden Hoses contain no lead, BPA, Phthalates or toxic chemicals. WaterRight garden hoses are drinking water safe, don't hold a kink, and are available in many colors. Shop WaterRight hoses at Amazon.
Composting
Clothing & Footwear
Don't miss our list of work gloves made in the USA.
Online Retailers of Made in USA Gardening Supplies
Burpee has a large selection of American made garden supplies.
Lehman's online and catalog retailer of garden tools, planting supplies, composting needs and more! Made in USA items are clearly marked.
Gardener's Supply Company has a selection of made in USA garden supplies.
Have you discovered any made in the USA garden supplies that you love to use when preparing your gardens in the spring? Let us know!
Have you visited our Made in USA Shopping District? It is the place to start your shopping when you want to find the best of American-made.
Love this list? We know you will love these lists too!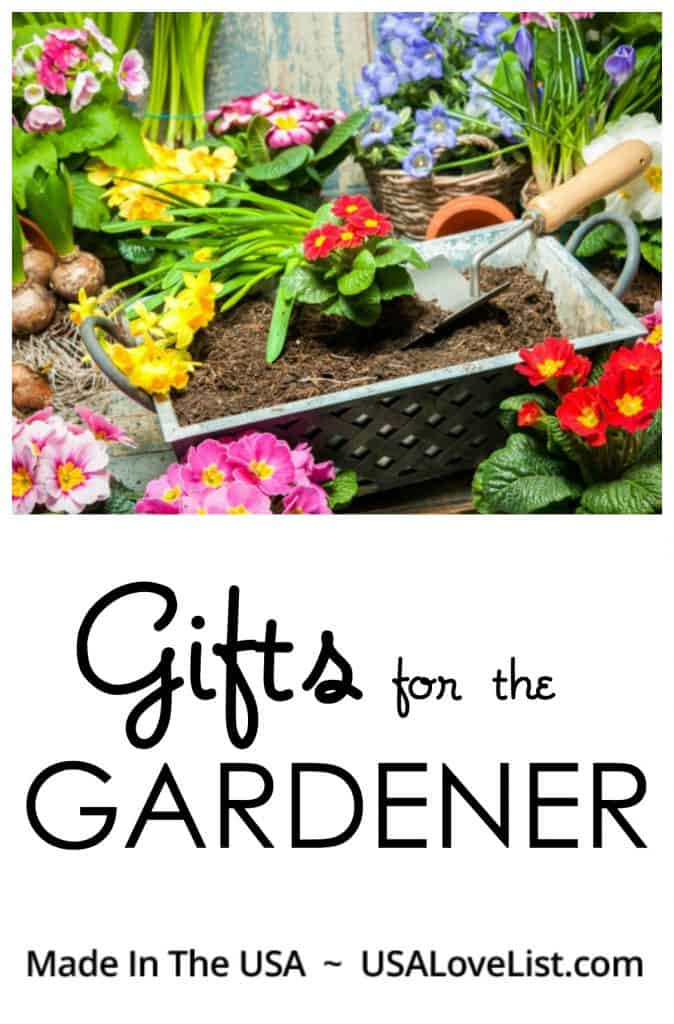 Pin this list to save it for later!