Everyone wants to find a great gift that won't break the bank. I've put together a list of 30 gifts for $30 or less for everyone on your list. They are all affordable American made, so you'll feel even better about your purchase!
All USA Love List editors have created a 30 gifts under $30 list. Make sure to check out Tracey's, Angie's, and Sarah's lists for more made in the USA affordable gift ideas. 
1. Everyone loves luxurious bath items. I particularly love Soap and Paper's 8oz. Bath Bars. The vibrant and classy wrapping makes it a perfect gift.
2. Zents Shower and Hand Wash is made with organic shea butter and sugar cane to serve as a natural exfoliant. It doesn't get more luxurious than that.
3. ella + mila natural nail polish is vegan and free of common nail polish chemicals. The French Mani Set makes a great gift! Ella + mila is featured in  Six of the Best and Least Toxic Nail Polish Options Made in the USA. 
3.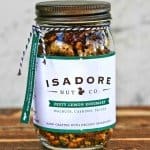 4. Justin's Vanilla Almond Butter  is the best nut butter I've ever had the pleasure of tasting. I don't particularly like vanilla, but adds a complex a delicate addition to the sweet almond paste. You will not be disappointed!
5. No one can explain how great Mouth Party Caramels better than Lindsay, food editor of The Glutton's Digest. This gift is sure to please anyone who has a sweet tooth. My personal favorite is the cinnamon caramel.
6. Isadora Nut Co. nuts come in many unique flavors and make a unique gift for the foodie. All flavors are made in Minnesota.
7. I typically wear compression socks to benefit circulation in my legs, and support my knees. I love Lily Trotters fashion compression socks for wearing under boots or workout pants. Save 25% off with code SAVE25NOW. Lily Trotters socks are featured in Made in USA Socks: Ultimate Source List. 
8. Alpaca says luxury. But with Golden Touch Naturals American Alpaca Gloves, it's a luxury gift you can afford.
9. Stormy Kromer Harris Tweed Convertible is an adjustable, fleece-lined earband accommodates many hairstyles while providing stylish warmth and durability. They recently launched a spring and summer line too. The company has been making hats since 1903 in Michigan's upper peninsula.
10. Crazy Aaron's Thinking Putty isn't just for kids. Read why Sarah, USA Love List founder, loves this stuff too!
11. Did you know the Venus Fly Trap is native to America? Now you can grow one yourself with Jonsteen Company Seed Germination Kits. They give you everything you need to germinate tree seed – seeds, growing medium, a mini-greenhouse, and detailed instructions.
12. Happy hour has never been more fun with SPARQ Whiskey Rocks. They come in various shapes too. They're perfect for keeping any beverage cold, and not watered down.
13. I love SPARQ's recycled soapstone products, and I particularly love this beautiful SPARQ Scoop Soapstone Wine Coaster.  Note: Only SPARQ's soapstone items are handcrafted in Colorado. 
14. Smooth, crisp and refreshing Square One Organic Vodka is my favorite vodka. It's made from 100% American grown rye.
15. Gator Ron's is the reason I now like bloody mary's. It's bold, zesty and packs a punch. Unlike some mixes that come with ingredients you can't even pronounce, Gator Ron's ingredients are all-natural, gluten free and GMO-free. Try the Square One Cucumber Vodka to add brightness to your next bloody mary. Bottoms up!
16. I told you how much I love the patterns and  fabric of Cinda B products in my gift guide for the yogi gift guide and tween fashion gift guide. The durable nylon fabric makes it the perfect for everyday use. If you're into Vera Bradley, I'd suggest checking out all the cool patterns offered by Cinda B. All Cinda B's goods are made in USA at the company's factory in Indiana.
17. Rifle Paper Company makes the pretties little things. Its Rifle Paper Co. pink floral deskpad makes for a cute gift alongside a candle.
18. I love Hanky Panky underwear because they're well made, and last a long time. They're also breathable and comfortable too. The Hanky Panky low rise thong is one of my favorite styles.
19. Cotton & Flax 100% Wool Felt Coasters, made in Los Angeles, California, add the perfect pop to any setting, and make a simple and practical gift to have on hand for anyone.
20. We love Freaker USA! Freaker USA beverage insulators are fun, unique, and one size fits all drinking vessel shapes.  Keep your hands warm with a Freaker USA drink insulator.
21. Rustico's hand-sewn journals are the perfect vessels for recording our passions. Select from fly-fishing or golf log journals (starting at $30). Made of top grain leather cowhide. Handcrafted and sewn in Utah.
22. Be bright and merry into the new year with this cheery Night Owl Watercolor Whirls Mini Desk Calendar. All its products are made in Homewood, "owlabama".
23. Endless Love handblown glass oil candles are made in Rhode Island and are available at Uncommon Goods.
24. Give a gift that someone will use everyday. Trust me, once you own a Tervis tumbler, you'll surely use it daily to carry your cold or hot beverages on the go!
25. How fun are these Ben's Garden Vintage Expressions Superstrong Glass Magnets ($28)? They are entirely crafted by hand in New York. They're really a perfect gift for any occasion.
26. Everything that goes into a rareEARTH candle is sourced from the earth. We use pure, GMO-free plant and beeswaxes from farms in the Midwestern USA, natural mineral colors, all-cotton wicks, and real artisan-blended aromas. You don't even have to burn the candle to smell it. The scents are intoxicating. Search for them at your local Whole Foods Market too.
27. Numi Organic Tea is some of my favorite. I trust and love the brand because its teas are organic, non-GMO and uses post-consumer, recyclable, & biodegradable sustainable packaging.  The Tea by Mood gift box features 40 teas and makes a fabulous gift for the tea lover. Numi Tea is featured in Seven American Made Gifts for Yoga Lovers. 
28. City Threads   T-shirts for toddlers and kids is sure to be a favorite tee. City Threads is featured in Kids' Clothing Made in the USA: The Ultimate Source List. 
29. Once you try Smarty Pants Vitamins, you won't want anything else. Regular vitamins make me nauseous, so I have to take gummy ones. Many other brands have corn byproducts, dyes, and artificial ingredients. Smarty Pants, however, are free of dyes, flavors, and corn syrup. They are made in California from natural and organic ingredients. They offer made in USA kids vitamins, and ones for adults too.
30. I'm really picky about my coffee and the Aerobie Aeropress makes a great cup of coffee or espresso, depending on how strong you like to drink your coffee. You won't be disappointed with your cup o' joe if you use Aeropress. It's also perfect for traveling because it's so compact. The Aerobie Aeropress is also featured in American Made Gifts for Coffee and Tea Lovers.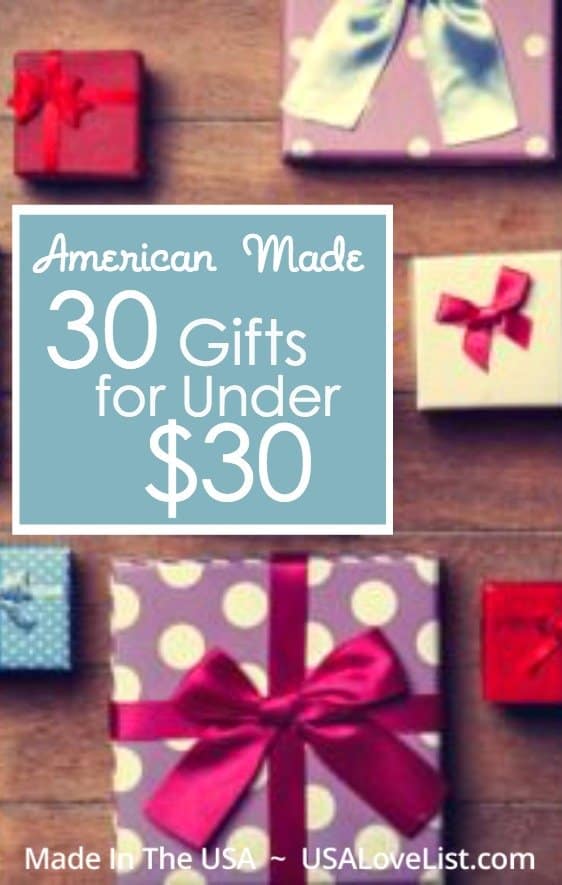 Disclosure: This is a sponsored post which USA Love List is proud to share with you because, sponsored or not, we only share stuff we love.