The holidays are quickly catching up to us. It's time to figure out what the kiddos are going to be wearing to holiday functions. It's tricky, but not impossible to find cute dresses for girls to wear this holiday season. However, finding American made dress clothes for boys is a bit more challenging. Here is a list of our favorite sources, so you  can make sure the kids in your life are dressed with  American made style this holiday season.
Our Sources for made in the USA Holiday Clothing for Kids
Max & Dora
Max & Dora clothing company is a direct sale company, meaning their clothing is only sold from their online store, directly from the maker. All Max & Dora holiday clothing is American made, of high quality, and is available in sizes 2-12.
Discount code USALOVE saves you 10% on Max & Dora purchase thru January 1, 2018.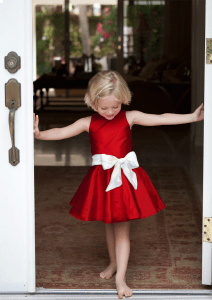 TWIRLY GIRL




The cute dresses for girls from

TwirlyGirl

are beautiful and fun- everything a girl could want in her holiday dress! The TwirlyGirl dress holds up to it's name and is

the best dress ever

for twirling!! It would make a great holiday gift too!

CHASING FIREFLIES
Entering 'Made in USA' in the Chasing Fireflies search brings up a large selection of American made clothes, and accessories.

CWD KIDS
CWD Kids is another favorite of ours for American made children's clothes. Everything they carry is well-marked by country of origin and their website has a special made in USA section.  CWD Kids has many sizes and holiday dress styles to choose from.
American made holiday outfit accessories for kids
BROOKS BROTHERS




For 195 years Brooks Brothers has been manufacturing clothing in the USA! A

Brooks Brothers bow tie

or tie will dress up any white button shirt and slacks.
Holiday Themed Children's' Pajamas
Of course, I can't forget to add holiday themed PJs for kids! Everyone needs to be looking good for Christmas morning photos, so might as well get everyone some new holiday themed PJS.

Brian the Pekingese organic cotton children's Christmas print pajamas are available from baby size to kid's size 10.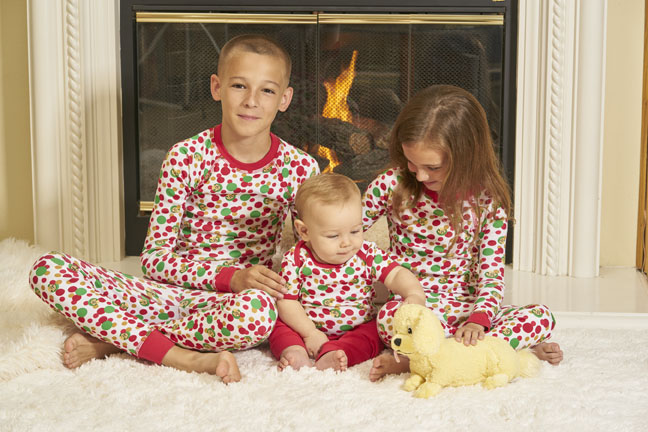 FOR MORE KIDS' CLOTHING LISTS, CHECK OUT THE FOLLOWING USA LOVE LIST ARTICLES
Kids' Clothing Made in the USA: The Ultimate Source List

American Made Swimwear + Swim Accessories for Children of All Ages

Summer Clothing for Kids: Made in the USA from Head to Toe

Four Sources for Made in the USA School Uniforms

Clothing Gifts for Kids, Made in the USA

Made in the USA Kids' Pajamas: A USA Love List Source Guide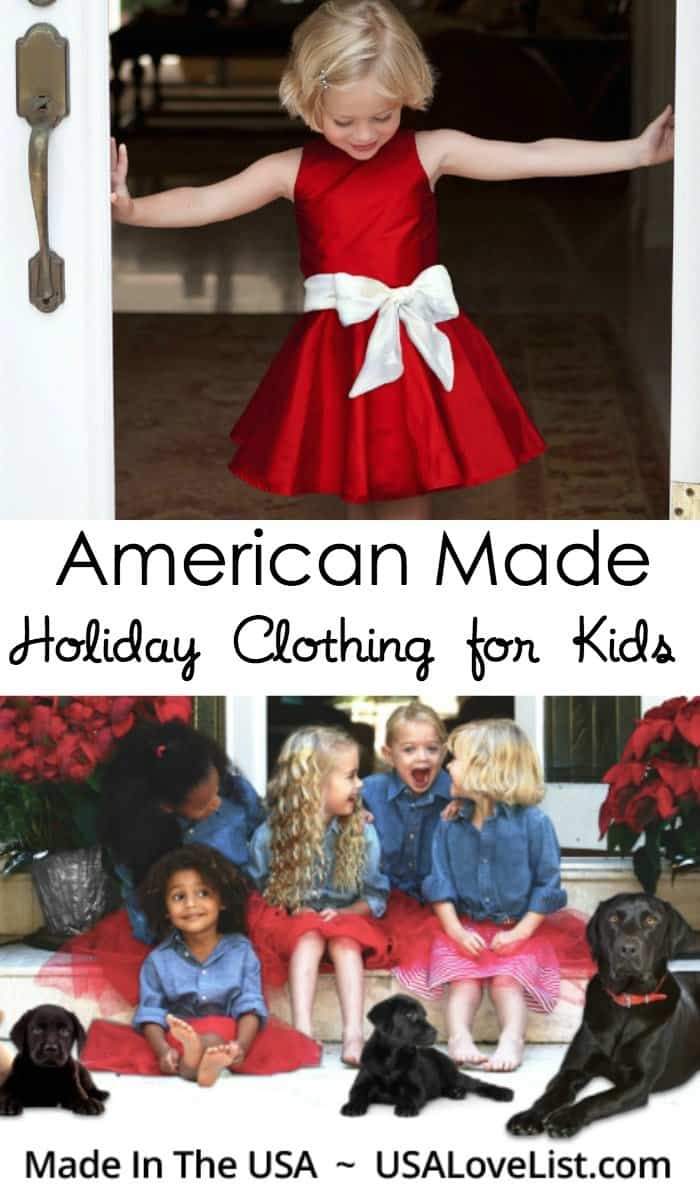 Disclosure: This post is sponsored which USA Love List is proud to share with you because, sponsored or not, we only share stuff we love. Cover photo: Max and Dora