Sometimes, we all feel the need for more protein. Or we need a handy, low carb snack. Or we just love meaty meat. We know. We've got you. It was a lot of chewing, but we've made a list of the most unique American made jerky options. Jerky is one of the most American snacks ever! Enjoy.
Whole30 Approved and Paleo Jerky Options
You might be surprised to know that sugar, MSG, and other additives are found in most meat snacks and sticks. Bursting with flavor, soft in texture, with the perfect "snap, Chomps  Hoppin' Jalapeño meat snacks are a must on the Whole30. They are made from 100% Grass-Fed non-GMO beef, jalapeño peppers, water, salt, citric acid, celery juice, black pepper, red pepper, garlic powder, coriander and stuffed in a collagen casing. I'm normally not a fan of jalapeño, but these have the perfect amount of kick without being overly spicy. In fact, they are my favorite flavor.
All readers get 15% off with code USALL
Wild Zora meat & veggie bars are incredibly flavorful, moist, and tasty. It's a jerky we love. Zora herself makes paleo and Whole30 approved jerky. It's grain-, gluten-, soy-, nut-, and dairy-free. It's made with grass-fed beef that is free of antibiotic or hormones. The full ingredients, including, grass-fed beef, organic fruits and vegetables (red bell pepper, apricots, dates, kale, garlic and onion), spices, cayenne pepper, sea salt and celery powder. Wild Zora jerky is made in Colorado.
All readers get 25% off with code USALOVE
Biltong, or dried beef slices, are traditional beef delicacies which originated in South Africa. Traditional Cut Biltong from Jonty Jacobs famous beef grass-fed Biltong slices are traditionally cut to include a fine layer of fat which maintains the meat's tender flavor. The jerky is made from fine cuts of beef which are rubbed with vinegar & spices before being hung to naturally dry which maintains the meat's natural, tender flavor. The meat is tender, flavorful, and really lean. We're sure you'll love it as much as we did. It's free of additives, colorings, MSG, or nitrates.
Paleo Jerky Options
Try the unadulterated pure Primal Smoke Beef Jerky from Appalachian Jerky. The flavor is unique in that it contains no soy sauce, preservatives, or sugar, like most jerky options. Its just top round beef, chilis, vinegar, salt, garlic, onion pepper, red pepper, and real hickory smoke. All the jerky is made in Vermont using USA-sourced beef and vacuum sealed to extend the shelf life without artificial preservatives. Two friends, Ron Myrick and Doug Labb started Appalachian Jerky outside Brighton, Massachusetts. Show these boys some love.
Kooee!'s Smoked Chipotle with Apple is the perfect marriage of dried fruit, raw nuts and seeds, cacao nibs, and savory jerky, making for an amazing jerky snack option. Kooee! cures its 100% grass-fed meat with coconut aminos, apple cider vinegar, jalapeño pepper, spices, sea salt, and smoked paprika. It's legit.
Go back to the basics with 100% Grass-Fed Jerky from The New Primal. It's made with beef raised without hormones and anti-botics, and is made with gluten free tamari, honey, pineapple and lemon juice, garlic powder, liquid smoke, onion, pepper, and ginger.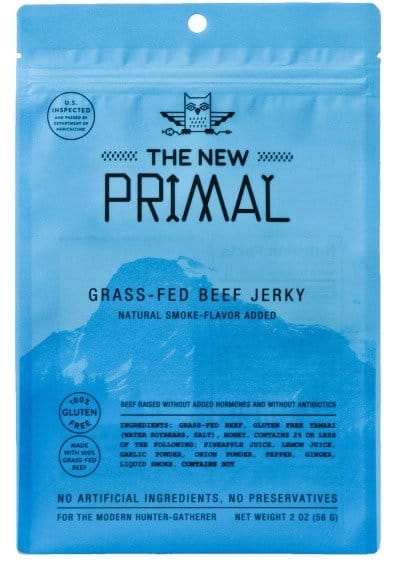 All Other Jerky Options
Curl up to some soft, flavorful Hearty Chili Beef Jerky from Captain Jake's Jerky. It tastes just like you're eating a bowl of chili. I love that it has just the right about of heat to bring out the flavor, without being overpowering. Captain Jake's gourmet beef jerky is made using Black Angus beef with no added preservatives, MSG, nitrates, or sodium.
If pork is your meat of choice we love Sweet Jalapeño Pork Jerky from Country Archer. The texture is just right because it's not too chewy and its the perfect balance of sweet and spicy, with brown sugar, pineapple juice and jalapeño powder for heat.

The softest jerky I found was from Dried & True. It starts with 100% California-raised beef, and isn't made with preservatives, nitrates/nitrites, high fructose corn syrup, or MSG. It's pretty easy to throw back the entire bag in one sitting. Please don't judge.
What's better than beer and jerky? Craft Beer Jerky from Jerky's Gourmet of San Diego. This jerky is marinated in domestic pale ale and made with 100% grass-fed beef.
If you're more into drinking spirits, I highly recommend Honey Bourbon jerky from True Gentlemen's Jerky. This jerky is bursting with flavor. It's only slightly sweet from the honey, while the Bourbon adds a bold, and lightly smokey bite. All True Gentlemen's Jerky is made in San Diego, California.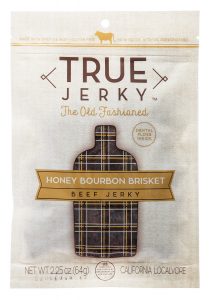 It's not called House of Jerky for nothing. If you're looking for exotic jerky options, like Wild Boar, Mako Shark, or Snapping Turtle, you'll find a plethora of options and flavors. If you like heat, you'll love the Hot Buffalo jerky. It offers just the right amount of heat without overpowering your tastebuds, and its the perfect texture, without being too salty. I love that this jerky is preservative free too. House of Jerky has been making jerky in Indiana since 1993.
While I'm not a fan of kimchi, I really like the flavors of Kimchi Jerky from Jerkface. It's not too spicy, and it offers a great texture and with complex flavors.
For the very adventurous eater, try Alligator Jerky from Mountain America. If you're wondering what alligator tastes like, well, you know what they say, it tastes like chicken. Unlike other alligator jerkies, this is not a sausage-like product. It's 100% solid strips of alligator meat and it's never treated with growth hormones or steroids. This jerky is also preservative-free with no MSG, nitrates, or other fillers.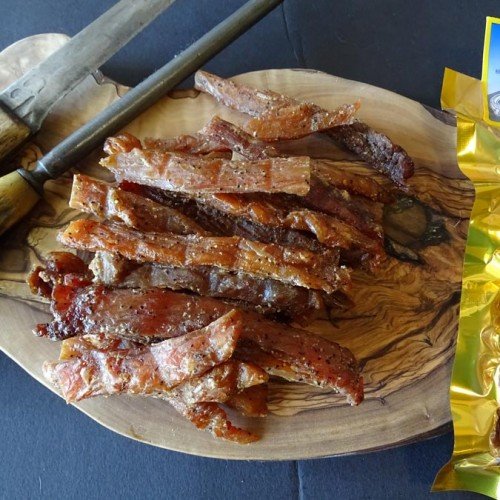 Get added energy from the guarana in Jamaican Style Turkey Jerky from Perky Jerky. This jerky is soft, chewy, and bursting with flavor from the blend of jerky spices.
Full of flavor, and packed with 18 grams of protein, the Orange Ginger Salmon Jerky from Ruby Bay Jerky is a great option for fish lovers. It's made with wild salmon, salt, brown sugar, orange, ginger, corn syrup solids, natural cherry and alder wood smoke.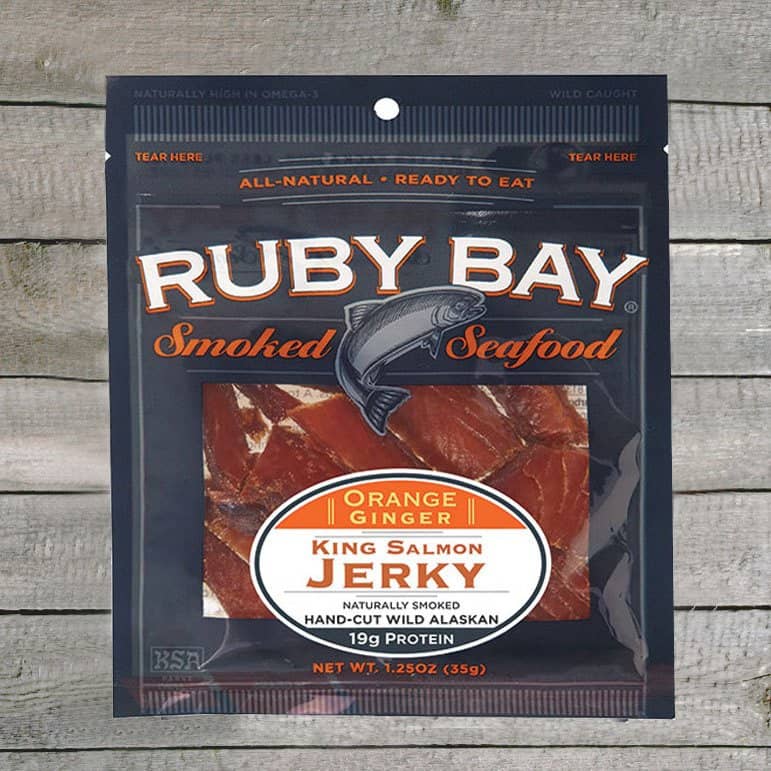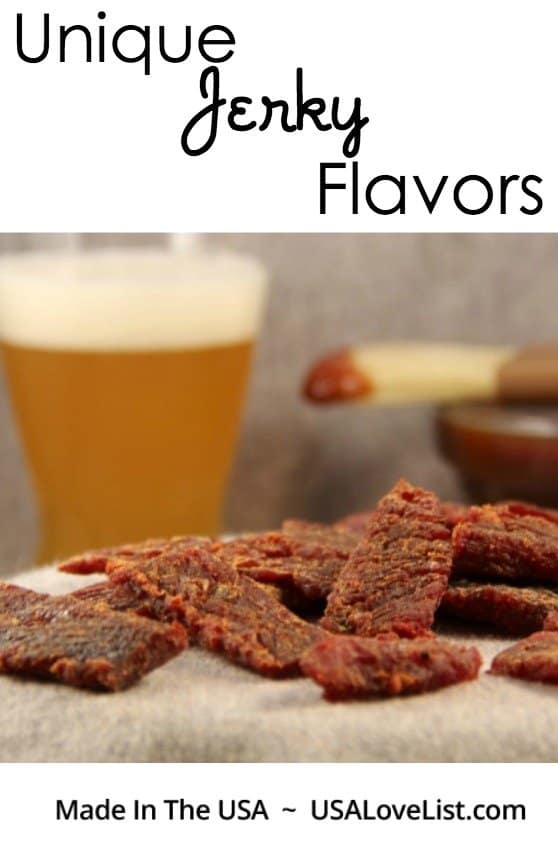 Image Credit: Captain Jake's Jerky