Whether you're looking for organic, personalized, swaddle, or more, we have the perfect American-made baby blankets for your little ones!
Where Can You Find Baby Blankets Made in USA?
I still have the blankets Grandma made my babies all those years ago. The seams are perfectly basted, and the cotton fabric has only gotten softer through the years. Time, effort, and love are sewn into every seam and stitch.
My kids slept under those blankets for years, and when their legs got too long, they then carried the blankets around for a few more years.
Check This Out! Best Kids Pajamas Made in USA
Nowadays, it's harder to find someone in the family who can sew, much less create a baby blanket, but we've found numerous resources of made in the USA baby blankets.
Why Buy An American-Made Baby Blanket?
Don't miss our list of American Made Blankets: The Ultimate Source List
I could have purchased any number of baby blankets for my kids when they were babies, but what I really wanted was something that lasted and was made from soft, durable fabric. You'll find those same qualities in the American-made baby blankets we list.
I also wanted a story related to the blankets, something I could tell my kids. While our selections aren't necessarily made by Grandma, they do have a story behind them. Some blankets are created out of a mom's own financial necessity, and that's where the Internet, quality offerings, and made in the USA bring everything together. Others are the result of parents looking for a specific type of blanket, and unable to find what they're looking for, they make their own. That's the USA entrepreneurial spirit. One brand comes from a North Carolina fiber mill; some brands use American-grown cotton; some even grow their own cotton and then have the cotton woven at a USA production facility. These are the stories we get to share with our children. We're all connected and part of humanity's bigger story.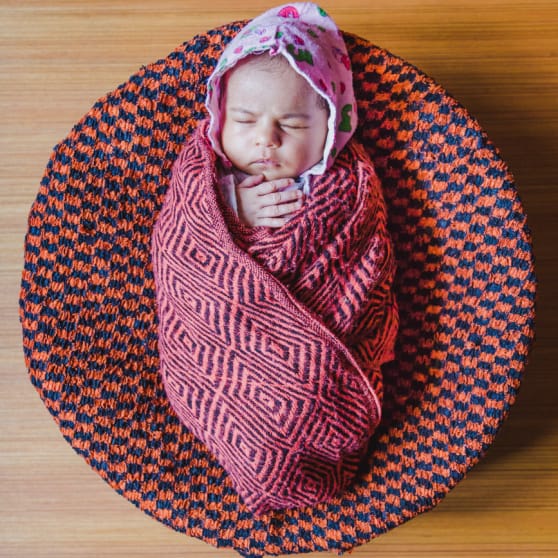 Types of Baby Blankets
You'll find several types of baby blankets on our list. We have USA-made baby blankets from sustainably sourced fabrics. Some fabrics are imported as America works hard to re-capture its own textile industry glory days. Other baby blankets come from organic fabrics. Several selections offer you the ability to personalize them, and some are swaddling blankets.
Whatever your preference is in a baby blanket, we're confident you'll find exactly what you need—and want—in our American-made baby blanket. Happy Shopping!
Did we miss your favorite American-made baby blankets brand? Let us know in the comments below! We update this list frequently, so please check back!
Check out these other great baby-related made in the USA articles!
Have you visited our Made in USA Shopping District? It is the place to start your shopping when you want to find the best of American-made.

Pin this list to save it for later!
Pin this list to save it for later!