Depending on what type of cleanser you're used to using, there are options for every skin type. I found some new kinds of non-toxic facial cleansers you might not have heard of, but you'll definitely want to try. Every one of these best natural face wash options is made in the USA with ingredients you can trust.
Best Natural Face Wash: Non-Toxic Facial Cleansers for All Skin Types
Facial Soap
Apple Valley Naturals Charcoal Detox Face Soap is great for normal and combination skin. Priced at $7, this makes for an affordable American made, non-toxic, vegan beauty option. This soap is hydrating and detoxifying at the same time. Activated charcoal pulls impurities from the skin without drying it. Organic coconut, grapeseed, palm, and olive oils condition the skin, while activated charcoal and essential oils of rosewood, lavender, lemon, anise, peppermint, rosemary, and eucalyptus detoxify, balance and tone skin.
Take 15% off your Apple Valley Soap order with code USALOVE. No expiration. One use per customer.
Facial Grains
I've tried a lot of organic, vegan, non-toxic beauty products and I usually find something that makes it fall 100% short of all the criteria I'd ideally want in a beauty product. That is all before I found LOLI beauty. I'm rarely able to find absolutely nothing wrong with a product until LOLI Purple Corn Grains. I've always loved using facial grains for their delicate yet effective way of brightening the skin by removing dead skin cells that make the skin appear lackluster. What is so special about LOLI Purple Corn Grains is that its made from 100% natural ingredients – no preservatives or tasty derivatives of any kind what so ever. The ingredients are incredibly simple – purple corn, pomegranate, almond flour, kaolin clay, orange peel, hibiscus, yucca root powder, rice starch. The variety in grain texture means that smaller grains treat the skin gently to polish it and large grains pass over to more deeply cleanse the pores. This supercharged skin polisher helps reduce bumps and breakouts while sloughing away dry spots to reveal a lit-from-within glow that lasts for days.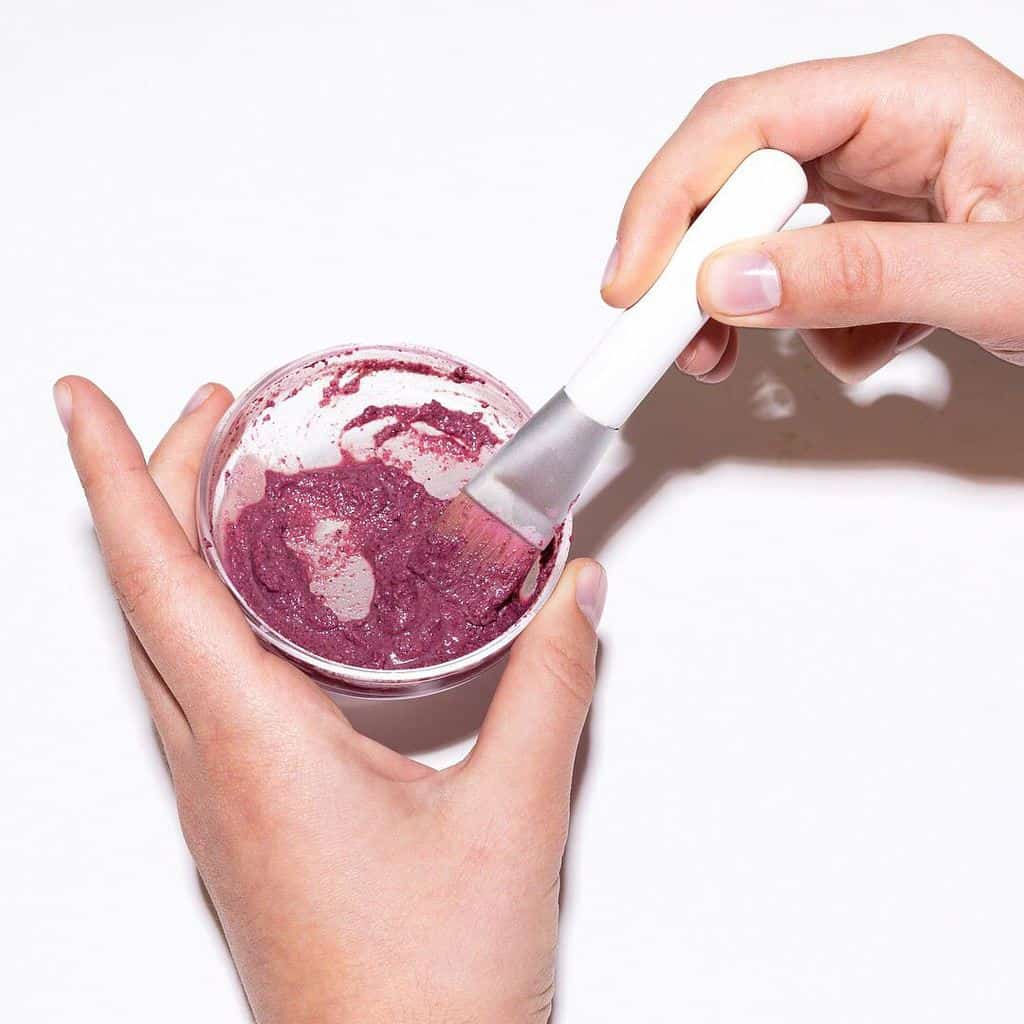 Have you ever heard of these? I hadn't until I found safe, non-toxic brands that were making them. I'm a huge, huge fan of Thesis Cleanser Tender As Petals for a few reasons. The cleanser exfoliates and cleanses at the same time, without drying your skin, so your face will feel polished every time you use it. You don't need to use much, so it's long-lasting and a good bang for your buck. It is great to bring when you're traveling because it is a non-liquid cleanser. Thesis products are vegan, organic, and eco-friendly.
Best Natural Face Wash Discount Code: USALOVE saves you 15% off  Thesis purchase
Cream Cleanser/Cleaning Oil
A little goes a long way with Benedetta Creme Cleanser, Rosemary & Geranium making it my go-to cleanser when my skin is in need of a detox routine. It's gentle enough to use every day, unlike many treatment products. The therapeutic oils promote the skin's healing without stripping you of your acid mantle. I can count on this to soothe my skin in periods when I break out prone or to calm any irritation. I also love that it is a one-step cleanser and toning nor additional exfoliation is needed. Benedetta is based in California and has been making organic, farm-sourced small-batch skincare products since 1996. The Benedetta Creme Cleanser is made of 82% locally harvested ingredients too.
Gabriel Balancing Cleanser makes for a perfect daily face wash, especially for combination or oily skin. The first ingredient in the product is aloe vera offering this cleanser its calming properties, while vitamin E, white willow bark, and kelp extract hydrate skin.
Welcome to the new luxury beauty product you never know you needed until now. Karisma Face Polish is a complete face polish that exfoliates, removes dead skin, blackheads, blemishes, and stubborn grime like sunscreen without drying or damaging skin – the extra moisture barrier promotes skin- elasticity and protects against breakouts making this face polish perfect for all skin types. They use Jojoba bead esters – no dirty microplastics here – to gently exfoliate, and rich avocado oil to intensely-moisturize, giving your freshly polished face a youthful radiance. Vegan, organic, non-toxic, and EWG Verified beauty products – it doesn't get much cleaner than that!
MJ Esthetics Facial Cleanser is an incredibly hydrating and calming facial cleanser. I especially love using it during periods when my skin needs extra attention or feels drier than normal. This bubble-free face cleanser is full of exfoliating enzymes and high levels of antioxidants. This CBD beauty product is made from raw Washington Wildflower Honey, oils of tamanu & hazelnut, hemp-derived CBD Isolate, essential oils of lavender, ylang-ylang & chamomile, and non-GMO Vitamin E Oil, this cleanser reduces the signs of aging and acne while leaving visible results behind.
Cleansing Gel/Gel Cleanser
Best Natural Face Wash: Elements of Aliel facial cleanser leaves your skin squeaky clean without any dryness. It's perfect for my combination/oily skin. I'm in love! I love this natural face wash! There are three formulas, each blend is crafted with a particular skin issue in mind, using the best of what nature has to offer. The names of our formulas are an ode to the things we value most in life. This is skincare, simplified. All of Elements of Aliel products are vegan and soy-free. They are also Leaping Bunny certified cruelty-free.
I cannot tell you how much I enjoy Queen Bee's Honey Cleanser. Raw Maui honey andorganic aloe vera gel hydrate the skin, while essential oils of lavender offer antibacterial properties. It's a lightweight formula that won't dry out your skin. There are three formulations based on skin type from which to select. Rose for sensitive skin, citrus for combination skin, and lavender for normal or combination skin. NOTE: If you have allergies, a honey-based product might not work best for you.
Disclosure: This post is a sponsored post which USA Love List is proud to share with you because, sponsored or not, we only share stuff we love.