In our household, Halloween is more than just a night of costumes and trick or treating. It is a whole month of spooky and Halloween themed fun! Here is a list of our five favorite family Halloween activities that have turned into traditions.
5 Tradition Worthy Family Halloween Activities
1. Visit a local farm
October is the perfect time to support local agriculture and visit an event at a local farm! Many farms hold fun family Halloween activities like haunted hay rides, spooky corn mazes, and of course, pumpkin picking. There is something for all ages!
2. Make Halloween decorations
Instead of spending money on cheap store bought decorations this year, spend time with the kids creating decorations. My kiddos have fun every year decorating empty plastic milk jugs to make spooky luminaries for our walkway on Halloween (learn how we do it here).
3. Bake and decorate Halloween Cookies
Made in Vermont, Ann Clark Ltd. Halloween themed cookie cutters are our favorite Halloween baking accessory! These cookie cutters have held their shape and make the perfect size cookies! See how much fun my kiddos and I have making our Halloween cookies, and find tips on what American made baking products to use (as well as an awesome sugar cookie recipe), here.
4. Carve pumpkins like pros
Impress your older kids, and I'm not gonna lie, even the adults, with Grampa Bardeen's Family Pumpkin Carving Set. Turn those Jack-O-Lanterns into works of art with this carving kit that includes scoops, carving tools, and stencils. The tools in this kit are designed by master carvers and are safer for children to use than traditional knives.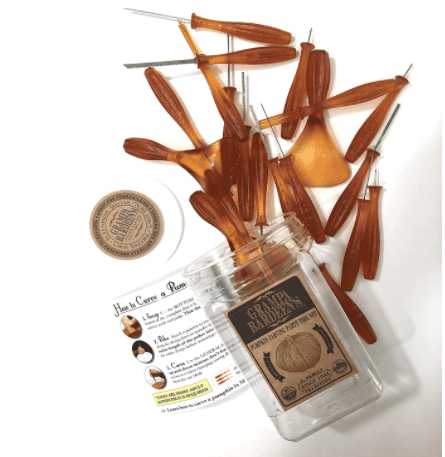 5.Mix up a batch of glow in the dark slime
What kid doesn't love making a mess, I mean, making slime? We make glow in the dark slime every year and still have fun doing so! Find the slime recipe and the list of American made ingredients you need here.
Love this list? We know you will love these lists too!

Pin this list to save it for later!