When the hubby and I first bought our house, the property was covered with gorgeous, impeccably tended flower gardens. Perfect!, I thought. I can totally keep these flower beds up…and add a nice vegetable garden in the back…..Then, toddlers happened.
Tending a garden with small kids in tow became more of a challenge than I was prepared for. My daughter loved to help with the weeding, but was famous for pulling out the weeds AND the plants. My son did not like getting dirty, which made it very hard for me to keep him happy while I got garden work done.
Over the years I have learned to find ways to keep my kids occupied and involved with gardening in ways that suit their likes, attention spans, and age ability.
Gardening With Kids & American Made Product Suggestions
1. Grow a theme garden. Kids of all ages love theme gardens! We've had a salsa garden, a pizza garden, and a butterfly garden. My kids pick a theme and we work together planning what plants they'll need. Having their own garden space to take care of, really keeps them involved the whole growing season. This year my daughter is already planning her salad garden.

2. Provide kids with safe, age-appropriate garden tools and supplies. Garden tools for adults can be too heavy for small hands to maneuver and too sharp for kids to handle safely.
American Plastic Toys has a 6 Piece Garden Set that includes a wheelbarrow, lawnmower, watering can, and gardening tools. It's perfectly sized for little kids. It is durable and easy to clean.
Green Tools Watering Can is made in the USA from 100% recycled plastic. The watering can comes with a rake and a shovel that are the perfect size for a young child's hands. The plastic is BPA free, phthalates free, and PVC free. It is dishwasher safe for easy cleaning.
For older helpers, ages 6 and up, Real Garden Tools for Children can be found at Lehman's. The Round Point Shovel, Garden Rake, Garden Hoe, and Leaf Rake are made in the USA from the same materials that the adult tools are made out of. They are durable and the perfect size for kiddos.
3. Plan a fun activity that will keep the kids occupied while you tend garden. My kids love being by my side, which can make gardening activities quite challenging at times. I have found if I plan a kid level activity that they can tackle mostly on their own but nearby, I have more time to get things accomplished. What kid doesn't love to make mud pies and mud cookies? A bucket of dirt, some water, and a few old baking tools would keep my kiddos busy….dirty, but busy!
4. Kids are not always going to be interested in plants and gardening, and that's OK! There are other ways they can be involved. Gardening is a family affair in this household, but sometimes one of my kids isn't into helping tend plants. There are other ways that they can be involved. Older kids can help put up fencing or build raised beds.
Garden decorations, like the garden flags made with the Natural Earth Paint Earth Flag Craft Kit, make a colorful addition to any garden and are a fun project for kids of all ages.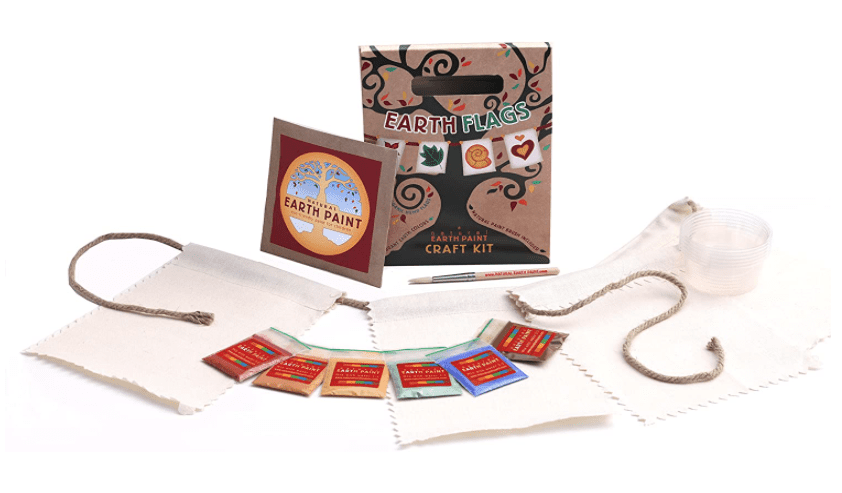 For more garden inspiration, check out these posts too!

Pin this list to save it for later!