L.L. Bean is one of many American retailers dedicated to providing their customers with products manufactured in the United States. To be clear, not all of their products are made in the USA, but they do make an effort. On their website, L.L. Bean has this to say about their "Made in the USA" products:
L.L.Bean is committed to selling products that are manufactured under legal, safe and fair working conditions. To this end we have a well-established labor code of conduct that serves as the basis of our vendor relationships. The code of conduct is actively communicated and monitored through an internal monitoring process, supplemented by collaborative efforts with other companies and organizations.
With that in mind, let's take a look at some of our favorite American made items from L.L. Bean.
Have you seen the news stories lately about how L.L. Bean's boots have suddenly become trendy fashion with long waits for delivery?  I'm glad to say that I still have mine from high school! 20+ years later, they still work, look, and feel great. I'm so glad this American made classic is back in style!
More Made in USA Items at LL Bean
If you want to find all of the items marked made in USA at LL Bean, just go ahead and click here.  You'll find some great home goods, pet products, boots, totes… all of the classics.  After you've taken a look, also try entering "made in Maine" in the search box to find a few more.
For the outdoor enthusiast in your life, L.L. Bean offers several must-have items for activities such as camping and hiking.

LL Bean puts extra effort into finding American made sources for its Home catalog and they are an easy source for Made in USA gifts that will last and last.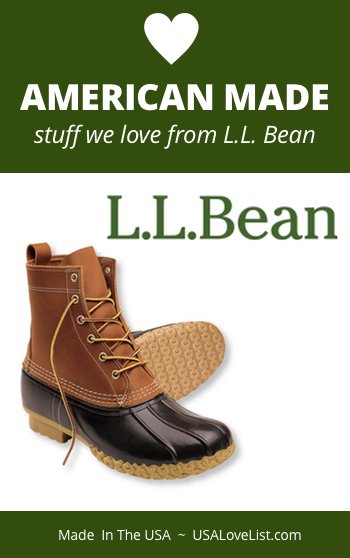 This list was getting long, so we had to stop, but there are many more American made products to be found at L.L. Bean.  Do you have a favorite you want to share? Add it in the comments below.