It came in the mail with a stack of other catalogs and I didn't even notice the headline on the cover of the new LL Bean Home catalog: "Look inside for more than 100 American-made products".  I'm used to having to work much harder than that to find what I'm looking for.  So as I flipped through the catalog, I glanced to the fine print at the end of the product descriptions and was delighted by what I saw.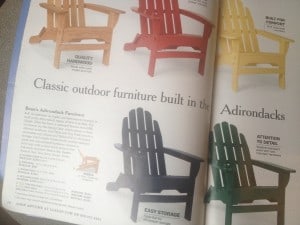 Every product was labeled by country of origin. (Really, that's all I ask, so I can make an informed decision!) And not only that, item after item was labeled "Made in USA". (Awesome!)  And to make it even easier, those labels were in bold, in bright green. (Thank you!)
I know from anecdotal experience and also from the many studies I have read that Americans want to have the choice to purchase items made in the United States.  Buying American addresses a range of concerns from safety, to environmental responsibility, to quality, to supporting jobs in our communities.  Even though not everything offered by LL Bean is American made, it was encouraging to see a major retailer celebrating American made products and going out of their way to make it easier for consumers to buy American.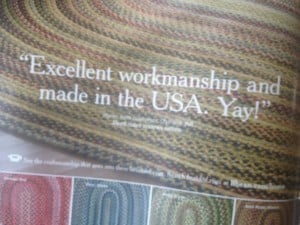 If you are looking to spruce up your patio or home this spring, start with the LL Bean Home catalog (or click here to see the LL Bean Made in USA Home collection online).  Throughout the issue, they provide details on their Adirondack chairs made in New York, outdoor cushions made in Maine, braided rugs made in North Carolina, and many other items including an American made futon and frame we'd been searching for on behalf of a reader.
Yesterday we posted an article encouraging you to ask your favorite retailers to carry American-made products.  One of our  dedicated readers reminded us in the comments that we should thank those who already do.  Now is a perfect opportunity.
Whether you order something from LL Bean this season or not, click this link to send a quick note to LL Bean and say thanks for making it a little easier to buy American. And let them know USA Love List sent you.