Don't slather yourself with potentially cancer-causing chemicals that are supposed to protect you from the sun. Just because your sunscreen is a brand you might know doesn't mean it's good for you. I always buy mineral-based sunscreens that are made with either non-nano zinc oxide or titanium dioxide. Here's a list of non-toxic sunscreens we love, safe for the entire family, to use all year around.
In case you missed my total beauty overhaul, where I trashed all my dirty beauty and personal care products, you can read more here.
NON TOXIC SUNSCREENS AND SUN CARE PRODUCTS
Facial Moisturizer with Zinc Oxide: I love using Botanic Organic Raspberry & Green Tea Daily Defense Moisturizer on a daily basis to defend and protect my skin from premature wrinkles. Not only my favorite facial moisturizer, it's also a great natural, non-toxic facial SPF. It's lightweight, blends well and serves as a great primer for under makeup or to use alone to protect skin every day. It contains 11% non-nano particle zinc oxide acts as a physical barrier to reflect UVA/UVB rays. This moisturizer is an antioxidant-rich with green tea extract. The sea buckthorn oil soothes redness and promotes skin cell regeneration to aid in repairing UV damage. It's organic, plant-based, cruelty-free, and soy-free.
15% off Botanic Organic with discount code USALOVE. No expiration.
Founded in 2006, All Good offers a collection of all-natural skincare products made from simple plant-based ingredients, including calendula grown on their organic farm. All Good by Elemental Herbs SPF 33 Sport Sunscreen is great for any and everyday use. The sunscreen spreads easily and hydrates the skin. It offers sun protection with zinc oxide while conditioning the skin with shea butter, grapeseed, jojoba and rosehip fruit oil. It's an all-natural, non-toxic, gluten-, GMO-, and PABA-Free, vegan broad-spectrum sunscreen. Water-resistant for up to 80 minutes, All Good's sunscreen protects your skin and the environment using mineral-based, coral-reef safe formulas. It is also available for Kids.
Babo Botanicals Sheer Zinc Continuous Spray Sunscreen SPF 30 is the only spray-on sunscreen I've found that uses naturally occurring minerals and organic, plant-based ingredients, and non-nano zinc spray sunscreen for powerful sun protection. WIN! The formula is fragrance-free, soy-free dairy-free, and gluten-free too.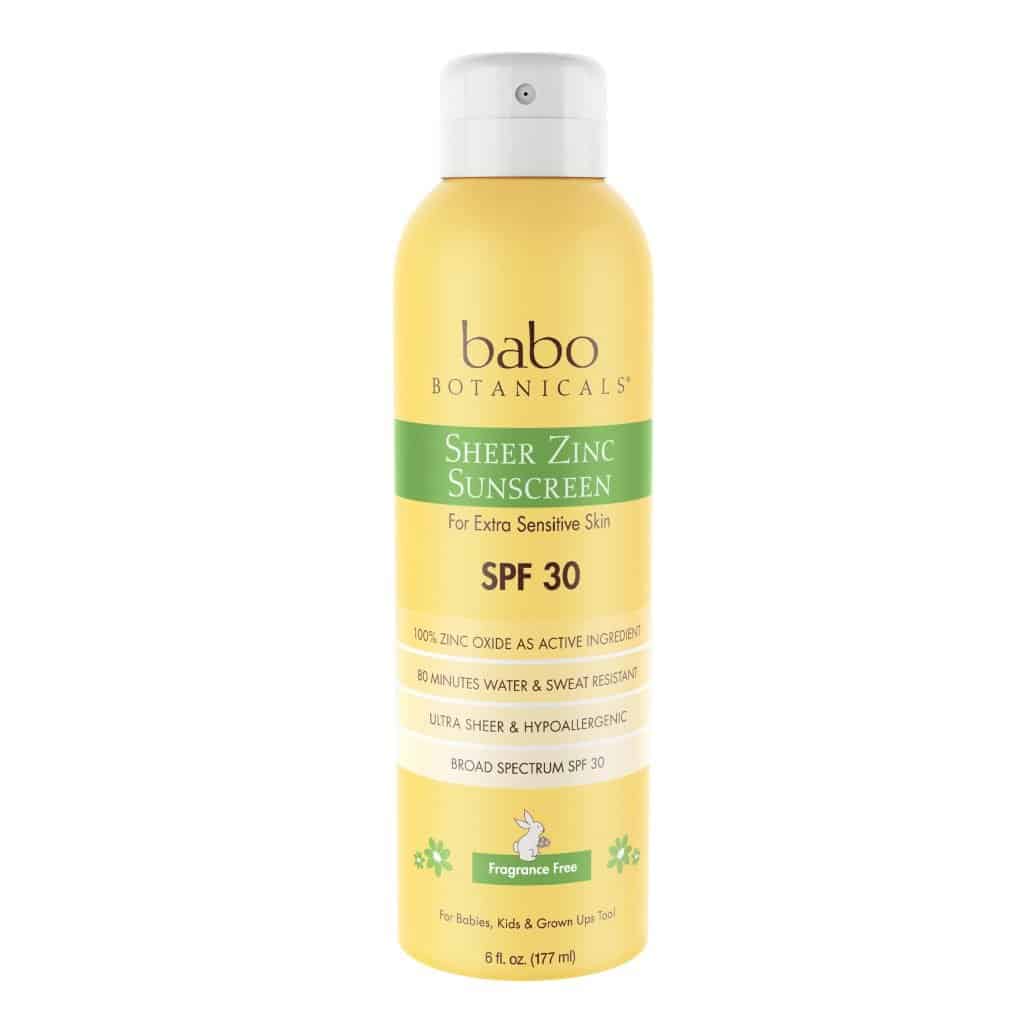 Don't miss the list of our favorite made in the USA organic sunscreen options.
Babo Botanicals Nutri-Soothe™ SPF 15 Lip Treatment is absolutely divine. This is the best SPF treatment I've ever used – it seems amazing; it goes on smooth; it leaves your lips feeling hydrated and it has mineral SPF protection. It's a great product all the way around. Babo Botanicals products are made on a certified organic farm and a family-run operation, located in beautiful upstate New York.
Perfect for the entire family, Badger Balm New Hampshire made sunscreens are certified organic and provide broad-spectrum protection using zinc oxide, a naturally occurring compound. We've shared Badger Balm before and are excited to share the brand's newest product, clear zinc sunscreens with non-whitening zinc oxide. Like all its other products these sunscreens are made in the USA and certified cruelty-free.
Also, try the SPF 30 Lavender because it smells SO good! .For those looking for dual protection make sure to try the SPF 34 Bug Repellent Sunscreen, which offers sunscreen and bug repellent in one.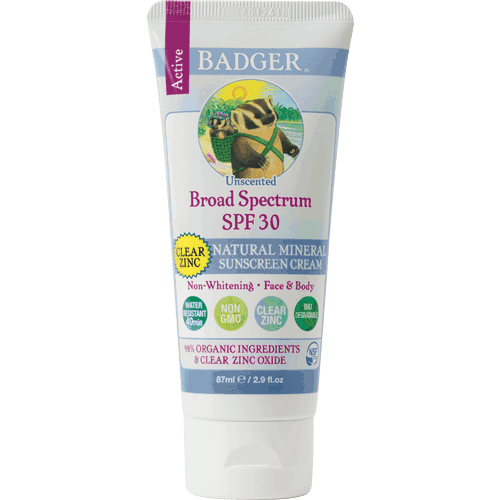 COOLA Mineral Face SPF 30 Rosilliance offers a skin-perfecting tinted moisturizer to provide a luminescent glow for a fresh, healthy-looking skin finish. Formulated with 70%+ certified organic ingredients and validated Rose Stem Cells, these BB Plus creams leave the skin smooth, moisturized and replenished thanks to the advanced bio complex with botanical stem cell actives. A perfect all-in-one for active lifestyles: sheer tint, moisture, protection. 80-minute water-resistant, and available in Light-Medium and Medium-Dark tints.
I use it everyday either alone on my face, or under makeup. I highly recommend this as mineral sunscreen. NOTE: not all COOLA products use mineral sunscreen, so be sure to select those options if you're looking for a non-toxic sunscreen.
Don't miss our list of the best facial sunscreens, all made in the USA.
California Baby Super Sensitive SPF 30+ Sunscreen is ideal for little ones, or those with super sensitive skin. It is in the easily portable stick form, clear, fragrance free and non-chemical sunblock. Their stick is great protection for cheeks, noses and shoulders. The brand's sunscreens are mineral sunscreen based so they are safe for the entire family. I love that the sunscreen stick uses non-whitening titanium dioxide that scatters and reflects dangerous UV rays, so it goes on clear while offering UVA-UVB broad-spectrum protection. It's also Gluten-free, Dairy-free, Oat free and Soy Free, making it perfect for those with allergies.
Goddess Garden Organics Kids Sport Sunscreen makes protecting your child's sensitive skin could easier than ever with a top-rated, non-nano, organic sunscreen. It's perfect for sports and all outdoor fun, the kids sport sunscreen will keep your family safe from the sun with natural minerals. The sunscreen is EWG rated 1, 100% biodegradable, reef-safe, and offers 80 minutes of water resistance.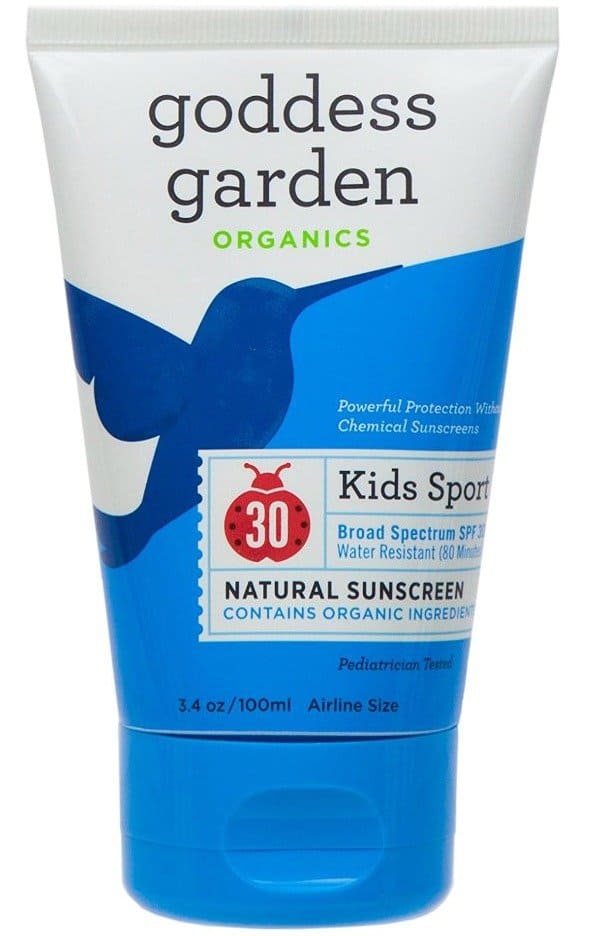 MDSolarSciences Mineral Moisture Defense SPF 50 is a luxurious sunscreen, perfect for everyday use. It's an elegant broad spectrum sunscreen enhanced with ceramides and humectants to help restore skin's natural moisture barrier. Vitamin C, green tea, cranberry fruit and pomegranate extracts offer antioxidant benefits. It's an all-natural, non-toxic, gluten free, GMO free, and PABA-Free, broad spectrum sunscreen.
If you're looking for water resistant mineral sunscreen, Raw Elements Eco Forumla 30+ is your choice. The formula is very water resistant (lasts up to 80 minutes), and at the same time is gentle and moisturizing. It's packed with biologically active antioxidants, vitamins, minerals and extracts, like organic sunflower oil, organic green and black tea, organic coffee, organic hemp seed oil, organic cocoa butter, mango butter, and organic beeswax, that continues protecting our skin long after environmental exposure. It's non GMO Project Verified, Leaping Bunny Certified and EWG #1 Rated.
Sunology SPF 50 Kids Sunscreen is perfect for outdoor fun, like hiking or sunbathing, because the SPF is so high and its water-resistant for up to 80 minutes. It's another one that doesn't give you that white zombie look. I really, really love this sunscreen. The sunscreen is EWG rated 1.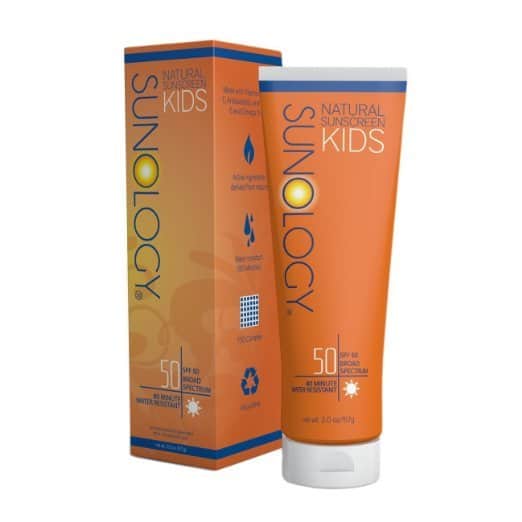 Most beauty products you find in the grocery or department stores are 2 in 1 or 3 in 1, at the most. Suntegrity's "5 In 1" Natural Moisturizing Face Sunscreen – Tinted, Broad Spectrum Spf 30 is an all in one, tinted mineral sunscreen, Beauty Benefit (BB) cream that treats, hydrates, protects, primes and covers the skin. It goes on smooth and offers lasting and natural coverage. Non-nano sized zinc-oxide not only protects the skin from the damaging UV rays, but it also soothes and calms the skin. Zinc-oxide is known for its anti-inflammatory properties that often help skin conditions like rosacea, acne, and melasma.
Sunless Tanner
Don't miss our list of the best American made sunless tanning lotions.
If you're looking to get color without sun, Chocolate Sun Cocoa Lite/Enhancer delivers a beautiful light color on a fair skin tone. If you desire additional color, it is best to build the tan by reapplying the product after 4-6 hours, or the following day. Sweet almond oil, aloe vera gel, coconut oil, and jojoba oil hydrate the skin and cocoa absolute darkens the skin. The color is subtle and looks completely real. There's no fake orange look here.
Disclosure: This is a sponsored post which USA Love List is proud to share with you because, sponsored or not, we only share stuff we love.
Header Image Credit: Botanic Organic