After wearing a suit or tuxedo made in the USA, you very well may never have to buy another suit again.
Buy a Made in USA Suit or Tuxedo for Your Next Formal Event
Most of us have experienced what it's like to slip our feet into a really well-made pair of shoes or don that perfect-fitting overcoat. Maybe you've sat in a luxury car where the leather seats hug your body just right and the engine purrs like a kitten.
Not everyone can live the life of luxury all the time, but if you're in the market for a suit or tuxedo, you'll be very happy to make this investment with one made in the USA.
Why Buy A Suit or Tuxedo Made in the USA?
First, let's talk fabrics. When a USA men's apparel company chooses suit fabrics for dressy occasions, it chooses only the best fabrics. While we concede some of the more luxurious fabrics come from outside the USA such as linen or silk, other fabrics indeed are sourced here. And only the best fabrics make the best suits—not just for how they feel when you wear the suit, but for how the fabrics enable the makers to cut, sew, and tailor the suit.
Second, let's talk fit. A well-made suit designed specifically for you creates perfect symmetry and synergy. It's like two puzzle pieces coming together perfectly to help create a whole picture. It brings out your best. You won't experience too-long pants or sleeves, a lapel that hits in all the wrong places, or the shoulders either bunching up or feeling too tight. The waist in the pants and jacket fits just right.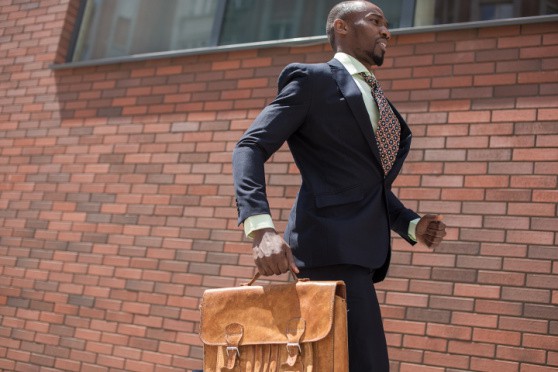 What is "Fast Fashion" Versus "Slow Fashion?"
Most of the men's suits in a department store or men's clothing store are fitted onto a mannequin of specific measurements. Then, hundreds, if not thousands, of suits are made exactly to those specifications. Usually, cheaper materials are used with little attention given to the quality of the seams. And even if those suits can be altered, there's only so much an alteration can do on a pre-made suit of inferior quality. That's because some of the pieces are actually glued into place rather than sewn from numerous pieces.
This is the definition of fast fashion: The suits are mass-produced of lower quality, worn infrequently, and they usually end up in landfills.
A well-made suit tailored to your specifications defines slow fashion: While it costs more upfront, it's also made from superior fabrics by hand to fit your one and only body by a tailor who knows what he's doing. And because it's made for you alone, you'll likely wear it more frequently. More fabric pieces are used to provide superior movement and fit.
Even if your suit does come off the rack such as some of our recommendations, because they're made in the USA, you'll know they've been made from quality fabrics, and the makers pay attention to the most minute details. If there's a problem, it can be fixed or replaced. Some off-the-rack suits come with temporary stitching that allows for better alterations that match your measurements.
Dress To Look and Feel Your Best
A well-fitting suit brings out your best. When you look good, you feel good, and when you feel good, you look good. Read on to discover only the best for you: A suit or tuxedo made in the USA!
Do you know of a suit or tuxedo brand made in the USA that's not on our list? Leave a comment and link below and we'll check it out!
Check out these other articles for men's items made in the USA!

Pin this list to save it for later!
Pin this list to save it for later!