If you're looking for Whole30 compliant jerky, we've found eight options that are made in the USA. Even if you're simply looking for dairy free gluten free, soy free, and sugar free options, these are great choices from which to select.
All options listed below are dairy free, gluten free, MSG free, nitrate free, soy free, and sugar free. They are all Whole30 compliant, Paleo jerky options. 
Eight Whole 30 and Paleo Jerky Options
Brooklyn Biltong
Biltong, or dried beef slices, are traditional beef delicacies which originated in South Africa. Brooklyn Biltong makes its seasoned, dried grass-fed biltong meat in Brooklyn. Biltong slices are traditionally cut to include a fine layer of fat which maintains the meat's tender flavor.  The jerky is made from fine cuts of beef which are rubbed with vinegar & spices before being hung to naturally dry which maintains the meat's natural, tender flavor. The meat is tender, flavorful, and really lean. We're sure you'll love it as much as we did. It's free of additives, colorings, MSG, or nitrates. This Biltong is flavorful and easy to chew because is dried with air instead of heat, making it much more tender than traditional jerky.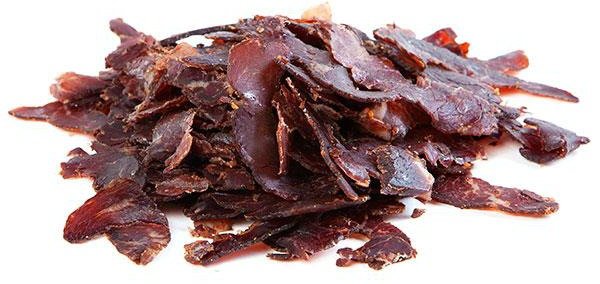 Chomps
You might be surprised to know that sugar, MSG, and other additives are found in most meat snacks and sticks. Bursting with flavor, soft in texture, with the perfect "snap, Chomps  Hoppin' Jalapeño meat snacks are a must on the Whole30. They are made from 100% Grass-Fed non-GMO beef, jalapeño peppers, water, salt, citric acid, celery juice, black pepper, red pepper, garlic powder, coriander and stuffed in a collagen casing. I'm normally not a fan of jalapeño, but these have the perfect amount of kick without being overly spicy. In fact, they are my favorite flavor.

Country Archer 
Country Archer Turkey Meat Sticks have great flavor and texture. They are made from antibiotics and hormone free turkey They are gluten-, nitrate-, and sugar-free. Made with turkey, water, turkey stock, sea salt, encapsulated lactic acid, celery juice powder, rosemary, basil, thyme, dehydrated carrot, garlic, and onion powders, and beef collagen casing, these sticks are flavorful and juicy. Note: Not all Country Archer jerky is Whole30 compliant, only the beef and turkey sticks. 
Don't miss our list of the best 17 Unique Jerky Brands, all made in the USA.
Koee! Snacks
Kooee!'s Smoked Chipotle with Apple is the perfect marriage of dried fruit, raw nuts and seeds, cacao nibs, and savory jerky, making for an amazing jerky snack option. Kooee! cures its 100% grass-fed meat with coconut aminos, apple cider vinegar, jalapeño pepper, spices, sea salt, and smoked paprika. It's legit.
Mission Meats
Mission Meats is on a mission to help people by donating 10% of its proceeds to social-good organizations that have a philosophy of empowering people to help themselves, while also offering us clean, tasty jerky. They offer grass-fed beef and free range turkey sticks and bars. They have a strong black pepper taste and are a bit less juicy than some of the other meat sticks. If you're a cracked black pepper fan, you'll love these varieties. 
Naked Cow
Try the unadulterated pure Grass-Fed Smoke Beef Jerky from Naked Cow. The flavor is unique in that it contains no soy sauce, preservatives, or sugar, like most jerky options. Its just top round beef, chilis, vinegar, salt, garlic, onion pepper, red pepper, and real hickory smoke. All the jerky is made in Vermont using USA-sourced beef and vacuum sealed to extend the shelf life without artificial preservatives. Two friends, Ron Myrick and Doug Labb started their parent company, Appalachian Jerky, outside Brighton, Massachusetts. Show these boys some love!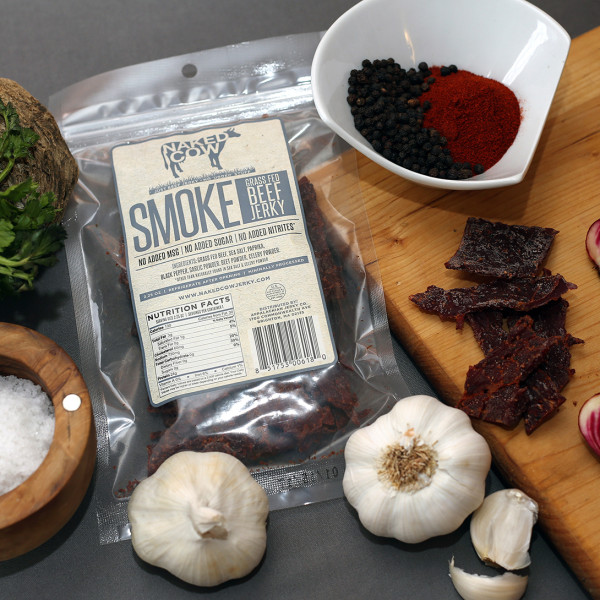 US Wellness Meats
Flavorful with the perfect snap, US Wellness Meats' Grass-fed and Grass-finished Beef Snack Sticks are nitrate, gluten, high fructose corn syrup, and MSG free. They generate stellar nutrition for young and old alike. These Snack Sticks are fully cooked and ready to be enjoyed right out of the package. The ingredients include made of beef, water, sea salt, black pepper, red pepper, garlic, and coriander.
Wild Zora
Wild Zora meat & veggie bars are incredibly flavorful, moist, and tasty. It's a jerky we love. Zora herself makes paleo and Whole30 approved jerky. It's grain-, gluten-, soy-, nut-, and dairy-free. It's made with grass-fed beef that is free of antibiotic or hormones. The full ingredients, including, grass-fed beef, organic fruits and vegetables (red bell pepper, apricots, dates, kale, garlic and onion), spices, cayenne pepper, sea salt and celery powder. Wild Zora jerky is made in Colorado.
All readers get 25% off with code USALOVE