Colorado guest post by Ana Bogusky of Mrs. American Made and Jennifer Taylor
Colorado is the Wild West of historical mountain towns where slopes are shredded and home-brewed beer is guzzled. It's the land where people from everywhere come to challenge ski slopes. With time their lungs adapt to a mile high altitude. People are Rocky Mountain high on the amazing outdoor living here in Colorado. It boasts as being one of the healthiest and sunniest places in the USA. Our state not only has natural beauty, but has man-made products worth shedding light on. Fortunately, we have been able to narrow it down to 10 for our Colorado Love List of products.
10 Things We Love, Made in Colorado
Wild Zora jerky is incredibly flavorful, moist, and tasty. It's a jerky we love. Zora herself makes paleo and Whole30 approved jerky. It's grain-, gluten-, soy-, nut-, and dairy-free. It's made with grass-fed beef that is free of antibiotic or hormones. The full ingredients, including, grass-fed beef, organic fruits and vegetables (red bell pepper, apricots, dates, kale, garlic and onion), spices, cayenne pepper, sea salt and celery powder. Wild Zora jerky is made in Fort Collins, Colorado. All readers get 15% off with code USALOVELIST.
Celestial Seasonings Tea has grown into one of the largest specialty tea manufacturers in North America.
It all began in 1969 when a group of young entrepreneurs harvested fresh herbs from the Rocky Mountains by hand and packaged in hand-sewn muslin bags. They were then sold to local health food stores. Now they serve more than 1.6 million cups of tea every year. 100 different ingredients from over 35 countries create their all-natural teas. There are many categories to choose from: herbal, wellness, green, red, white and Chai. You can also enjoy a tour to see the process. The "peppermint room" is something to behold.
New Belgium Brewing sounds like it would kick out beers from Belgium, but they're actually brewed in the northern Colorado town of Ft. Collins. In 1991, New Belgium was the first to officially brew and sell Belgian-style beers in the United States. A co-founder's taste buds were influenced during his time on a fat-tired bike trip through Europe. He brought those ideas home and helped create the concoctions that are enjoyed today. One of the most popular amber ale brews is appropriately named Fat Tire. Belgian beers use a broader spectrum of spices, fruits and yeast strains than German or English beers. People can enjoy a tour of New Belgium Brewery, which TripAdvisor awarded in 2012 as the #1 tour of the Top 10 American Brewery Tours.Fun fact: Colorado has more microbreweries per capita than any other state.
Rudi's was once a small bakery in Boulder.  It opened its doors in 1976. Rudi's now bakes its deliciousness in a 61,000-square-foot bakery and is the leading producer of certified organic bread in the United States. Rudi's Organic has always stayed true to what they say is "living free." This means free from artificial ingredients, preservatives, high fructose corn syrup, trans-fat and genetically modified organisms (GMOs). Their breads, rolls and buns are flavorful, nutritious, and preservative-free. Carbs!  Yum!
Tuff Shed could be the answer for those of you who drive your significant other a little crazy taking up too much living space with your well-deserved trophies, Christmas crafts or new-found motocross hobby. Stand tough and get that little extra space that will make a good compromise for everyone. Tuff Shed is America's leading provider of durable storage buildings and garages. For 30 years, it has provided innovative engineering and construction techniques that gives its customers lasting value and we're pretty sure some lasting relationships.
Chocolove is perfect for this love list! Who doesn't love chocolate? This chocolate factory is nestled in Boulder. One of their many secret ingredients is crisp, cool, dry air. This technique follows the classic European tradition of producing it in the mountains. So that's how the Swiss do it?  They have the Alps, we have the Rockies. Chocolove buys premium Belgian chocolate and produces 24 flavors that range from milky chocolate to the extra strong 77% dark chocolate. Their number one seller is Almonds & Sea Salt in Dark Chocolate. Each bar contains all-natural ingredients and is packaged to look like a love letter with a romantic poem inside. There you go lover boys, the work is done for you. Each wrapper also reveals the cocoa content for those chocoholics who enjoy the health benefits they get from the anti-oxidants in dark chocolate.
Twist puts a twist on cleaning with their eco-friendly sponges.Unlike the yellow-green sponges that sit on some American sinks, Twist sponges are dye-free and plant-based. Many people clean with eco-friendly products, but use a tool that isn't. These multi-purpose scrub sponges can be used in the kitchen, bathroom, furniture and even outdoors. The prices are comparable to other conventional sponges.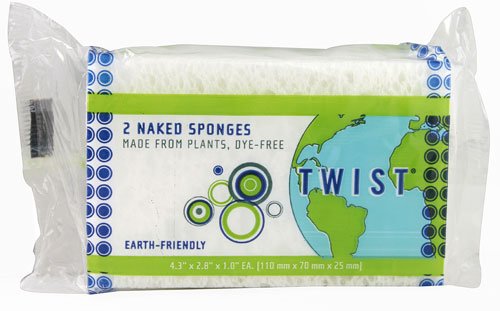 Revetro embraces the Colorado culture of sustainability. Revetro recycles glass from soda, wine, beer and liquor bottles. This company re-purposes glass into eco-friendly products.  These range from wine bottle chandeliers to tumblers. They offer amazing gifts for the environmentally-minded folks. Bottlehood now has a retail store at Caesar's Palace in Las Vegas. Before you toss out that wine bottle and send it to a landfill.
English Retreads all started with a young woman on an inner tube floating down Boulder creek (a fun thing Boulderites do for fun).Heather English had been searching for a stylish, vegan handbag, which was hard to come by at the time. She came up with the brilliant idea of turning inner tubes she finds at local truck stops into eco-chic handbags and accessories. Who would have thunk? English made it a reality in 2002 and continues to provide stylish products from her company that stay true to sustainable fashion. These are a great choice if you're looking for a smart, chic gift purchase for your woman or dude.
Rockmount Ranch Wear – What better place to buy ranch wear than the Wild West? Celebrities do! A long list of stars have been outfitted in Rockmount Ranch Wear, from Robert Redford to Bruce Springsteen.Rockmount is a three-generation business that started in 1946 in Denver. The founder, Jack A. Weil, who lived and worked daily to the ripe ol' age of 107, introduced the first western shirts with snaps and first commercially produced bolo ties. Rockmount has everything one can think of when it comes to Western fashion. They strive to be distinct and different than other western wear brands, and they are committed to making their brand in America. Yippee-ki-yay, Rockmount!

Little Colorado produces little furniture for children. Their main goal is to make quality wood furniture for an affordable price. This family-run business has been doing their thing since 1987. Little Colorado takes pride in building products that look like they cost a fortune, but don't let their style fool you. You won't have to dip into your child's college fund to furnish your little one's room. This furniture for kiddos can be found on Amazon.com,
 LL Bean, One Step Ahead and many other retail stores.
Ana Bogusky and Jennifer Taylor are both busy moms who live in Boulder, Colorado. Last year, Ana decided to commit to wearing more "Made in USA" outfits and she is the blogger behind the style blog, Mrs. American Made. Jennifer is a writer who is also trying to bring awareness to the importance of buying local and closer to home. 
If we missed something you love, made in Colorado, be sure to tell us about it in the comments!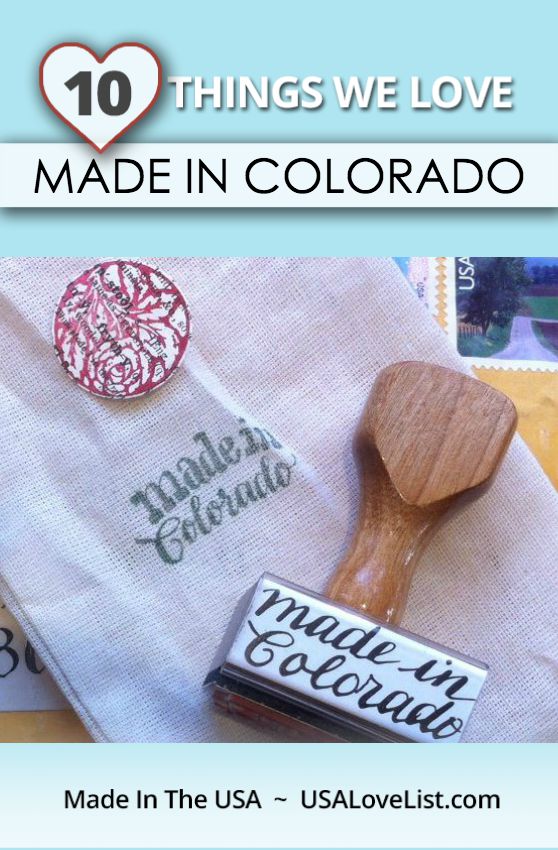 We are welcoming guest post submissions on the topic of The Top 10 Things Made in My Home State. Contact us for submission guidelines.