Get your spoon ready. We've found the most unique nut butters out there.  Someone had to take on the challenge, so I gladly raised my hand. Our list explains the flavors of my favorite American made peanut butter, and other unique nut butters. Some of the flavor combos will surprise and shock you. I'm getting hungry just thinking about it. (The brands are listed in no particular order, other than alphabetically.)
American Made Nut Butters
Barney Butter Raw + Chia is amazingly smooth, creamy, and flavorful almond butter blend. I particularly love this almond butter for it's bold almond taste with a hit of crunchiness and added protein from the chia seeds. What's really great is that these butters are made in an almond ONLY facility. Barney Butter gets its almonds from California, the same state where the butters are made.
Peanuts, black sesame seeds, organic ground Szechuan peppercorns, ground red chili peppers, natural sea salt. Yes, those are the ingredients in Better Off Spread's The Ace of Spice. This is certainly one of the most unique savory peanut butters I've come across. The bright boldness of the peppercorns hits you first. You're then greeted with the nuttiness from the peanuts, while the fiery flavor from the chili peppers lingers on your tastebuds. While it's wonderful on its own,  I think it would even better added to a meal – think coconut curry chicken.
Halva is hella good, and Brooklyn Sesame is THE source for spreadable sesame paste. The Halva Spread with Cocoa and Sea Salt offers the perfect balance of nuttiness and sweetness. It's a truly unique mouth experience and one I highly recommend to indulge in, over and over. This spread is made in small batches in Brooklyn, New York.
Buff Bake offers protein packed nut butters in your favorite flavor combinations, like cookie, chocolate chip, and snickerdoodle. Each nut butter blend has whey protein for a total of 11 grams of protein per serving, making it perfect for those trying to pack in the protein. I personally love making morning smoothies with this nut butter since it has added protein.
Eliot's Adult Nut Butter proves that peanut butter isn't just for kids. Indulge in the Honey Chipotle Peanut Butter, and you'll never want to put the spoon down. This nut butter is the absolute perfect balance of sweet and spicy. I'm not a fan of spicy food, but the spiciness of the pepper is so faint and linger only at the end of each bite. I promise you'll love it as much as I do!
I would never have thought I'd like maple almond butter. It just didn't seem like something I'd be into since I don't get excited about maple. I have to say, I think Justin's Maple Almond Butter has my heart. It's a true maple taste and adds complexity and sweetness to smooth almond butter. You won't stop at just one spoonful.
Why, hello! It's nice to meet you, Kolat's Blueberry Cinnamon Walnut nut butter offspring. I cannot get enough of this Paleo and Whole30 friendly nut butter. I love the fact that dates are used as the sweetener. With only REAL ingredients, (roasted almonds, walnuts, dates, blueberries, organic coconut oil, organic cinnamon, sea salt, and added vitamins) this nut butter is sure to please. Kolat makes all its butter in Colorado.
I'm nuts about Naturally Nutty Organic Pepita Sun Seed Butter. Please excuse my corny nut joke – I couldn't help myself. I also couldn't help  repeatedly spooning this butter directly into my mouth like it was my job. The robust mix of pumpkin, sunflower, and flax seeds coupled with vanilla, allspice, and cinnamon tastes as if you were eating pumpkin pie. Gosh, it is so divine! Naturally Nutty makes its butters in Traverse City, Michigan.
If you love coconut butter, you'll become a huge fan of Nikki's Coconut Butter, just like I did. Get all the benefits of coconut butter, with even more flavor. My favorite is the Honey Pecan Pie, which is a mix of Organic Coconut, Roasted Pecans, Organic Extra Virgin Coconut Oil, Organic Honey, Organic Vanilla, Cinnamon, Sea Salt. The texture is similar to coconut oil, so I love adding it to my morning bulletproof coffee for a healthy homemade caffeine fix.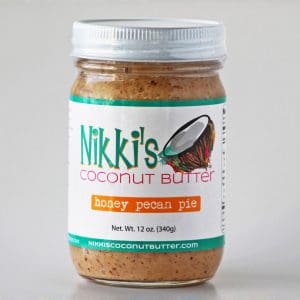 It's nutty to think about all the ingredients in Saratoga Peanut Butter Company Adirondack Jack. (I'm sorry for cracking more nut jokes…) No jelly is necessary with this peanut butter. It's full of sweet additions like dried cranberries, cinnamon, and honey, while the flax and sunflower seeds give the nut its crunch and varied texture. With a name like Adirondack Jack, it seems like the perfect accompaniment to a day outdoors.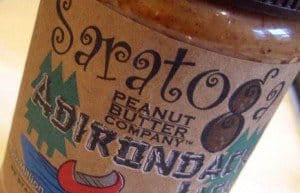 Wild Friends was started by 2 college students, Keeley and Erika in 2011 in Oregon and they are now stocked across the country at major retailers like Wegman's and Whole Foods. All the company's nuts are sourced domestically – the almonds come from California and the peanuts from Georgia. If you're looking for a nut butter with the most unique texture, you have to try Wild Friends' Sesame Cranberry Peanut Butter. The sesame seeds give just the right amount of crunchiness and the cranberries add a bit of chewiness. The agave makes it just right amount of sweet. For clever ideas for how to use these nut butters in everyday recipes, check them out on Twitter and Facebook.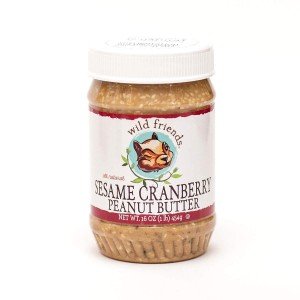 Like the name says, Yumbutter it sure is yum! I love the almond butter which has with goji berries, chia and hemp seeds in it too. These tasty additions create the perfect texture, with just the right amount of sweetness too. All their nutbutter is GMO-free and gluten-free. Yumbutter is on a mission too –  it founded the BuyOne:FeedOne campaign. By partnering with the non-profit Primeros Pasos, Yumbutter provided 45,000 feedings to malnourished women and children in underserved areas of Guatemala, so far! We think that's pretty impressive.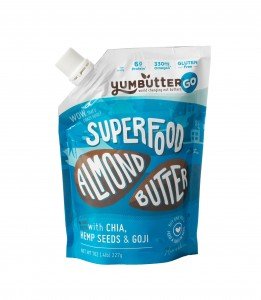 I'm giving you the green light to go nuts and try each and everyone of these unique nut butters. They all taste good, and they are all American made, so they feel good too!
Disclosure: USA Love List received some products in this post unconditionally for review purposes. Our opinions are always our own, and we aim to write fair and balanced reviews to promote only the very best of American-made products.
Image courtesy of Wikipedia.