In 2020, the Festival of Lights starts on Thursday, December 10! We went on the hunt for American made Hanukkah items and here is a list of our favorites.
American Made Hanukkah Items
VZWraps Eco-friendly fabric gift wraps. This is such a pretty pattern. These are reusable and they make wrapping eight nights of presents a cinch.
Hanukkah cards made in the USA and available at Modern Tribe.  Modern Tribe is an online retailer of hip Jewish gifts and modern Judaica.  Check out their great list of American made items here.
More wrapping options: Wrappily's flat-folded, non-coated, RECYCLABLE sheets are reversible, giving you lots of design options. They have a great selection of hard-to-find Hanukkah wrapping paper.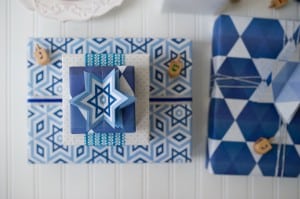 An  IRON MENORAH , handcrafted in Vermont by Blackthorne Forge.
GOLD COINS made in California. See's Candies has been making high quality candy for over 90 years, including American made Gelt, made in the USA so you can trust the ingredients.
CHANUKAH DREIDLES STICKERS from Benny's Educational Toys. Benny's Educational Toys is an online retailer of Jewish and Hebrew educational materials with a clearly marked 'Made in USA' section where more American made Hanukkah items can be found easily.
A WOODEN DREIDEL, Eco-friendly and made in the USA from hardwood.
A STAR OF DAVID CAKE PAN, made in America by Nordic Ware.
DREIDEL, MENORAH, STAR OF DAVID COOKIE CUTTERS, made in Vermont by Ann Clark, Ltd.
8 DAYS OF DELICIOUS KOSHER TREATS GIFT BASKET by Oh! Nuts. Oh! Nuts, a company known for its fresh nuts, dried fruits, and candies, has a large selection of Hanukkah themed gift baskets to choose from.
Uncle Goose Hebrew blocks are handcrafted in Michigan and decorated with non-toxic paint.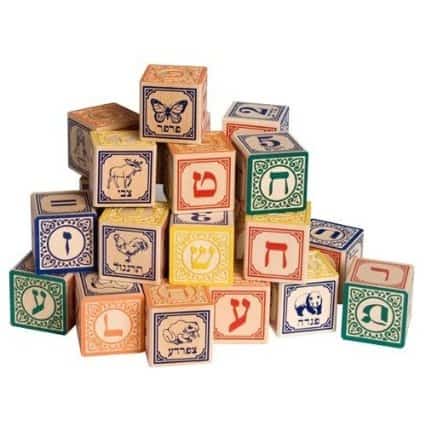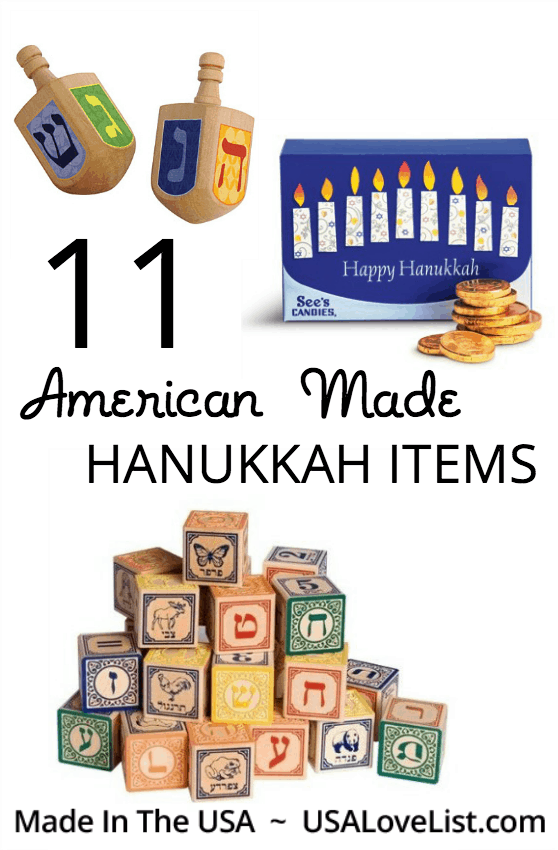 Have you visited our Made in USA Shopping District? It is the place to start your shopping when you want to find the best of American-made.