Discover 10 benefits of yarn crafts, along with American made yarn and supplies.
A hobby is an activity you do outside of your occupation. You pursue an interest that brings pleasure and relaxation to your mind and body. In a very real way, practicing a hobby enables better mental health.
While any hobby can bring joy, yarn crafts offer their own, specialized joy because of their repetitive nature. You count, pull, push, twist, loop, and knot, performing these actions over and over again with a needle or hook. You can execute these tasks without the end goal of making an actual object such as a sweater or rug, or you can use a pattern that results in a wearable garment or decorative object.
Do you know of other yarn, crochet, or latch hooking supplies that are made in the USA? Leave a comment and link below!
Yarn Crafting Benefits
Here are 10 benefits of yarn crafts:
Yarn crafts increase joy. Just the simple act of knitting, crocheting, or latch hooking makes you feel good about life.
Yarn crafts build interest in something beyond work and family. You can step outside your everyday tasks as you learn or re-discover a new task.
Yarn crafts provide a sense of accomplishment. You'll feel great that you've developed new skills and learned something new.
Yarn crafts improve self-esteem. You'll be able to say, "I did this!"
Yarn crafts foster creativity. Creativity is a healthy, stress-reducing outlet.
Yarn crafts help you sleep. As you focus on a single, repetitive task, your mind and body begin to relax.
Yarn crafts can cultivate community. Invite neighbors, family members, and friends over to visit and share stories as you knit, crochet, or latch hook.
Yarn crafts relieve stress. The process produces a relaxed state of mind.
Yarn crafts provide entertainment for any age. It doesn't matter if you're male or female, young or old, you can learn to knit, crochet, or latch hook.
Yarn crafts don't require any screens or technology. Tired of monitoring screen time or censoring television shows for your kids? Too much time on the game console? Yarn crafts don't require any technology or screens whatsoever.
Related: American Made DIY Projects You'll Feel Great About Making
Made in the USA Yarn Supplies
Discover or renew your yarn hobby with made in USA knitting needles, crochet hooks, latch hooking kits, and yarn.
It's fairly easy to find made in the USA yarn and supplies, given the resurgence of interest in knitting and crocheting. Many of the companies are rooted in America's textile industry that pre-dates the industrial revolution. When textile manufacturing shifted to overseas production, these companies hung on. They believed their efforts would help maintain their community's economic strength and overall pride. That belief has proven true.
Other companies might not have a storied past, but they definitely have a love for making beautiful, quality products. The spinning of yarn from a local farmer's sheep or alpaca herd, then dying the yarn in earth tones or bright, whimsical colors—this effort contributes to the idea of cultivating something lovely and offering that beauty to something others.
Along with yarn, most of the companies also carry patterns, kits, and other supplies.
Related: Four Hobbies for Tweens and Teens Featuring Products Made in the USA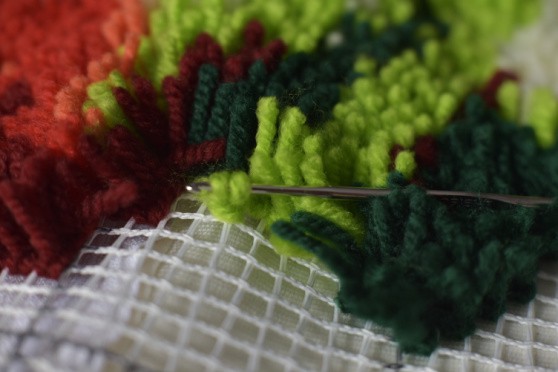 Support American made
Supporting American business is a win-win for several reasons:
The maker is earning a livable wage.
The company is part of the community infrastructure by employing others.
The business also gives back to the community.
The buyer receives better information on the products.
The customer receives comprehensive customer care.
The buyer oftentimes can make specific requests or have questions answered in a timelier manner.
Whether you choose knitting, crocheting, latch hooking, or all of the above, thank you for buying USA-made yarn and supplies.
Have you visited our Made in USA Shopping District? It is the place to start your shopping when you want to find the best of American-made.

Pin this list to save it for later!