According to TheKnot.com, the average American wedding costs $31,213. What better way to help increase the American economy and promote US businesses than to make sure this money is spent on made in the USA items!
Whether the soon to be married couple is planning a wedding with an eco-friendly theme or they are just conscious about the environmental impact of their special day, here are five tips for planning an Eco-friendly wedding- with American made wedding essentials, including eco friendly invitations, an eco friendly wedding dress and more.
5 Tips for Planning an Eco-Friendly Wedding
1. Send Eco-friendly wedding invitations. Green Field Paper Company invitations are all made from tree-free paper. There are many unique invitations to choose from, including those made from the popular plant a seed paper. Instead of throwing the invitation away, recipients can plant it as wildflower seeds are embedded in the paper! Don't miss our source list for made in USA stationery for more wedding invitation and Thank You card inspiration.
2. Wear an Eco-friendly wedding dress. Tara Lynn Bridal gowns are stunning and unique Eco-friendly bridal gowns designed and handmade in Vermont. Tara Lynn Bridal gowns are made from Eco-friendly materials like luxurious hemp blends, organic cotton, and vintage lace. They even makes Eco-friendly suits!
3. Host a wedding at a local farm or winery. A big trend with Eco-friendly weddings is to have the ceremony and reception in the same location. This reduces the energy use of having guests drive from one location to the other. Think of locations such as a local farm or winery where not only is a local business being supported, but US agriculture is also being promoted. Keep local agriculture in business so our food stays made in the USA.
4. Exchange Eco-friendly wedding rings. Select wedding rings made from recycled precious metals. There are many local jewelry artisans that craft wedding rings out of recycled precious metals and stones so no need to worry about contributing to the decline of the earth's natural resources or supporting unfair mining practices. Don't miss our list of American made Eco friendly jewelry for more wedding jewelry inspiration.

5. Give Eco-friendly wedding favors. The Arbor Day Foundation's Gift Trees make great favors for an Eco-friendly wedding. Each sapling comes in a recyclable plastic tube that can be reused as a bird feeder. For a truly green wedding, potted plants are encouraged over cut flowers. These favors can also be displayed beautifully and used as table decorations. Some couples with Eco-themed weddings choose to forgo favors altogether. In lieu of favors, a monetary donation can be given to the Arbor Day Foundation. Every dollar plants a tree in one of our National Forests. What a lovely 'Thank You' gift for your guest: a tree for future generations to enjoy!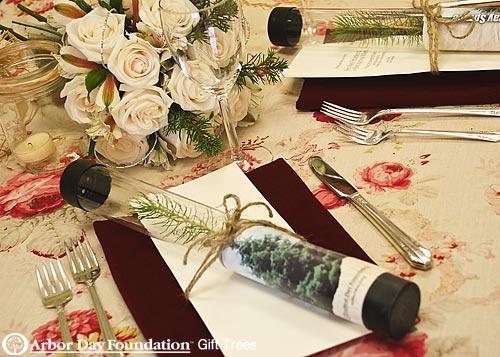 Gone are the traditional, cookie-cutter wedding ceremonies and receptions of the past. Today's couples are going for uniqueness and are adding their own personalities to their special day to make it their own. Taking the time to seek out US made goods for your wedding shows your support for American businesses and reminds your guests to do the same.
Have you spotted any great wedding-oriented products that are made in the USA? Please let us know in the comments below. If you believe in supporting American businesses, pass this article along to a friend!
Have you visited our Made in USA Shopping District? It is the place to start your shopping when you want to find the best of American-made.
Hey, don't miss this other Eco Friendly lists!
American Made Eco Friendly Gifts
Eco Friendly Jewelry Made in USA That We Love
Eco Friendly Products Made in the USA from Recycled Goods
Reduce, Reuse, Recycle: American Companies Turning Trash Into Treasure
Eco Friendly Wedding Gift Ideas, All American Made
6 Tips for Planning an American Made Eco Friendly Wedding
Follow USA Love List's board American Wedding on Pinterest.

Pin this list to save it for later!