Here is a long and growing list of Black owned businesses producing American made products. During this difficult time in America, these companies need your support right now, in the future, and always. As the United States struggles through a challenging economy and grapples with the struggle against systemic racism, you may be looking for ways to take action. Your options are many, but sharing and shopping for Made in USA products from Black-owned businesses will make an immediate impact. Put your money where your mouth is.
You may also choose to participate in a protest, join CampaignZero to end police violence in America, read books about Black lives, or use the tools at 5calls.org to reach out to your lawmakers. Each of us can make a difference. We all can take at least one step to demonstrate solidarity in support of racial justice, and to end the systematic oppression of black people that has infiltrated every aspect of daily life, even if when we don't see it or aren't looking. With everything that's going on right now, we suggest starting by supporting at one company on this list.
Black Owned American Made Businesses
Do you know of other Black-Owned businesses producing products made in the USA? If so, please let us know in the comment section below so we can add them to this list ASAP!
American Made Art by Black-Owned Businesses
American Made Beauty Products by Black-Owned Businesses
Belle Bar Beauty makes natural, non-toxic hair products that women of color deserve.
Black Girl Sunscreen makes amazing sunscreens for people of color. The company offers three different sunscreens for adults, including a mattifying sunscreen, and an option for kids with kid-friendly ingredients.
Camille Rose hair, bath & body products from natural, food-grade ingredients, including special products for a variety of hair textures.
Choiselle – each formula is a bounty of vitamin and nutrient-rich botanicals, oils and plant butters with intensive reparative, protective and restorative capabilities.
Darlyng & Co. makes safe, non-toxic baby bathtime essentials in the USA.
eLo makes luscious lip stains made from a base of shea butter, jojoba oil, and coconut oil. All products are handmade fresh weekly in Brooklyn, NY. 😀
Garners Garden offers 100% natural products, 90% of which being vegan-friendly including facial, hair care, and dental hygiene. The company's owner, Phillip Garner, started his brand in 2012.
Goode Butter makes handcrafted, chemical-free hair care for the ingredient-conscious 'curlfriends'. Each product has 15 Ingredients or less. There's a vegan haircare line available as well.
Lizzie's All-natural Products creates fresh, natural, toxin-free products for your home and body. They're best known for their Eczema Butter.
Natural Sisters is a brand offering herbal infused haircare products and operating Natural Sisters Hair Salon in the heart of Harlem, New York. Their products are non-toxic and vegan friendly.
Nubian Heritage makes personal care products in seductive scents. I've been using their products for over a decade and absolutely love them. The Indian Hemp and Haitian Vetiver and Lemongrass & Tea Tree Oil are my favorite scents.
Play Pits makes chemical-free, deodorants for the entire family including a kid-friendly non-toxic deodorant.

skinBUTTR is a body care line consists of natural body & skincare products including whipped shea based body butters and scrubs. skinBUTTR products are hand made, and free of parabens and harmful chemicals.
T-Roots is a handcrafted line of hair and skin care products made from the very best in nature. Founder, Tamy Cozier-Charles, is a licensed natural hair stylist and self-professed product junky with a passion for hair care.
American Made Fashion by Black-Owned Businesses
Aliya Wanek is an eponymous womenswear label that focuses on exploring the connection between one's identity and style. Our mission is to create comfortable, stylish clothing ethically and sustainably as an extension of the wearer's individuality. The company has been handmade clothing in the Bay Area of California since 2016.
Beriqisu was created by Belkis Whyte. Her clothing collection includes pieces cut with vintage style and construction, creating the perfect harmony between style and functionality. All fabric is purchased directly from local fabric houses in Ghana. Her prints are fabulous! She even makes matching cloth face masks and headbands.
American Made Food Products by Black-Owned Businesses
Fineapple Vegan makes a coconut milk-based vegan cheese free of gluten, soy, nuts, sugar, and dairy making it a great option for people with common food allergies or intolerances. It's made with clean ingredients including coconut milk, nutritional yeast, red bell peppers, green bell peppers, yellow onions, tomato paste, garlic, vinegar, spices, and natural flavors.
Green Regime makes products including its Elite Protein, a dairy-free, gluten-free, soy-free, GMO-free, wheat-free, vegan meal replacement, made in the USA.
iEatGrass, LLC. began as Chef Ayindé Howell´s solution to the lack of food diversity in the plant-based sector. They're best known for their Original Mac & Yease, which is Tabita Brown approved!
KYVAN® Foods makes a line of sauces, salsas, seasonings, and jams. The company was founded and is owned by NFL Pro Reggie Kelly.
Love Cork Screw overs six varietals of wine with fun labels!
Southern Culture makes products for real cooking like their signature Georgia Stone Ground Grits blended with Garlic and beautiful dried herbs and vegan-friendly Banana Pudding Pancake and Waffle Mix.
Symphony Chips makes perfectly spiced potato chips. The company began as a spice company when Andre' Anderson, a retired Chef, developed a custom spice blend sought after by both patrons at the Las Vegas Strip restaurant where he worked and fellow chefs. Another Tabitha Brown approved vegan food product!
The Sweet Lobby Washington DC source for macarons, cupcakes, madeleines, shortbread, mendiants, European-style hot chocolate, loose leaf tea, and more.
American Made Health & Wellness Products by Black-Owned Businesses
Green Olive Soaps offers organic and vegan personal care products including soaps, body scrubs, and lip balm. The company is environmentally and socially conscious one. Their soap packaging is recyclable and any purchased packing peanuts are biodegradable (dissolve under running water). They purchase our oils and butters under Fair Trade standards and all our products are cruelty-free.

Plant Based Mary Jane offers a collection of Full Spectrum and Broad Spectrum CBD products that support wellness and vitality. The company was started by a Cannabis nurse who believes in the power of plants to heal our minds and body. NOTE: This CBD is processed in California from hemp grown in Denmark.
Silktáge products are made with loving care using the purest, natural, and organic botanicals Mother Nature has to offer. Each ingredient is handpicked to create our pure, silky, antioxidant-packed, multi-purpose treatments, a modern take on ancient beauty secrets. Founded by Robin Emtage, hairstylist, makeup artist, and natural beauty enthusiast, the brand offers luxurious skincare and organic CBD-infused face oils. 20% off Silktáge with code USALOVE.
American Made Home Goods by Black-Owned Businesses
Harlem Heirloom makes eco-friendly candles made from soy wax and a cotton wick which allows for a clean, even burn that. Owners, Tyler Trinh and Jammie Waldron, offer hand-poured candles delivered in a minimalist-designed black glass vessel.
Karter L'Rose is a small, black, woman-owned apothecary business making natural soy/coconut candles. Each candle is hand-poured with a lot of love in small batches.
NaturalAnnie Essentials is a lifestyle soy candle company. They create non-toxic soy candles for your home that puts a smile on your face, makes you feel good, and have your home smelling divine! They are fun, vibrant, witty, and ever so fragrant. The scents are really unique and include scents including Brown Sugar Rum, Island Vibes, and Tropical Bohemian, to name a few.
PurHome specializes in natural, non-toxic, and eco-friendly detergents and cleaning products for the entire household. This brand was created by Angela Richardson.
True Laundry Detergent Laundry soap, fabric softener, and hand sanitizer from a veteran-owned company.
---
Have you visited our Made in USA Shopping District? It is the place to start your shopping when you want to find the best of American-made.
Pin this list to save it for later!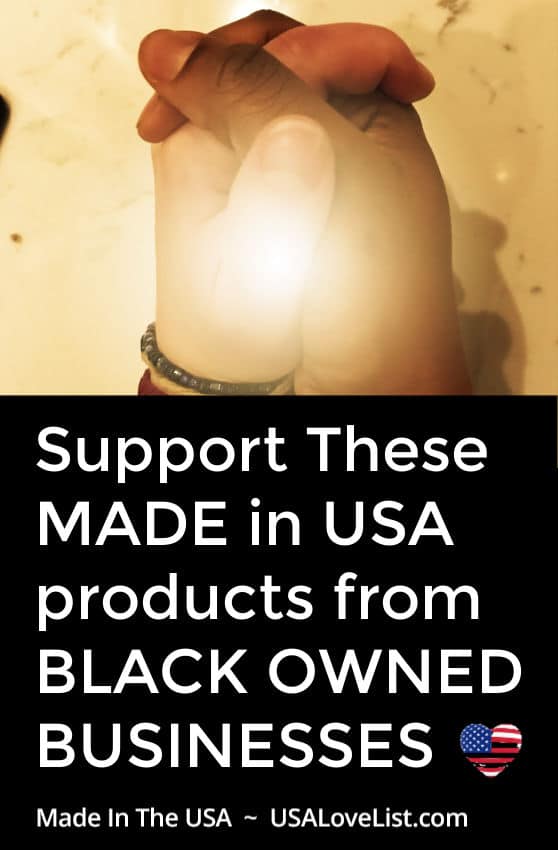 SUPPORT AMERICAN MADE. THESE POSTS HAVE TIPS THAT WILL HELP YOU DO JUST THAT.

What Does the Made in the USA Label Mean? Your Questions Answered.
Trying to Buy American? 3 Rules to Follow EVERY time you go Shopping
Ask your favorite stores to help you Buy American
Let's buy American made gifts. We've got all the good ideas.
How to Avoid Tariffs: Buy American! Start Here