UPDATE January, 2020: What a difference 6 years can make! When this article was originally posted in 2014, Duluth Trading Co. offered a decent selection of made in USA apparel. Now, they carry zilch. All of their jeans, shirts, pants, and outerwear (unless you are looking for hats), are manufactured overseas. Duluth Trading Co. does still offer a small selection of American made accessories and personal care products.
---
Don't miss our source lists for made in America apparel, accessories, and tools!
---
UPDATE September 2020: Duluth Trading Company has tagged the Made in USA items on their site making them easier to find. It is mostly socks, belts, soaps, and hats, but there are some excellent boots and unique giftable items that are worth a look. Click here to go directly to the Duluth Trading Made in USA Collection. Please be sure to read the item description carefully before purchasing.
---
The following was originally posted February 19, 2014.
If you're looking for comfortable, hardworking, Made in the USA apparel and accessories, allow me to introduce you to Duluth Trading Co.
Sound familiar? If you've ever watched ESPN or any other sports or outdoor channel, I'm guessing you recognize the name because you've seen one of Duluth Trading Co.'s many amusing commercials.
Duluth Trading Co. was founded in 1991 by two brothers living in Duluth, MN, who sought to find a better way to transport tools from one job site to the next. Since then, their business has evolved into a wide variety of clothing items including underwear, outerwear, and footwear, along with clothing accessories and tools. Best of all, Duluth's website features a Made in the USA section that includes shirts, pants, outerwear, footwear, accessories, and tools – everything you could ever want!
Duluth Trading Co.: American Made Apparel, Accessories, and Tools
After testing out a variety of Duluth's products, I can say that I was pleasantly surprised by two things: the quality of the products, and the number of compliments that I received after wearing them. By far, my favorite Duluth Trading Co. products are the men's contractor oxford work shoes. You can tell the quality of the shoes right off the bat – they are heavy! But man, are they comfortable, and I cannot begin to tell you how many people have told me how much they love the look of them.
I am also a BIG fan of Duluth's work belt. I've searched high and low for a belt that will last longer than a couple of months. This one has lasted the better part of a year and still does not show any signs of wear and tear. In fact, this belt is so great that Duluth has dubbed it as their "Gets Better With Age" belt!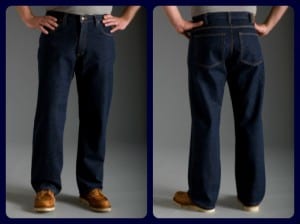 One of Duluth Trading Co.'s most popular products are their ballroom jeans. These might not be the most fashionable jeans to wear when you go clubbing, but if you want a durable pair of jeans to wear on the job site or at home on the weekends, I am not sure that you'll find a pair more comfortable than these. I kid you not, these jeans are about as comfortable as wearing a cozy pair of sweatpants!
Be sure to check out Duluth Trading Co.'s full line of Made in the USA products here. You can also visit one of Duluth's brick and mortar stores to see their products in person!