When you're shopping for a new leather couch, look for the best American made leather sofas that stand the test of time. Homeowners love the look of leather, and the finest materials coupled with fabric options and new designs make the perfect choice for your home and family.
Leather sofas that are made in the USA prove to be better designed and made than other options. Plus, they're comparable in price to other, inferior-quality sofas made in other parts of the world.
Buy Made in the USA Leather Sofas
I learned my lesson the hard way. My spouse and I shopped online at one of those discount furniture stores for a new sofa. We carefully chose the style, fabric, and size we wanted, and within less than a week it arrived in two very large boxes.
We enjoyed that sofa…for about six months. Then it fell apart, so much so we couldn't even give it to our college kids without them complaining. (Aren't college students supposed to be happy with ANY free furniture?)
Upon further investigation, we realized our sofa and matching loveseat were made with thick, heavy cardboard.
That "new" sofa, sadly, ended up in the landfill. We saved our pennies and eventually purchased a made-in-the-USA sofa. A leather sofa. We've had it for six years and it still looks as good as it did the day we placed it in our living room.
Maybe you can relate to my story, or maybe you've been thinking about buying a new leather sofa. I highly recommend an American-made sofa for the best quality.
You don't even have to do an online search: our USA Love List provides all you need to know, plus the brands of the best American-made leather sofas you can shop for, right here and now. Keep reading to learn more!
Enjoy this USA Love List Article: Sofas Made in the USA
Why Buy A Leather Sofa?
Leather couches remain the most popular upholstery choice for most people when it comes to buying new furniture, and for good reason. This natural material was one of the first fabrics used to cover what we consider a more modern sofa, even though it dates as far back as the Elizabethan era.
Leather is very durable. It can withstand everyday use and last for many years. It's resistant to stains, tears, and scratches, making it a great option for the family room.
Leather upholstery tends to require less upkeep than fabric. It requires minimal cleaning or maintenance.
It's breathable and comfortable to sit on, and it becomes even more comfortable over time as it conforms to the shape of your body.
What to Look for in a Quality Leather Sofa
A quality leather sofa is an investment piece that lasts for many years. Consider these important key features:
1. Different Types of Leather
Full grain leather is the highest quality and most durable option, as it is made from the top layer of full-grain hides and has not been sanded or altered in any way.
Top grain leather is a step down in quality. It, too, comes from the full-grain hide, but it has been sanded and treated to remove imperfections. It's still a respectable choice.
Semi-aniline leather is treated with a small amount of pigment and a clear finish to protect it. It's more durable than aniline leather and is less prone to staining. It allows the beauty of the leather to shine through.
Aniline leather is dyed all the way through and may also be treated with a clear, protective finish. It has a soft and supple feel as well.
Split grain leather, made from the lower layers of the hide, is a much lower quality option and is less durable. Bonded leather refers to leather scraps that have been bonded together with a synthetic backing. Bonded leather upholstery does not result in a quality sofa.
Higher quality leather costs more, but it will also be more durable and long-lasting.
Interested in furniture beyond a sofa? Read this! Made in USA Furniture: A Source List
2. Best Materials
High quality materials include not only the type of leather used to make a leather sofa, but also the filling. The filling should be either high-density foam or a combination of high-density foam and down. These quality materials help the sofa maintain its shape while also making it very comfortable.
3. Frame
The best sofa frames are constructed using high-quality hardwood such as maple, oak, cherry, walnut, birch, or poplar. When stained, these wood species show off their grain patterns, color undertones, and other natural features. Pinewood. pressed wood, or heavy cardboard is too soft to use and results in the disintegration of the frame.
The wood should also be properly kiln-dried to remove excess moisture, which can cause warping or cracking over time.
A well-constructed wooden frame is built using traditional joinery techniques, such as mortise and tenon joints or dowels, which help to ensure the frame is strong and stable. If brackets or glue is involved, these types of joinery should be used minimally and with great discretion.
Finally, the best sofa wood frames appear balanced and symmetrical as well as reflect a sturdy, stable feel. A quality sofa is properly supported in key areas such as under the cushions and at the corners. This ensures the sofa can withstand regular use.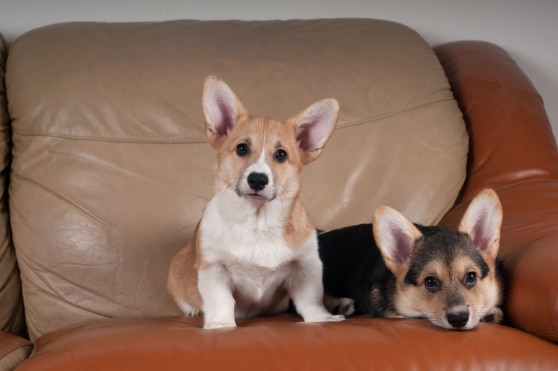 Sofa Styles
Leather sofas come in a wide variety of styles and even colors. They range in style from classic and traditional to modern and contemporary. Some of the most popular options include:
Traditional: These have a classic, timeless look that is perfect for formal spaces or libraries. They feature more ornate details such as carved wood frames, rolled arms, and tufted cushions.
Chesterfield: This style is also considered traditional but has deep seat depth, button tufting, and rolled arms. They, too, have a formal, elegant look ideal for formal living rooms, offices, and upscale bar areas.
Modern: Modern leather sofas have a sleek, minimal look that's great for contemporary spaces. They feature clean lines, simple shapes, and minimal detailing.
Mid-century modern: Mid-century modern leather sofas have a retro, vintage look that is inspired by the design style of the 1950s and 60s.
The great thing about today's decorating is you either can use these styles as a guide, or you can just buy what appeals to you personally. Different leather colors can make a typically traditional style look more modern.
Related: Beds Made in the USA
Why Consider a Leather Sofa Made in the USA
Reasons abound for a leather sofa made domestically. American-made leather sofas hold all the quality, comfort, and durability discussed above, as they're constructed well and made with superior materials, making them the most comfortable.
Furthermore, many American manufacturers provide the option of customization. You can choose a specific type or color of leather along with the wood species or style you prefer.
American-made supports both the local and national economy. Buying a leather sofa made in the USA helps to create jobs in the community. Social responsibility and sustainability also come into play, as most companies prioritize reforestation, shorter shipping miles (as opposed to international shipping), and supporting other American companies.
Finally, you get great customer service when you buy a sofa made in the USA. Our companies work to answer your questions and keep you satisfied with your purchase.
When considering all of these options, you can be confident your leather sofa will make a comfortable, pleasing room addition for years to come. And because it's made in the USA, you'll also feel good about its construction.
Interested in other home goods? Enjoy these USA Love List articles!

Pin this list to save it for later!