What is the Whole30 challenge? It's the popular challenge where you only eat the most nutrient dense foods for 30 days. The idea is that you'll reconnect with what you're eating. It's not a diet, and it's not about losing weight. I did lose inches though, and also noticed that my skin glowed. Those are great results, right?
I've just started my fourth round of the Whole30 challenge. While I see many people have lost weight on the challenge, I'm not doing the challenge for that reason, but rather to detox from all the binge eating I've been doing recently, to feel healthy, and to reconnect with foods I love, like leafy greens and good fats, like avocados.
I eat good foods like these daily, but then when you add pizza for dinner, it nullifies any good eating. It's time to stop all that, and I'm excited for my latest round of Whole30. Yay! I'm ready to share my best Whole30 Challenge tips with you plus some amazing Made in USA products I've discovered along the way for your Whole30 grocery list. This post has been updated with new information.
What is the Whole 30 Challenge?
The challenge excludes the following foods, and any by-products from them:
Alcohol
Sugar
Dairy
Grains (and corn)
Legumes (including peanuts)
Additives, like MSG, sulfates, soy lecithin, carrageenan, and corn starch (Here's the official information about additives.)
Do not consume baked goods, junk foods, or treats with "approved" ingredients.
No eating foods with no brakes. No snacking, unless it's an emergency, which brings us to this list!
Yes, no sugar of any kind, added to anything you consume. You can eat fruit though. The rational behind this is that sugar offers no nutritional value, but fruit has fiber and vitamins and minerals alongside their naturally occurring sugars.
What to Eat During the Whole30 Challenge
Fruits
Vegetables (just not corn, and not in the form of fries or chips)
Meats, seafood, and eggs
Nuts and seeds
Natural, healthy fats
Emergency Snacks (see our list below)
Grass-Fed Meats and Sustainable Seafood
You'll find that it's difficult to find prepared or flavored meats, especially sausage and hot dogs, that don't have soy or sugar in the ingredient list. US Wellness Meats makes it easy to get all the meat and seafood you'll need while doing the Whole30. They pride themselves on offering the best quality meats, while offering sugar-free options, perfect for Whole30. The options are 100% grass-fed and grass-finished, they are not fed any antibiotics or hormones, and they do not use any fertilizer or pesticides on their pastures. All its bison, lamb, poultry, pork, and rabbit are sourced from US farmers. Once you try it, you'll want to have it all the time.
I'm a big fan of the sugar-free hot dogs and ground bison and I like using my burger and bolognese recipes with US Wellness Meats' ground bison.
Enjoy 15% with code USALOVE. (This can be used two times per customer through 12/31/2018. Cannot be used on previous orders, an order 40 lbs. or more, and cannot be applied to sale items, volume discounts, and e-gift cards.)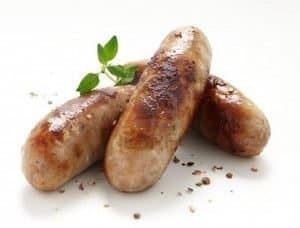 US Wellness Meats also offers seafood from its supplier, Vital Choice.  This Washington based company is deeply committed to supplying only sustainably harvested seafood.  All of its seafood is wild-caught, and most of it is harvested off the west coast.  All of their salmon products are certified sustainable by the Marine Stewardship Council and many of their other offerings are certified as well.  The large raw shrimp prawns are harvested in the Pacific Ocean and processed in the United States, but not from Vital Choice.  These shrimp are wild caught and chemical free. They even have crab claws.
Enjoy 15% with code USALOVE. (This can be used two times per customer through 12/31/2018. Cannot be used on previous orders, an order 40 lbs. or more, and cannot be applied to sale items, volume discounts, and e-gift cards.)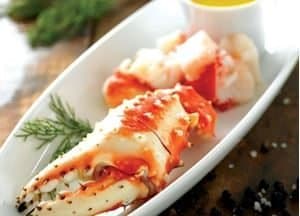 Our Favorite Whole30 Emergency Snack List – American Made Finds
You'll want to make sure you have a variety of foods so you don't get bored. You'll also want to have emergency foods on hand so you can maintain your good habits even in a pinch. These snacks, dried fruit and energy bars, aren't meant to be a late-night snack or replacement for another sugar craving, but rather fast fuel to have after working out. Here are a few of my favorites to have on hand.
Whole30 Compliant Meat and Veggie Bars
Wild Zora meat & veggie bars are incredibly flavorful, moist, and tasty. It's a jerky we love. Zora herself makes paleo and Whole30 approved jerky in Colorado. It's grain-, gluten-, soy-, nut-, and dairy-free. It's made with grass-fed beef that is free of antibiotic or hormones. The full ingredients, including, grass-fed beef, organic fruits and vegetables (red bell pepper, apricots, dates, kale, garlic and onion), spices, cayenne pepper, sea salt and celery powder. Wild Zora jerky is made in Colorado.
Wild Zora has two new pork flavors. The apple pork is made with natural pork (raised without added hormones or antibiotics), and organic fruits and vegetables including, kale, apple, apricots, dates, parsley, sage, rosemary & thyme, sea salt and cinnamon.
All readers get 25% off with code USALOVE
Vegan Whole30 Jerky
Chewy, refreshing, and bursting with flavor, Watermelon Road is bringing new meaning to  jerky. I love this vegan jerky option because it's so true to flavor and has the perfect chewy consistency. Founder Jamie Melzer, and her team, hand slice fresh produce and then marinate it in citrus (fresh lemon or lime juice depending on the flavor). This process acts as a natural preservative without the need for any refined sugars or sulfites. The produce is then seasoned with herbs and spices and gently dehydrated at low temps (between 115-125 degrees) until it reaches the perfect jerky-like consistency. Choose from two compliant options, Watermelon Lemonade or Pineapple Mojito.
Code USALOVE saves you 10% off your Watermelon Road purchase

See our full list of Whole30 compliant dairy-, gluten-, MSG-, nitrate-, soy-, and sugar-free jerky options. 
Whole30 Compliant Fruit & Nut Bars
OMG, thank you Thunderbird. Your bars are sinfully delicious and so appreciated for their clean ingredients. I don't know why, but I didn't expect to like these bars as much as I do. One flavor is better than the next! The following flavors are compliant: Hemp + Sunflower + Pumpkin Seed, Cacao + Hemp + Walnut, Apple Pie, Cashew + Fig + Carrot (which tastes like the best Fig Newton you'll ever eat), Hazelnut + Coffee + Maca, Pecan Peach Vanilla, and Pecans + Goji + Pistachio.  From ThunderbirdKids, the Fruit Punch and Apple Pie are compliant. While the Texas Maple Pecan does not contain sugar, maple extract is not compliant because it has alcohol in it. Thunderbird products are made in Austin, Texas.
Code USALOVE saves you 15% off your Thunderbird purchase
Thunderbird fruit and nut bars are absolutely incredible and the best Whole30 friendly ones I've ever had!
RxBar makes a variety of Whole30 compliant bars. They are unique because the base of them is made with egg whites and the varieties differ based on the nuts and fruits added. The complete ingredient list for the Whole30 RxBars comes in the following offerings, Apple Cinnamon, Blueberry, Coconut Chocolate, Coffee Chocolate, Chocolate Sea Salt, and  Pumpkin Spice. The ingredient list includes a base of egg whites, figs, cashews, and almonds. The newest flavors include Mixed Berry, which has more texture with larger pieces of almonds and dried berries, making it my favorite flavor!
If you're looking for a nut-free energy bar, you'll love these. Bearded Brothers energy bars are legit.  These energy bars are raw, organic, vegan and gluten-, and soy-free. You'll recognize all the ingredients in the bars too. My favorite is the Radical Raspberry Lemon Energy Bar. It has a bold raspberry flavor and finishes with a tart fresh lemon flavor. The Radical Raspberry Lemon is made of  organic figs, organic dates, roasted organic sunflower seed, organic shelled hemp seeds, organic raspberries, organic chia seeds, organic cold pressed lemon extract, and sea salt. Bearded Brothers makes its products in Austin, Texas.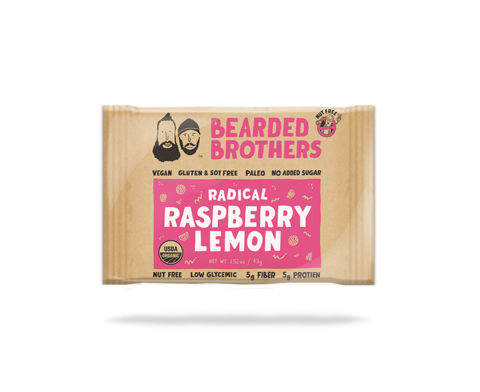 YAWP! makes gluten-free, paleo and Whole30 compliant bar. This is the only crunchy crispy bar I've found that's Whole30 compliant. My favorite of the three flavors is the Naked Bar. It is made of organic almonds, organic dates, organic sunflower seeds, organic pepitas (pumpkin seeds) organic black sesame seeds, organic cinnamon, and Himalayan salt. If you enjoy chai spices, you'll also love the Coconut Chai. The spices are pretty strong, so I like it best eaten with tad of almond butter for perfect pre- or post-workout fuel. YAWP! bars are made in North Carolina.
Get excited for Larabar's newest flavors, Fruit and Greens. These are my favorite flavors to keep on hand for Whole30 because they include greens, and not just fruit, dates and nuts. Remember these are to be eaten in case of emergencies and not to replace a sweet craving. Don't miss out on these flavors packed with greens and fruits. Unlike the original Larbars which have a base of dates and almonds, the base of these is apricots and cashews, so they are a bit less sweet. They remind me of fruit leather, but thicker and chewier. I'm in love! Everything LARABAR makes is gluten-free, kosher and non-GMO, with many vegan, dairy-free, and soy-free options. NOTE: Larabar is owned by the parent company, General Mills, so if you're interested in supporting small businesses, try the other snack options listed above.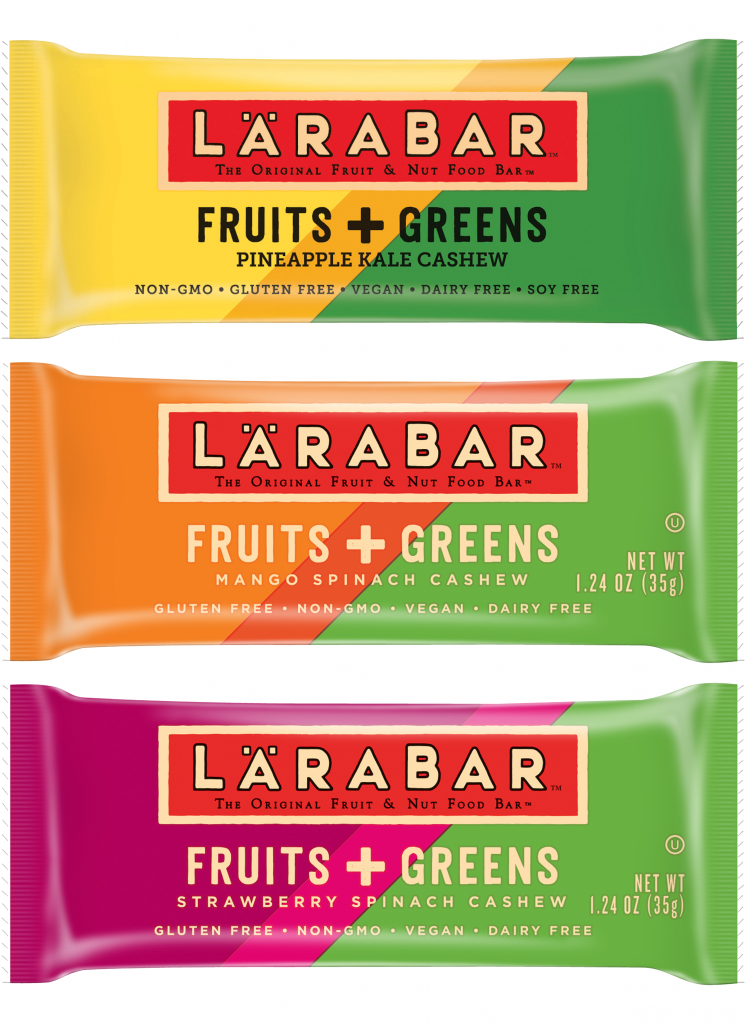 Whole30 Essentials To Keep On Hand
Non-Dairy Creamer
If you're looking for rich, flavorful coffee that you'll be excited to drink, I recommend Nutpods Hazelnut Unsweetened Dairy-Free Creamer. It's made from heart-healthy almonds, MCT-rich coconuts, and is free from carrageenan, dairy, soy, gluten, and sugar. It's made from simple ingredients including purified water, coconut cream, almonds, natural flavors, and contains less than 2% of acacia gum, sunflower lecithin, dipotassium phosphate, gellan gum, sea salt. While I never use creamer in my coffee, but just almond milk, I find that the richness and texture from Nutpods makes a real difference in making me excited for my coffee every morning while on the Whole30 or not!
Whole30 pro hack: If you're looking for a less expensive non-dairy creamer, try adding a few teaspoons of full fat organic coconut milk to you coffee. 
Enjoy 20% off  Nutpods with code USALOVE (Limited to one use per customer through Jan. 31)
Avocados will be your new best friend during the Whole30 Challenge. While I typically like to purchase fresh avocados and eat them with eggs for breakfast, I love the taste and convenience of having great guacamole on hand. I love GoodFoods Guacamole. It tastes fresh and vibrant because it only has real, clean ingredients – no additives, sugar or preservatives. The Whole30 compliant varieties include Chunky Guacamole, Spicy Tomatillo Guacamole, and Pineapple Poblano Guacamole. They are sold at many national retailers including Costco, BJ's, Walmart, Sam's Club, and Target. 

Get Excited About Hydration
I already drink lots of water, but it can get boring if its the only thing I drink. Especially if you do Whole30 in the summer, get yourself some tea to make iced tea. I particularly love Numi because their teas are organic and have no additives. I was surprised to find that some brands add ingredients like corn starch to their tea. What!?! Ick. Be sure to check the ingredients, even for something seemingly simple like tea! Here are a few of my favorite Numi Organic Tea flavors to make iced tea with. I love brewing about six servings at a time so I can take it with me when I'm driving around town.
Kick Start Your Day with Bone Broth
I've tried numerous bone broths sold in stores and online, and so far Osso Good Broth is my favorite. They make their Paleo friendly and Whole30 approved chicken broth from pasture raised chicken and organic, GMO-free ingredients. It is gluten-free and contains no salt or artificial flavorings. It contains clean ingredients including, filtered water, organic chicken, organic carrots, organic tomato, organic onion, organic celery, organic garlic, organic apple cider vinegar, organic mushrooms, organic parsley, organic thyme, organic peppercorn, and organic bay leaves. I like to add Real Salt and turmeric to mine to enhance the flavor. 
Code USALOVE saves you $10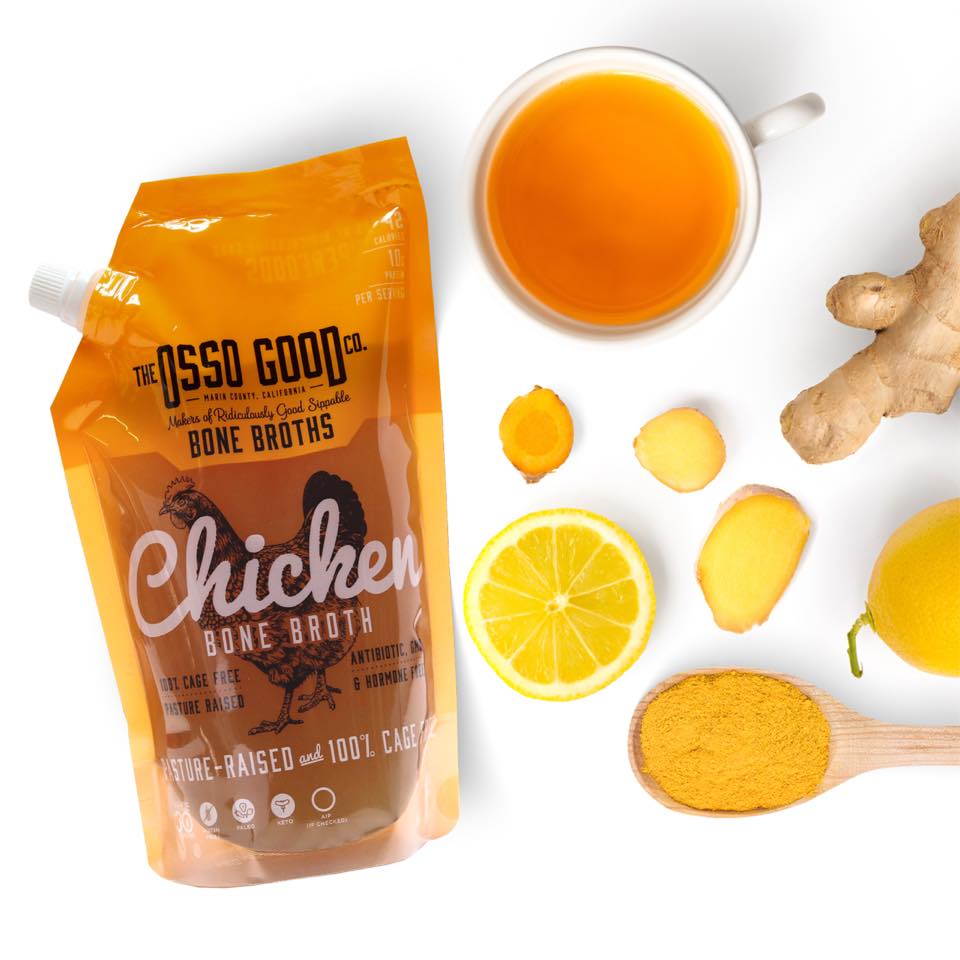 For Thai Curry, Salsa, and Hot Sauce Lovers
It's never a bland moment with Yai's Thai Whole30 approved, and gluten-free hot sauces and salsas. We love that Yai's Thai uses simple and healthy ingredients without sugar or artificial ingredients. Yai means grandmother in Thai, and this line of Whole30 condiments used traditional Thai ingredients for unique, bold and zesty flavors that pair well with everything from eggs to fish and beef. The hot salsa packs quite a punch. It's the perfect balance of these simple ingredients, tomatoes, onions, ginger, cilantro, garlic, organic lime juice, sea salt, thai chilis, and black pepper. I love the ginger, cilantro, lime add to the salsa; it makes for a unique and refreshing salsa, unlike any I've had before.
USA Love List reader can enjoy 20% off Yai's Thai with the code USALOVE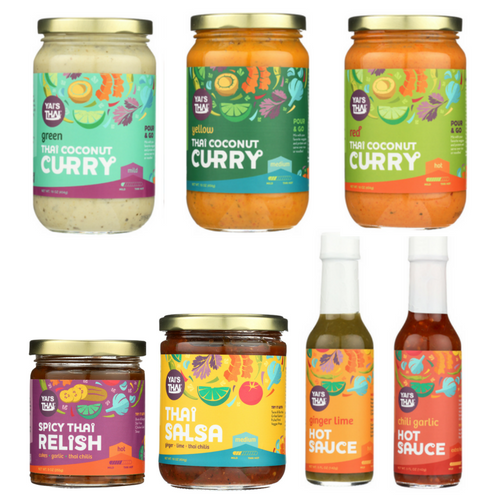 Your Go-To Dressing
Flavor is key while doing the Whole30. You don't want to feel like you're eating bland food that isn't satisfying. You already know how much I love Dress It Up Dressing. Each dressing is made from a base of extra virgin olive oil, their respective vinaigrette,  garlic, and sea salt. A few of the varieties include balsamic vinaigrette and dijon mustard, but those are the only ingredients, making them easy to use on salads or to add flavor to poultry or seafood. Dress It Up Dressing is a Certified Women Owned Business and B Corp based in Maryland.
Your Go-To Brand for Whole30 Approved Dressings, Sauces, Ketchup and Mayo
If you're looking for marinades, dressings, sauces, ketchup, or Whole30 mayonnaise, look no further than Tessemae's Whole30 Sauce Boss. Their dressings and ketchup are like drinkable – they're that good.  It's the perfect all-natural, handcrafted, sugar-, dairy, and gluten-free dressings and sauces. The base of all of their dressing, except the oil free ones, is olive oil, so the flavors really stand out. I like to use the dressing on salads or as a meat or seafood marinade. I love the fact that Tessemae's only uses natural ingredients to make their dressings. They offer classics like Creamy Ranch and Lemon Garlic. Find them at your local Whole Foods, or online. NOTE: Not all their products are Whole30 compliant. 
Delight Your Taste Buds
Rich, creamy, and nutty tahini is a perfect addition to many meals. You might know it as an ingredient in hummus, but it's much more versatile. It's great to use in dressing, smoothies, desserts, and sandwiches. Soom Foods Tahini is made with just one ingredient, Ethiopian grown sesame seeds. I find it to be one of the most rich and flavorful brands on the market. Soom bottles its products in New Hampshire in made in USA bottles. There are lots of recipes on Soom's website. The Roasted Brussel Sprouts With Lemon Tahini Sauce, is one of my favorites.
Frontier Co-Op Spices are my absolute favorite spices because they are so fresh and true to flavor. These beautiful bottles make for a great gift and are a joy to use. Frontier Co-Op and Simply Organic support over 500 jobs in Iowa.
Real Salt is my favorite salt ever. It it the purest salt you'll ever find. While iodized salt is allowed on the Whole30, it does have sugar added to it, typically in the form of dextrose. Real Salt on the other hand is ancient, unrefined sea salt that's been harvested in Utah since 1958. It's available in fine, coarse and kosher varieties. Real Salt also makes seasoning salts. I love the Organic Real Salt Seasoning Gift Box which includes one 4.75 oz. shaker of RealSalt, one 4.75 oz. Organic Garlic Salt, one 4.75 oz. Organic Onion Salt, and one 4.1 oz.Organic Seasoning Salt, which makes for a starter kit for the Whole30 challenge.
Healthy, Non-Processed, Naturally Occurring Fats
Nutiva, the world's best-selling brand of organic coconut, now makes liquid coconut oil. Nutiva Liquid Coconut Oil is both organic and non-GMO. Unlike non-organic liquid coconut oil brands, there are no chemicals or filler oils used during this process, resulting in a clean, light coconut-flavored oil with no harsh aftertaste. Use this premium liquid coconut oil for cooking and baking up to 350°F.
Your Butter Replacement – Ghee (clarified butter)
Ghee is a dynamic superfood comprised of 10 main fatty acids including Omega 3, Omega 9, and vitamins A, D, E and K. We love Ancient Organics 100% Organic Ghee, made from pasture raised, grass-fed cows free of antibiotics, growth hormones and pesticide residue. Ancient Organics Ghee makes its ghee from award winning butter from small family farms in Northern California. Use ghee in place of butter, coconut, or olive oil, for anything from searing steaks to roasting vegetables.  With one of the highest flashpoints in the culinary world, Ghee is the supreme choice for sautéing, frying, baking, or any other high-heat application.
This ghee is one of our favorites and has a true taste with nutty and caramelized flavors and aromas, making them perfect for all your Whole30 recipes. 
Code USALOVE saves you 10% off anything at Ancient Organics through February 10, 2018
Why Try to Buy American when doing your Whole30 grocery shopping
Whole30 is all about fueling your body with wholesome quality ingredients. All the time, but especially when you are hoping to get results from the Whole30 program, you want to be able to trust that what you see on the ingredient list is what you you are putting in your body. These American companies are often small, independent companies, manufacturing their products in the USA for the love of it, with a focus on quality. You could probably call them up and talk to them if you wanted to! Support these companies you can count on. As long as you are reading the nutrition labels anyway, also keep an eye out for "Made in the USA".
Are you doing Whole30? Thinking about it? Let us know if the comments below!
Follow USA Love List's board Whole30 Recipes on Pinterest.
Disclosure: This is a sponsored post which USA Love List is proud to share with you because, sponsored or not, we only share stuff we love.
Image Credit: Whole30