American made soy candles are pretty easy to come by, but Vance Family Soy Candles have always been a USA Love List favorite. The scents rejuvenate because they're made with essential oils. These candles never smell fake and they burn cleaner because they are made with soybean wax. Unlike most mass-market candles, Vance Family Soy Candles uses non-GMO, biodegradable soy wax to make all of its candles. That means that they are plant based, sustainable, synthetic free candles, made with organic essential oils – no dyes, no petroleum products, and no phthalates. They burn with low smoke, from cotton or paper wicks, packaged in heavy recycled glass. All of the packaging and products used in these candles are American-made and they donate at least 10% of profits to charity. By the way, they smell like a dream.
Lucky for you, we're bringing you another chance to win a collection of your own. $245 worth of them, to be exact. The prize pays homage to the company's roots. All its candles are made in Washington state, and the Scents of the Pacific NW candle prize package celebrates the culture, attitudes, and scents of the region.
THE GIVEAWAY
Scents of the Pacific NW themed box is filled with 16 total candles with a retail value of over $245! The candles include:
1 Pacific NW Sampler box of 4 mini-traveler candles in: Pacific NW Rain, Hiking Trail, Pacific Coast, and Pacific Wildflowers
1 each of full size, Vintage Style Jars: Pacific NW Rain, Hiking Trail, Pacific Coast, Enchanted Forest, Portland Rose
1 Ambiance candle in: Mt. Hood Forest
1 each of mini-traveler candle in: Hood River Cherry, BEND, Peppermint Farm
1 American Scent Trip each the following States: Oregon, Washington, and California
1 Sixteen Oz. Large Traveler candle in: Keep Portland Weird
Click the arrow buttons below for further instructions on each entry. This giveaway will close at midnight on Thursday, September 10. The winner will be randomly selected, verified for correct entry participation, and notified by email.
If you've already entered one contest on USA Love List, entering another will be even easier. Visit our Giveaways Page to find out about other active offers to join.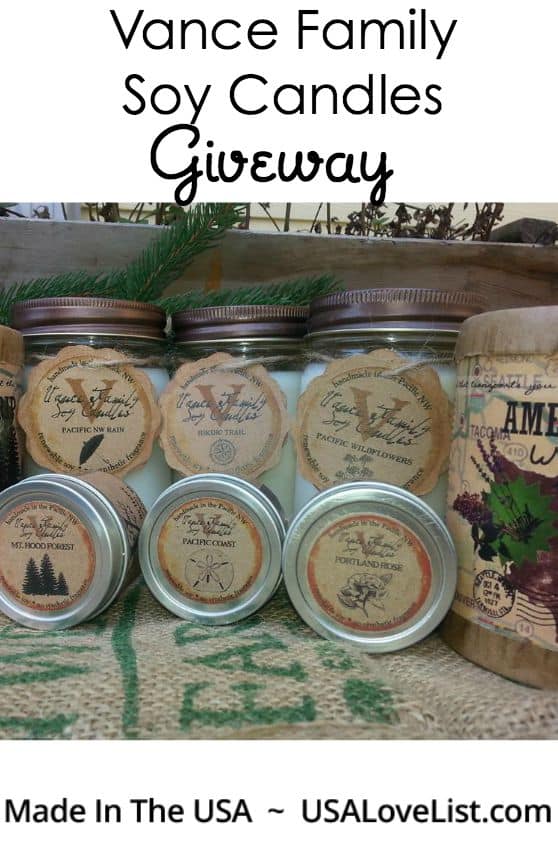 Disclosure: This post is sponsored by Vance Family Soy Candles which USA Love List is proud to share with you because, sponsored or not, we only share stuff we love.