The weather is getting colder across the country and it's time to warm up. We're also thinking ahead to cozy gifts. Are you looking for American made cold weather accessories? Here is the USA Love List ultimate source list for Made in USA winter hats, gloves, scarves, and other cold weather gear for men, women, and children.
For more American made cold weather gear suggestions don't miss Made in USA Boots for Cold, Snow & Rain,  Men's Boots Ultimate Source List, our source list for American made women's outerwear, and American Made Cold Weather Picks for Kids. 
American Made Gloves & Mittens for the Whole Family: Turtle Gloves
Turtle Gloves® is a Michigan maker of fingerless gloves, mittens, apparel and cold weather accessories. Turtle Gloves offers two patented designs of gloves; Reversible Fingerless Gloves and Turtle-Flip Mittens. Turtle Gloves Reversible Fingerless Gloves keep hands and wrists warm during outdoor activities when fingers are needed or when wearing task-specific liner gloves, such as smart phone or work gloves for dexterity. These gloves are great for layering and are available in men, women, and kid sizes. Turtle-Flip Mittens are convertible mittens that flip into fingerless gloves or can be worn on the wrist to avoid removal. The very versatile Running Mittens are available in seasonal weights and are also great for everyday use.
The Lightweight Running Mittens are soft and the grid texture fabric offers extra wicking properties. These mittens are perfect for everyday use because there is no need to remove them. Simply tuck in thumb and slide onto arm as a convenient running sleeve or fold into a wrist band.
A very unique item that is original to Turtle Gloves is the Mitten Hoodie. Mitten Hoodies are zip up hoodies (made in USA by American Apparel), with low profile cuffs that convert into fingerless gloves or Turtle-Flip mittens. The hoodies are a cozy 50/50 cotton/poly blend. The built-in mittens are convenient and made with technical, breathable fabric making these jackets very popular with dog walkers and people who do stuff outside!
$5 off Lightweight Running Mittens or any MITTEN HOODIES with code USALOVE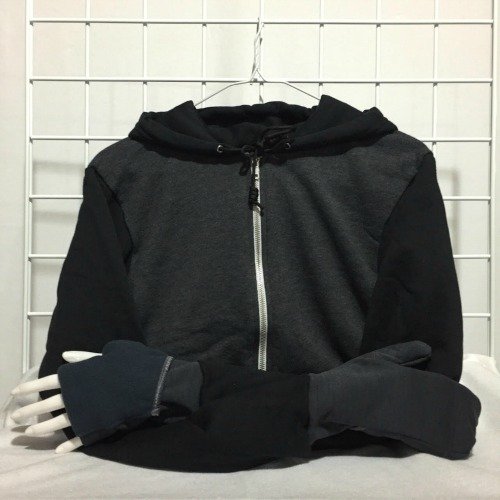 American Made Cold Weather Gear: For Men, Women, and Kids
American Apparel has a selection of hats, scarves, and gloves in men's and women's sizes.
Artex manufactures many knit hats in the USA for men, women, and children. Some styles are imported, so check descriptions!
Astis  mittens and gloves are hand stitched in Oregon from suede leather and decorated with natural materials.
Carhartt manufactures several styles of their knit hats in the USA. *Check your labels*
Faribault Woolen Mill manufactures a fabulous line of 100% merino wool unisex scarves in Minnesota.
Fox River Mills   gloves and mittens for men and women are knitted in Wisconsin.
Geier Glove Co has been manufacturing lined & unlined leather work and dress gloves for over 85 years.
Golden Touch Naturals mittens, gloves, fingerless gloves, scarves and hats are made in the USA from alpaca fleece.
Hempy's hats for men, women, and children are Union made from Eco-friendly fibers: Hemp, organic cotton, and recycled cotton.
HotHands are air activated, one time use hand, foot, and body warmers.
Kowalli baby booties, hats, and carrier covers made in the USA from Polartec© fabric.
Steger Mukluks boots for men, women and kids are handcrafted in Minnesota.
Stormy Kromer hats are made in Michigan. These heritage hats for men, women, and kids are warm and comfortable as a baseball cap. The band slides down to cover the ears when it gets really cold. Stormy Kromer now makes mittens and scarves for men & women too!
Tough Gloves American Classics offers a selection of deerskin gloves for men & women, made in California.
Tuff Kookooshka produces unique hats and jackets for boys and girls of all ages, made in Massachusetts– some hat styles even come in adult sizes.
Turtle Gloves is a Michigan maker of  fingerless gloves, convertible mittens, and other outerwear accessories for men, women, and kids. Turtle Gloves are warm, water resistant and windproof. Top pick for gloves & mittens for the whole family.
$5 off Turtle Gloves Weather Protect Heavy Mittens or any MITTEN HOODIES with code LOVEUSA
Did we catch them all? If you know of a source for Made in USA winter hats, scarves, or mittens that we missed, go ahead and add them in the comments below so we can be sure to include them with the next update.
Disclosure: This is a sponsored post which USA Love List is proud to share with you because, sponsored or not, we only share stuff we love.