Socks are an easy and inexpensive way to support American made business. We have lots of options. We're sure there's something for everyone in your family.
Fashion Socks for Him and Her
This Night is a new business dedicated to making beautifully designed and milled socks in Reading, Pennsylvania. Kate T. Williamson, the owner and designer, has been working with a mill in Reading for the past several years to develop men's and women's versions of what she considers to be the perfect sock – one made with high-quality, US-grown ringspun cotton combined with just a touch of stretch, a slightly wider band that is not too tight yet still stays up, and elegant, graphic designs in a colorful yet refined palette. Discover them for yourself.
Preppy Socks For Men and Women
These super soft cotton socks from Zkano are made in Fort Payne, Alabama, the former sock capital of the world. The cotton used to make them is organic and the process to make them happens start to finish right here. Zkano uses organic cotton that is grown in the Southern U.S. and they are the owners of the manufacturing facilities that are used to make its socks. Learn more about this family business and the resurge of sock making in what used to be the former sock making capital of the world.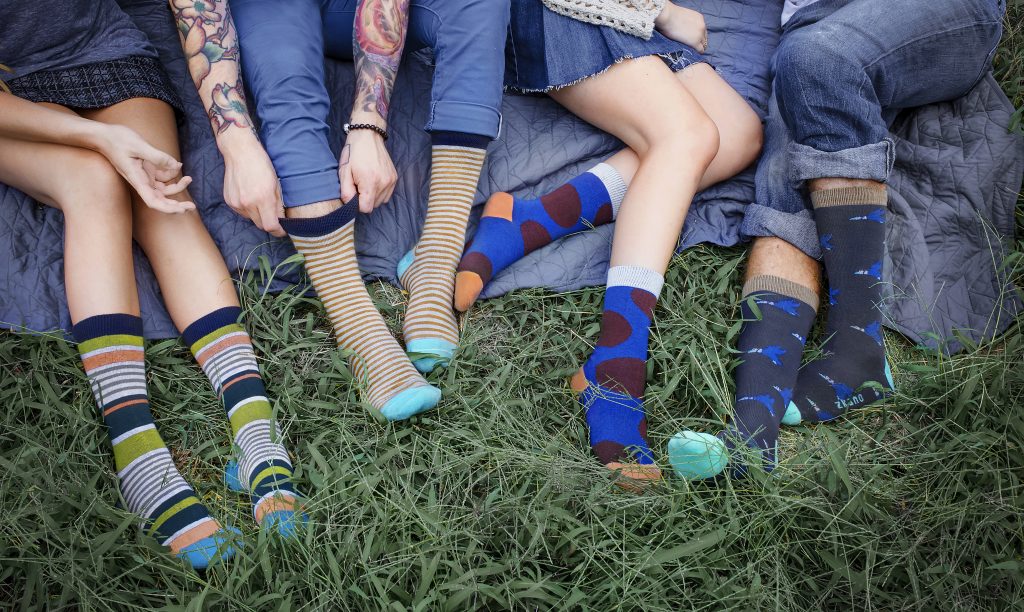 Women's Fashion Forward Compression Socks from Lily Trotters
If you're not familiar with compression socks, I suggest you read ahead. They are an absolute life changer. I wear them almost everyday. I particularly love Lily Trotters fashion forward compression socks, because they are made with cushioned heels, reinforced toes, moisture-wicking and antimicrobial nylon. The 15-20 mmHg of graduated compression offers mild compression that is typically recommended during pregnancy or long flights, and to runners, cross-fitters, or anyone one sits, or stands, for long periods of time.  I love the weight of these socks too – they aren't too heavy for summer, and offer some warmth during colder months.
Save 25% off with code USALOVE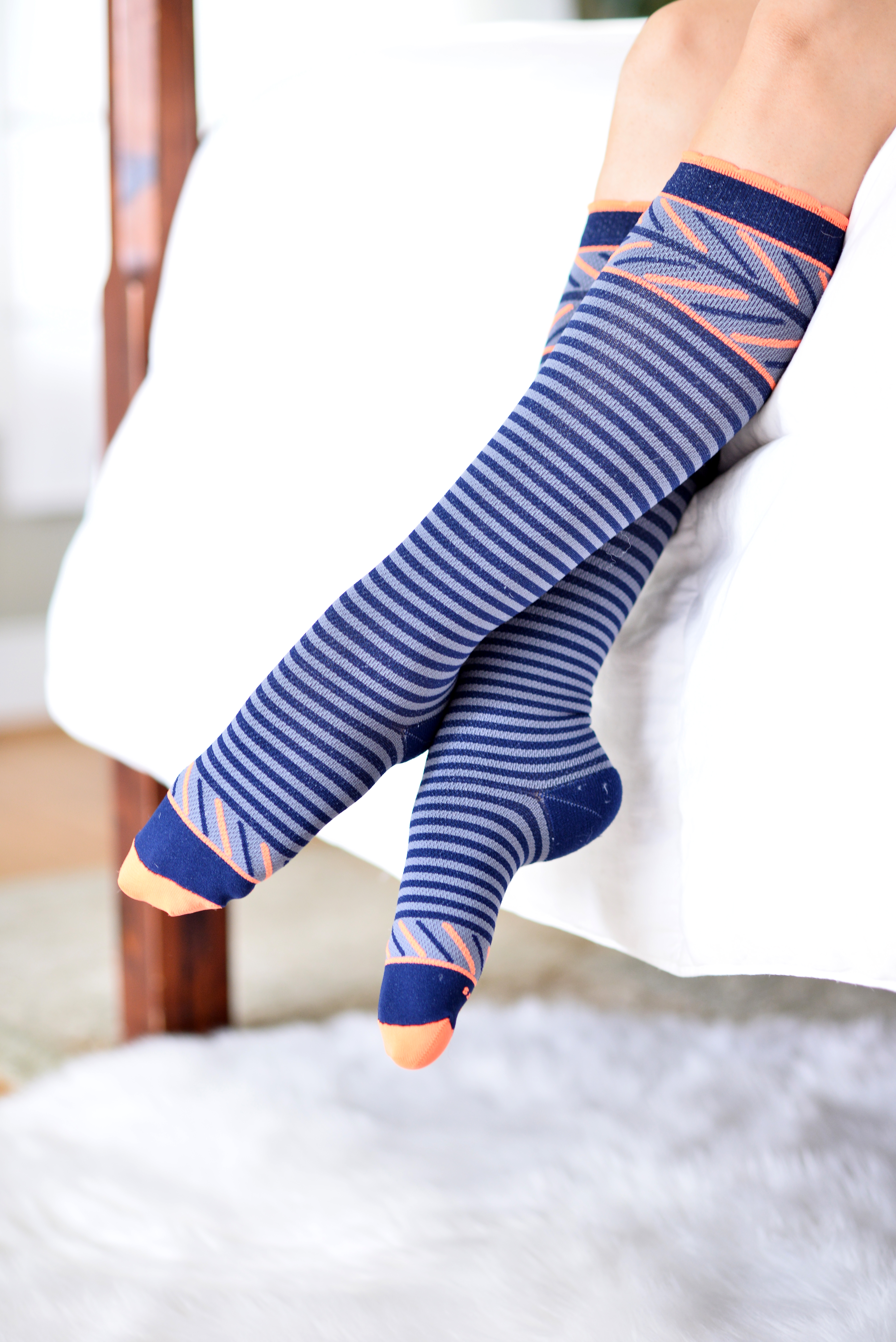 Men's Fashion Socks from Boldfoot
Boldfoot Socks was founded on the premise that American made means quality. Their dress socks are made from US grown Supima cotton (the top 3% of cotton sourced), and their Athletics use the same materials that Nike and Under Armour use.
Boldfoot also offers three months of Sock Insurance, just in case they should rip, tear or develop holes, no questions asked. Ever more importantly, Boldfoot donates 5% of profits to a non-profit that assists U.S. Military Veterans in need of jobs, housing, improved health, and more. Support the cause.
Organic Socks from Only Footprints
Purity is a core value to 
Only Footprints
, a small business in Kentucky that knits ankle, crew and over-calf socks from organic cotton grown in Texas.  No dyes, bleach or chemicals of any kind are used to make these ankle socks.  It's cotton's natural beige color.  They're comparable to dress socks in thickness and softness.  For best fit, socks are made for each shoe size.  In addition to the socks being an environmentally friendly product, they're also shipped in biodegradable mailers.
Solmate Socks loves making mismatched socks from recycled cottom that are meant to go together. Soulmates aren't supposed to be identical, but the are supposed to be together, and so are Solmate Socks. They pride themselves on quality; tese socks are durability and they last for years. Lisa Flood, Solmate Socks' President & Co-Owner is happy to be the second generation Socklady. The company is so committed to American manufacturing, that they bought the mill to ensure that its socks could continue to be made in the USA.
Get+Give+Employ: Mitscoots Socks Are On a Mission
Mitscoots socks are on a mission. Every pair purchased is helping the homeless get socks and work. All of their socks  are manufactured in North Carolina and packaged in Austin, Texas. The packaging jobs are given to those in need of employment, paying well above minimum wage. With every pair of socks that is purchased, Miscoots gives an identical  pair to the homeless. GET a pair of socks + GIVE to the homeless + know that someone in need is being EMPLOYed.
Thorlo Running Socks
Thorlo socks are made with clinically-tested padding that's proven to reduce foot pain and the frequency and size of blisters.  You can find the right pair of socks based on your activity. Thorlo makes all of their socks in Statesville, North Carolina.
RocknSocks Eco-Friendly Fashion Socks For Men and Women
RocknSocks are made in USA socks knit from recycled yarns. They offer a variety of styles and colors, including arm and leg warmers too. RocknSocks are designed in California and made in North Carolina. With prices starting at under $10, you can feel great about your purchase and know you're supporting American made jobs. Use promo code USALOVE for 10% off your purchase!

Point6 Wool Socks For All Occasions and For The Entire Family
I love these socks for walking, standing on my feet, or exercising. Since these socks are made out of wool they are super soft and great for any conditions because they regulate heat and moisture.  I especially love Point6 compression socks – they are a must for those who stand on their feet a lot or do any air travel because they promote circulation in the legs. Check out all their American made socks for kids, men, and women. Point6 manufactures all of its socks in Tennessee and Alabama and are based out of Steamboat Springs, Colorado.
Swiftwick Socks For The Outdoor Enthusiast
I love compression socks because they improve circulation, and it really, really makes a difference when you're standing or walking for long periods of time. I never knew there were short compression socks; I always thought they were long socks that would hit around the knee. I was delighted to find short American made compression socks from Swiftwick to wear with sneakers or hiking boots. They come in six lengths, from zero to five – one shown here. Swiftwick natural fiber socks are designed and manufactured in the USA from US-sourced merino wool. You can search for socks by cool, fabric, activity, or style/height here.
100% American Made Socks
Farm To Feet socks have a personality of their own. The fabric is ridiculously soft and comfortable.  They are 100% American made, including their supply chain, and materials used. You can read more about their company story here. The entire process takes place in South Carolina and North Carolina.  Select from hiking, sporting and everyday socks with specific cushioning for each type.  The reinforced structure provides the perfect fit for your feet.
Balega Limited Edition Ultralight American socks are made entirely in Hickory, North Carolina from U.S.-sourced yarns. They are perfect for the sports enthusiast. Enhanced elastic grip construction in both arch and ankle to provide ultimate support and sculptured mesh panels to aid ventilation. This is the only line of socks from the brand that is made in the USA.
Boot Socks
No nonsense has an extensive offering of American made socks, tights and hosiery. The company has manufacturing plants in both North Carolina and Tennessee. With styles starting at under $6, buying made in USA socks has never been easier.
Colorful Socks For Men
If you're looking for super cool colored socks, I love American Trench fine wool and cotton men's socks. The wool socks are knitted in Reading, Pennsylvania and the cotton socks are dyed and knitted in North Carolina. Use code USALOVE for 15% off thru December 31.


Remember tube socks? I was born after the 70's, but they are back in style. Luckily you can find American made tube socks from Skater Socks. The brand offers lots of colors and various lengths.
Ski and Knee-High Everyday Casual
In case you haven't heard of them, Fox River Mills is one of the leading outdoor, athletic, and lifestyle sock manufacturers in the world. If you're familiar with the original Rockford Red Heel sock, it has been made by Fox River Mill for the past 22 years. The company makes its socks in Osage, Iowa. I love Fox River Mills long wool socks. Their ski socks are really great for wearing during the winter months under jeans or leggings for added warmth, even if you aren't skiing!
Tough
Darn Tough knows socks. The family mill business started three generations ago in Northfield, Vermont and 10 years ago, the Darn Tough brand emerged as a way to keep the mill running. You can find men, women and kid's sock in either wool or a Coolmax blend fabric. Give them a try. The brand offers a we offer an unconditional lifetime guarantee.
Alpaca
It was love at first touch with Golden Touch Naturals alpaca socks. The Low Profile Anke Socks and Survival Sock, are made from alpaca raised in Massachusetts. For those of you who may be allergic to wool, alpaca is a great alternative.
The arch band wraps around the entire sock for a proper fit
The heel and toe have been reinforced with nylon for increased durability and to keep the sock in place and prevent rubbing
Hypo-allergenic, un-dyed, and naturally odor resistant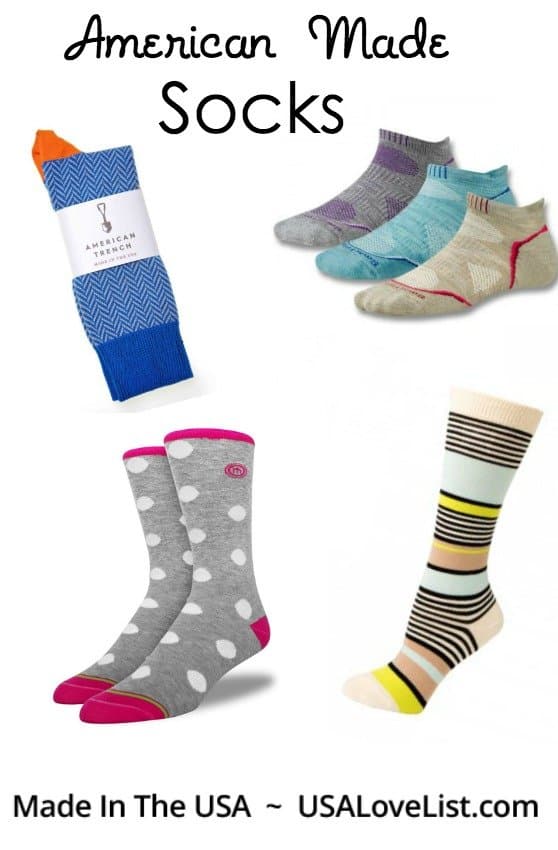 Disclosure: This is a sponsored post which USA Love List is proud to share with you because, sponsored or not, we only share stuff we love.