We have received many inquiries about air purifiers made in the USA from our readers. Air purifiers have grown increasingly popular during the COVID-19 pandemic as people have become more aware of the health hazards of particles we breathe. Portable and whole-house air purifiers can reduce air pollutants like germs, odors, allergens, and other harmful particles. Buying an American made air purifier keeps your family healthy and keeps an American business healthy too.
---
---
ARE THERE ANY AIR PURIFIERS MADE IN THE USA?
Yes! There are several companies that offer American made portable and whole house air purifiers. The companies listed below manufacture air purifiers in the USA using both domestic and foreign parts.
AMERICAN MADE AIR PURIFIERS
Air Oasis Portable and Whole House Air Purifiers
Air Oasis air purifiers are designed and built in Amarillo, Texas. Air Oasis high-end portable and whole house air purifiers include products that are ultra quiet, filter-less and HEPA models. They are designed to filter out mold, allergens, germs, smoke and odors. Not sure what type of air purifier to get? Air Oasis can help you find one based on your needs.
Austin Air Systems Portable Air Purifiers
Austin Air Systems has been manufacturing portable air purifiers in Buffalo, New York for 30 years. Austin Air Systems air purifiers are handcrafted from components sourced in the USA when possible. Components that are not made in the USA, like the power cord, are sourced from overseas. Austin Air Systems portable air purifiers are clinically proven and medical grade. The Standard Series offers four models all with different filtration levels to suit various needs.
LakeAir Air Purifiers for Home and Professional Settings
LakeAir has been making portable and built in air purifiers in the United States since 1968. All of LakeAir's air purifying products are made in their Racine, Wisconsin plant. Some models are assembled in the USA by American workers from American steel and aluminum that is bent, punched, molded and painted. LakeAir has many products to chose from that are suitable for homes, commercial buildings, and medical settings. The LakeAir Maxum HEPA air purifier pictured below is a commercial air purifier for the home. It is small (tabletop size) and is powerful enough to purify 1000 sq feet- about the size of a one floor ranch house.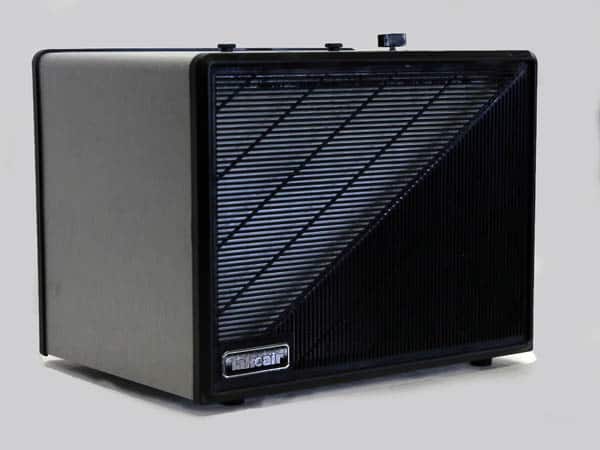 Oransi Air Purifiers- EJ120 and ERIK Products Made in USA
Not all Oransi Air Purifiers are made in the USA. Only the Oransi EJ120 and ERIK models of portable air purifiers are American made. Oransi air purifiers are manufactured with efficient and quiet German motors. Both the EJ120 and ERIK models have HEPA filtration and they both cover over 1,200 square feet of home or commercial space.
Love this list? We know you will love these lists too!

Pin this list to save it for later!